HPE OneSphere Looks to Manage Multiple Clouds Through SaaS
HPE OneSphere Looks to Manage Multiple Clouds Through SaaS
HPE OneSphere is the company's latest offering to manage multiple clouds. The platform uses a SaaS portal to deliver the management services and can deploy resources as need to developers and other parts of the enterprise. With more enterprises embracing a multicloud model to support applications of all kinds, IT is being taxed with managing all these interconnected platforms. Now, Hewlett Packard Enterprise is looking to take some of the complexity out of this equation.
At its Discover event in Madrid, Hewlett Packard Enterprise plans to unveil what the company calls OneSphere, a new cloud management platform that works across public and private clouds, as well as on-premises infrastructure within data centers.
OneSphere will use a software-as-a-service (SaaS) portal to manage all these resources.
Figure 1: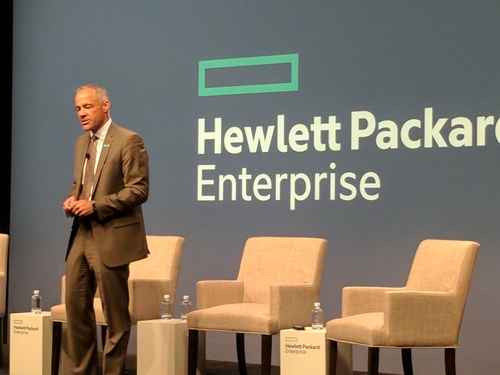 Ric Lewis, SVP and GM HPE's Software-Defined and Cloud Group
(Source: )
Ric Lewis, senior vice president and general manager of HPE's Software-Defined and Cloud Group, said before the November 28 announcement that better management of multiple clouds platforms is a key component of digital transformation, especially as enterprises deploy more and more apps to the customers that they serve. (See Buzzword Bingo: What the Heck Is Digital Transformation?)
This is all about digital transformation and how that is driving IT and how it's changing the way we work. It's about coming from the back office and moving to the front office and being more of the profit generation engine. And the front-facing part of the business is the apps and that's really digital transformation, and businesses need to be faster and more efficient. In order to be more efficient, they need to be able to deploy applications much faster. It's not those old-style apps; it's the new apps, and they are creating new silos of complexity, whether it's off-prem [or] on-prem, and all of those have become new silos of complexity.
HPE first introduced the concept of a management platform to oversee multicloud infrastructures earlier this year under the name Project New Stack. (See HPE Goes All in With Hybrid IT.)
Rhett Dillingham, an analyst with Moor Insights & Strategy, wrote in an email to Enterprise Cloud News that OneSphere is part of HPE's evolving approach to the cloud, especially as customer are using multiple clouds for different workloads.
"It may surprise some to see an OEM deliver a portfolio of cloud management capabilities via SaaS, but public cloud has gotten enterprise accustomed to (and sometimes preferring) a services model," Dillingham wrote. "OEMs are right to take advantage by evolving their offer model. Dell Technologies, for example, is working similarly towards more of a cloud subscription orientation for IT starting with VMware's Cloud Services portfolio announced at VMworld."
The OneSphere platform incorporates other technologies from different HPE acquisitions, including Cloud Technology Partners, a consulting firm the company bought in September. (See HPE to Acquire Cloud Consulting Business.)
OneSphere also builds on other HPE hybrid IT offerings including OneView, a software-defined intelligence system that helps automate some tasks and allows developers to create apps, and Synergy, the company's composable infrastructure product, which allows IT to manage a data center through a pool of resources that is controlled by software.
Keep up with the latest enterprise cloud news and insights. Sign up for the weekly Enterprise Cloud News newsletter.
With OneSphere, HPE is looking to give IT a way to manage all aspects of a hybrid or multicloud infrastructure, whether that is a public cloud or part of the on-premises data center. Lewis noted that the management platforms work with Amazon Web Services Inc. and Microsoft Azure -- the two leading public cloud platforms -- any number of private clouds, as well as virtual machines, containers and bare metal applications.
In addition to the cloud management aspects of the new platform, OneSphere provides enterprises a way to take advantage of DevOps to create, test, deploy and update applications faster.
For developers, OneSphere can allocate cloud resources faster since the platform treats all parts of the infrastructure as a pool of resources than can be spun up, or wound down, as needed. The SaaS portal also allows resources to be allocated faster, without having to ask IT each time more resources are needed. At the same time, CIOs and IT managers can still oversee and manage the resources even as developers take what they need.
Included in OneSphere is what HPE is calling Projects, where developers can access, templates tools, services, as well as other applications needed to build their own apps.
HPE also designed parts of OneSphere to allow the non-IT parts of a company to see and measure cloud resources.
While HPE plans to offer demonstrations of OneSphere on Tuesday in Madrid, the platform will not be commercially available until January 2018.
Related posts:

— Scott Ferguson, Editor, Enterprise Cloud News. Follow him on Twitter @sferguson_LR.
Subscribe and receive the latest news from the industry.
Join 62,000+ members. Yes it's completely free.
You May Also Like
---