Comcast is drawing some big brands to the Xfinity Home service and gearing up for the next phase of the smart home revolution.
After announcing earlier this year that it would integrate several retail products into its Xfinity Home platform, Comcast Corp. (Nasdaq: CMCSA, CMCSK) now says it has completed integration with the August Smart Lock, Chamberlain's MyQ garage controller, Lutron's Caseta smart lighting system and the Nest thermostat. It has also officially launched the "Works with Xfinity Home" program, offering a software development kit and certification process to smart home partners who want to join the Comcast ecosystem.
Devices that earn the Comcast stamp of approval are rolled into the Xfinity Home app, which is available for iOS and Android. The company says that eventually customers will also be able to control their devices using the X1 platform and voice remote. (See Comcast Opens Up the Smart Home.)
One platform to rule them all
Comcast has been developing its own smart home products for years. But aside from some core devices like motion sensors and the smart home hub, it's now looking to partner with best-in-class manufacturers to fill out its hardware portfolio.
"To get a new device category to qualify … is a high hurdle," says Dan Herscovici, SVP and GM of Xfinity Home. "We create devices in an effort to ensure we can create best-in-class service experiences, so we're very careful about devices that we're creating because we don't fancy ourselves the best garage door opener company. We want to partner with the best."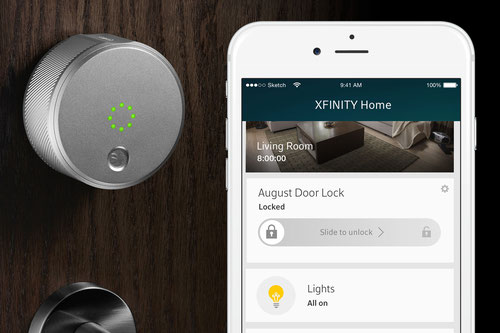 Far from focusing on devices, Comcast would rather be the smart home service provider, operating the Xfinity Home platform and designing applications that bring in subscription dollars from its customers. Herscovici says the Xfinity Home brand should be a signal to consumers of device interoperability, a guarantee of quality and a safety net of customer support.
Herscovici also describes four different types of experiences that Comcast intends to offer with Xfinity Home: safety and security, peace of mind (with products like locks and sensors), money-saving services based around utilities, and lifestyle automation covering entertainment systems, lighting control and more. Comcast even plans to expand further into the Internet of Things space with out-of-home products like adapters that plug into a car's onboard diagnostics (OBD) port.
Comcast's platform can accommodate all of these experiences, although Herscovici acknowledges that Icontrol Networks Inc. is still the engine behind the security services that are part of Xfinity Home. This is a far cry from when iControl powered the entire smart home platform for Comcast, but it does leave the company a role in the cable operator's business going forward. And iControl is still the smart home platform of choice for a number of other MSOs as well as Best Buy. (See Icontrol Powers Smart Homes for Best Buy.)
---
Want to know more about the Internet of Things? Check out our dedicated IoT content channel here on Light Reading.
---
At the heart of Xfinity Home, Comcast is also focused heavily on the hub or gateway that acts as the demarcation point between the company's broadband network and a subscriber's local wireless network. Much like Google (Nasdaq: GOOG) has introduced OnHub, a wireless gateway supporting IoT protocols like Zigbee and Thread, Comcast is now deploying a gateway from Arris Group Inc. (Nasdaq: ARRS) that is meant to be the control point for smart home applications. It's also planning a high-powered gigabit gateway for 2016 that will likewise feature smart home software integrated through a standardized RDK-B software stack. (See Google Debuts Smart WiFi Router OnHub and RDK-B Could Revolutionize Home Network.)
Once Comcast has its routers in place and has had the time to further develop its device ecosystem, the company will be able to get creative about the services it offers. For example, Herscovici talks about using deep analytics and facial recognition with its connected cameras, and possibly teaming up with utility companies around energy management services.
"It's one of the reasons engineers are excited to join Comcast. There's a lot of really cool, interesting things you can do with that big brain that's sitting in the home," explains Herscovici.
Comcast hasn't publicly released subscriber numbers for Xfinity Home in about a year, but the company did say in the third quarter of 2014 that it had already crossed 500,000 subscribers. Herscovici adds that Xfinity Home is still "growing aggressively," and says the company is "happy with our progress."
Next up in the Works with Xfinity Home program, Comcast has said it will soon support car adapters from Automatic, smart jewelry from Cuff, a Leeo nightlight with smoke and carbon dioxide detectors, Rachio smart sprinkler controllers, video doorbells from SkyBell and a smart pet monitor from Whistle.
— Mari Silbey, Senior Editor, Cable/Video, Light Reading