Eurobites: Telia, Ericsson & Volvo Use 5G for Industrial Remote Control

Comment (0)
Also in today's EMEA regional roundup: Virgin touts "Intelligent WiFi"; the 5G possibilities of sports events; O2 says reggae is good for you.
Telia, Ericsson and Volvo Construction Equipment (Volvo CE) have joined forces on what they say is Sweden's first 5G network specifically intended for industrial use. Located at Volvo CE's facility in Eskilstuna, the network is being used to test remote-controlled construction machinery, the hope being that the reduced time-lag offered by 5G will make such remote-control applications safer.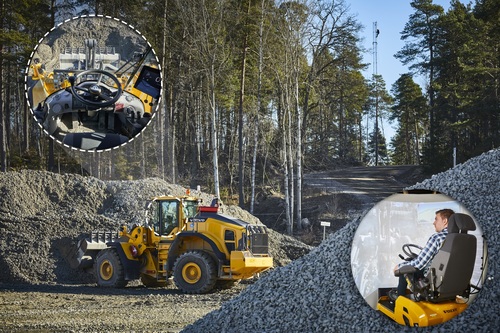 The UK's Virgin Media is making bold claims for its new "Intelligent WiFi" offering, not least that customers can expect broadband speeds to improve by up to three times in certain rooms of their home. The technology update, described by Virgin as a "smart cloud-based, adaptive system," has already been rolled out to all Virgin Media customers with a Hub 3 router, free of charge. The system is linked to a new Connect app, which acts as a central control panel and allows customers to test the strength of their WiFi from room to room.
European network operators are rubbing their hands together at the thought of the potential for 5G-based enterprise services offered by the owners of sports stadiums and the organizers of major sporting and e-sports events. That's the essence of new research conducted by Ovum on behalf of Amdocs, which found that 94% of network operators in Europe intend to deliver 5G enterprise services to sports event organizers both to improve the fan experience (order your half-time meat pie from your smartphone!) and to help run things more efficiently inside the stadium. Nearly half (47%) of those surveyed also believe 5G will drive growth in sports TV subscribers.
Rafiah Ibrahim is leaving her position in the Ericsson Executive Team as SVP and head of market area Middle East & Africa to become an advisor to CEO Börje Ekholm, a role that's a common one for those exiting Ericsson's top table. Ibrahim joined Ericsson in 1996 and has held various managerial positions within the company. Her successor will be appointed in due course.
Germany's Federal Network Agency (BNetzA) says it will award spectrum for local 5G networks in the second half of this year, Reuters reports, with the focus on industrial uses of the technology using spectrum in the 3.7-3.8GHz band. According to the report, several major German companies, including Volkswagen, Daimler Siemens and BASF, have expressed interest in using localized 5G spectrum in their facilities.
Israel's Allot has teamed up with Mobileum, a US-based roaming and data analytics specialist, to improve the quality of roaming services for an unnamed Tier 1 US operator.
Sign of the times latest: So-called smart speakers have joined the list of items that are flung into the UK's "inflation basket," a notional collection of commonly bought things that is used by the Office of National Statistics to help calculate the cost of living. As the BBC reports, falling out of the basket are, among other "so last year" goodies, hi-fi systems and crockery sets.
Tinpot-sounding research by UK mobile operator O2 and Westminster University has confirmed what millions already know to be true: Reggae is good for you. More specifically, the boffins found that children who grow up listening to non-Sheeran music genres such as reggae and classical music "are the most likely to explore new experiences as adults." Take it away, Bob…

— Paul Rainford, Assistant Editor, Europe, Light Reading
PARTNER PERSPECTIVES
- content from our sponsors
GUEST PERSPECTIVES
- curated contributions