Next time your company hands out pink slips, organize a strike. It works for the French.

Last week, all 50 employees working at the GN Nettest Paris office went on strike after being told by management that most people in the unit would be laid off as a result of the company closing field modules and lab system production. Workers claim the company didn't follow French law in notifying them of the layoff or plant closing. In protest, workers cut back their work day to four hours starting last week.

These workers may be on to something. By striking, all 50 employees will receive their full wage while they work part-time during the strike, says Lars Pedersen, vice president and general manager of the instruments division. He claims the strike has already delayed the layoff process, which in civilized countries requires companies to jump through a series of hoops before they can start handing out pink slips.

While the strike won't likely save any of the jobs, it has probably bought workers an additional two months on the job and a full salary for half the work, adds Pedersen. Not a bad deal if you think about it.

While you mull this over and figure out how to organize a walk-out, let's take a look at this week's latest hirings and firings.


Allegro Networks Inc. laid off nearly all of its 70 remaining employees on Friday. After raising $86 million in two rounds, the company is officially winding down operations and looking for someone to buy its assets.

"We had a great team and a great product," says David Ginsburg, vice president of marketing in an email to Headcount. "Who knows what might have been, given a bit more money and time?"

The startup, which was building an edge router, peaked at 185 employees a little over a year ago. It let go about a third of that staff last summer when it initially reorganized (see New Wave of Startup Layoffs). It cut another 25 percent back in October (Startups Make More Cuts)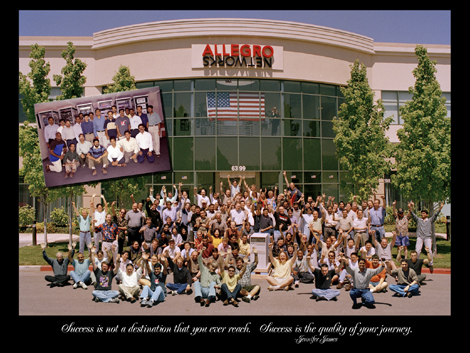 Core IP routing startup, Caspian Networks, laid off about 40 percent of its staff last week. The company now has about 120 employees as it prepares to roll out its first product.

Caspian raised about $120 million last February and, according to Dallas Kachan, director of marketing, the company has enough cash with its current headcount to make it through 2004 without any revenues.

He wouldn't talk about the details of the layoff, but he assured Headcount that the workers getting the boot, most of them engineers, were given generous severance packages.


LuxN Inc., which makes DWDM access products, has lost its vice president of sales. Jim Kennedy, who is still listed on the company's Website, officially stopped working for LuxN back in January, says Paul Zalloua, vice president of marketing for LuxN. Like many in the business, he left to "pursue other opportunities." Zalloua claims he has been working as a consultant for the company part-time until a replacement can be found, but Kennedy denies this. He says he hasn't worked for LuxN since December 2002.

Headcount will follow-up on this story in next week's column.

LuxN's supposed deal with SBC Communications Inc. (NYSE: SBC) has dragged on for many moons. Now the 80-person company is focusing sales on municipalities and universities instead of incumbent carriers. But the company says it is still holding out hope for a recovery.

"This quarter looks better than last quarter," says Zalloua. "We're seeing some improvement, but that isn't saying much. The market is still really soft."


Tunable laser startup, Agility Communications Inc. has replaced its CFO. The company confirmed that Rich Yonker, who helped the company raise $200 million in funding, left the company back in January. Yonker has already been replaced by John Nadaskay, who had been vice president of finance at Agility since 2000.


Xanoptix also lost a top executive recently. Paul Heller, formerly the company's vice president of operations is gone, says CEO, Jim Norrod. Norrod is keeping tight-lipped about the circumstances surrounding the situation.

"As a company policy, we do not comment on specifics regarding employment terminations," he says.

The company has still not found a replacement, but Norrod explains that Heller's duties have been split among a few different positions. Some of his former responsibilities have been absorbed by a new employee, with the remainder scheduled to go to a future person, who is currently being recruited.

The company's headcount has remained relatively constant for the past 12 months at about 50 employees.

Here's a summary of other industry appointments (and disappointments) from the past several days: ...if we missed anything, send a tip to

[email protected]

.

— Marguerite Reardon, Senior Editor, Light Reading