Hammerhead Unveils PBT Smarts

11/13/2007

Comment (4)

Hammerhead Systems Inc. is continuing its push to provide a vital link between the worlds of MPLS and Provider Backbone Transport (PBT), this time tackling the idea of multipoint services.

Until now, the vendor has promoted its HSX 6000 aggregation box as a gateway that interconnects MPLS and PBT, the pre-standards connection-oriented flavor of Ethernet that is more formally called Provider Backbone Bridging - Traffic Engineering (PBB-TE) in Institute of Electrical and Electronics Engineers Inc. (IEEE) circles. (See Hammerhead Hooks Up PBT and PBT: New Kid on the Metro Block.)

Hammerhead showed off its gateway's capabilities as part of an interoperability trial set up and hosted earlier this year by test lab European Advanced Networking Test Center AG (EANTC) . (See Hammerhead Demos PBT and EANTC Preps MEF Demo.)

Now the company is announcing technologies that, it says, will address multipoint services in both MPLS and PBT networks, including bringing E-LAN and E-Tree capabilities to PBT.

Hammerhead officials say the resulting framework creates an elegant way to build services that span an entire network from an MPLS core to PBT-based edges.

The technology involved isn't much different from the "Layer 2.5" work Hammerhead has previously done with MPLS. "I know it sounds bold for us to say we're going to address each of these pieces, but we're building on what we've already done," says Rob Keil, Hammerhead's VP of marketing.

This doesn't mean Hammerhead is giving up on its original multiservice aggregation market, where IP VPNs were the primary business driver. "Our immediate business is still everything we discussed before," Keil says.

It's just that Hammerhead thinks its position, as a vendor of multiservice gear for MPLS networks, gives it a good vantage point for helping MPLS coexist with PBT. (See Swimming With Hammerhead and Hammerhead Hooks Up PBT.)

Here's what Hammerhead is trotting out today:


E-LAN and E-Tree services for PBT. E-LAN is a multipoint-to-multipoint service associated with applications such as videoconferencing. E-Tree is a point-to-multipoint arrangement where only certain endpoints receive data, as in the distribution of IPTV channels.
Hammerhead is also adding E-Tree for MPLS, claiming to be the first in the industry to do so.
Applicable to all these services is the hierarchical quality of service that Hammerhead already offers for other traffic types.
Finally, Hammerhead is announcing a partnership with Soapstone Networks Inc. (Nasdaq: SOAP), which can provide a control plane for PBT. In the absence of a standard, a partnership is the best option for crafting an Ethernet service across PBT networks, Keil says. (See Avici Amped Up for Soapstone Launch.)
What's interesting is the way Hammerhed builds its E-LAN and E-Tree services. The company uses virtual switching instances (VSI) -- an element of established virtual private LAN services (VPLS) technology -- to build either pseudowire tunnels across the MPLS network, or PBT tunnels in the Ethernet network.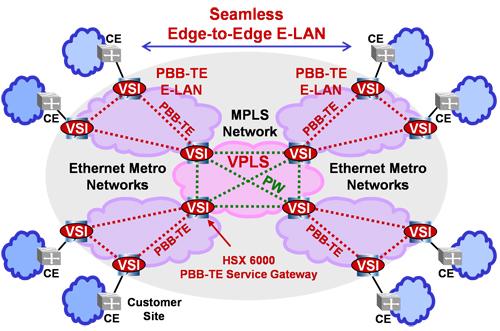 A more commonly accepted way to do E-Tree on PBT is to use a series of point-to-point label-switched paths (LSPs), one for each end connection required. But that's an MPLS-reliant method that's going to require "some level of very expensive routers from the two or three vendors that can do it," Keil says.
Hammerhead points out that its VSI method not only sticks to Layer 2, avoiding the need for routers, but can also be applied to both MPLS and PBT networking. That's why the company thinks it's got a good way to help carriers create services that will span both parts of the network.
"It allows PBT to integrate nicely into a VPLS network, and they don't have to develop any special protocols to build a tree," says Mark Seery, an analyst with
Ovum RHK Inc.
, of Hammerhead's method.
There's a potential side effect, though, to crafting an approach that works for both MPLS and PBT. "Ultimately, it calls into question how sticky all of these underlying technologies are -- MPLS or PBT -- because you've got these high-level constructs like VPLS or pseudowires, and anything can run underneath," Seery says.
Hammerhead won't be alone in offering multicast options for PBT.
Nortel Networks Ltd.
says it's working on something called PLSB (Provider Link State Bridging) that's going to be the "ultimate answer" in multicast -- but that isn't being announced yet.
For now, Nortel says it would apply Provider Backbone Bridging -- that is, plain PBB -- in place of PBT, for cases where multicast is needed. Because the switches handling PBT would also be capable of applying PBB, "it's the most straightforward way" to tackle multipoint applications, says John Hawkins, Nortel's senior marketing manager.
As for the LSP method, Nortel says that can work just fine. "The management tool that populates the database has to be aware of what you're doing, but we can do an E-Tree service that way," Hawkins says.
— Craig Matsumoto, West Coast Editor,
Light Reading

(4) |