Telstra Profits Pummeled by NBN
Telstra Profits Pummeled by NBN
Australia's largest retail service provider has blamed the government's NBN pricing for a sharp fall in profits.

Australia's Telstra has blamed the emergence of the NBN, a government-backed wholesale network, for a sharp fall in profits in its most recent fiscal year, emphasizing the need for hefty cutbacks to improve its financial health.
Telstra's profit for the year to June 2018 fell 8.9%, to about A$3.5 billion ($2.6 billion), despite a 3% increase in total sales, to roughly A$29 billion ($21.1 billion).
The squeeze was caused largely by higher payments to NBN, which sells network services to Australia's broadband operators and has previously been criticized for the prices it charges customers. Telstra Corp. Ltd. (ASX: TLS; NZK: TLS) said its overall operating expenses for the year were up 7.6%, to about $18.9 billion ($13.8 billion). (See NBN Finally Revs Up DOCSIS 3.1 Engine.)
Under a plan called Telstra2022, announced in June, Telstra is trying to slash about A$2.5 billion ($1.8 billion) in operating costs by 2022, compared with 2016. About 8,000 of Telstra's 32,000 employees are set to lose their jobs over that period. (See Investors Unmoved by New Telstra 4-Year Plan.)
Despite the earnings setback, Telstra's share price closed up 5.88% in Australia today, at A$3.06 ($2.2). Investors may have taken some encouragement from recent customer gains and efforts by CEO Andrew Penn to revitalize the business, although shares have lost 16.4% of their value since the start of the year.
Penn said the company's operational performance had been strong in the recent fiscal year but warned of further tough times ahead.
"We have seen strong subscriber growth, particularly in the second half of the year, adding 342,000 retail mobile customers, 88,000 retail fixed broadband customers and 135,000 retail bundles during FY18," he said in a company statement. "Despite this, the challenging trading conditions are expected to continue in FY19, including ongoing pressure on ARPU [average revenue per user] and further negative impact of the NBN network rollout on our underlying earnings."
Figure 1: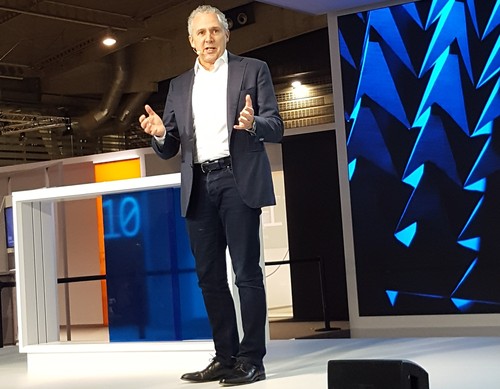 Telstra CEO Andy Penn, seen here at this year's Mobile World Congress, expects "challenging trading conditions" to prevail.
The company has tweaked its outlook to reflect new accounting regulations, indicating FY19 sales will be A$100 million ($73 million) less than previously expected, while earnings (before interest, tax, depreciation and amortization) will be A$100 million ($73 million) more than previously expected. It is now forecasting total sales of between A$26.5 billion ($19.3 billion) and $28.4 billion ($20.7 billion) and EBITDA (minus restructuring charges) of between A$8.8 billion ($6.4 billion) and A$9.5 billion ($6.9 billion) -- a reduction of between 6% and 13% compared with EBITDA in FY18.
Telstra now serves about 17.7 million mobile customers and 3.6 million broadband subscribers. Customer spending in the mobile market has fallen partly as a result of competition from rivals including SingTel Optus Pty. Ltd. and Vodafone. At the more lucrative contract business, Telstra reported a 3.4% dip in monthly ARPU, to A$65.41 ($47.57).
Now entering its fifth year, the 2020 Vision Executive Summit is an exclusive meeting of global CSP executives focused on navigating the disruptive forces at work in telecom today. Join us in Lisbon on December 4-6 to meet with fellow experts as we define the future of next-gen communications and how to make it profitable.
A controversial scheme that originated with a previous Australian government, NBN Co Ltd. is often cited as an extreme case of "structural separation," whereby the underlying telecom network is entirely separated from the retail services that run over it. Telstra and Optus, the country's two main network operators, were required to sell infrastructure to the state-backed company under that plan, relinquishing their wholesale activities.
In its latest earnings report, Telstra said: "The NBN rollout will result in Telstra no longer being the predominant wholesale fixed line provider in Australia, and will lead to a significant loss of revenue as customers and businesses transition to NBN broadband services."
Penn reckons Telstra has now absorbed about A$1.4 billion ($1 billion) of an expected A$3 billion ($2.2 billion) hit to annual EBITDA caused by the NBN rollout.
Through Telstra2022, the operator's response to NBN is to channel investments into the "digitization" of its business and the deployment of higher-speed mobile networks. It now claims to have spent about A$1.8 billion ($1.3 billion) on next-generation network infrastructure and another A$300 million ($218 million) on digitization.
— Iain Morris, International Editor, Light Reading
Subscribe and receive the latest news from the industry.
Join 62,000+ members. Yes it's completely free.
You May Also Like
---