6:00 PM -- The Global Semiconductor Alliance annual awards dinner has become a massive gala event, with something like 2,000 executives and VCs gathering at the Santa Clara Convention Center, right in the shadow of Intel Corp. (Nasdaq: INTC).

The irony, if you don't know, is that Intel is the antithesis of "fabless," a word describing chip companies that don't own manufacturing plants. A decade ago, we'd write articles to explain "fabless" and explain why a company would want to be that way; today, it's the norm for any chip startup.

The event is always nice, a great chance to catch up with folks and reflect on the FSA's early, humbler days. Sadly, I arrived too late to have time for any good photos. I missed the cocktail hour, for example.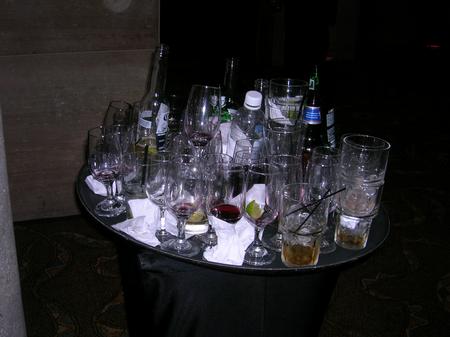 The FSA's dinner speakers are no slouches. This year it was Michael Eisner, the deposed chairman/CEO of Walt Disney Co. and now an entrepreneur of sorts, having invested in video-sharing site Veoh. (See Web Video Cheat Sheet.)

It was really difficult taking pictures in a room so large and dark, but Eisner is the tin soldier-looking thing just right-of-center on the stage, and you might recognize his face on the video screens.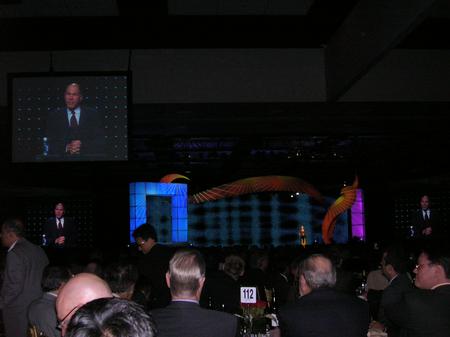 Eisner preached the benefits of micromanagement -- the very practice that helped get him ousted from Disney in 2005. He says "micromanagement" proudly. What it means to him is assigning the right budget to a project (big, small, whatever) and doggedly stick to it, relying on creativity rather than extra money when problems arise. It sounds better when he says it.

As for the awards, Atheros Communications Inc. (Nasdaq: ATHR) won two, showing it's "ready to play with the big boys," as one speaker put it. Separately, Cavium Inc. (Nasdaq: CAVM) won "most respected private company" for an unprecedented third time, and there were some rumblings about the company being hale enough to consider an IPO next year.

— Craig Matsumoto, Senior Editor, Light Reading