It's been a tough March quarter earnings season for a lot of names in the handset food chain, particularly the handset OEMs. Of the Tier 1 suppliers, only LG came through better than expected whereas:
Nokia expected to maintain market share but lost it;
Samsung expected to grow units sequentially, but they were flat -- whereas they expected ASPs to be flat and they were down;
Sony-Ericsson wasn't expecting their unit shipments to plummet 29 percent year-over-year; and
while Motorola's units declined even faster (-33 percent year-over-year), that's just Moto being Moto.


The problems certainly weren't limited to handset OEMs either. Texas Instruments wireless business was just plain old and the outlook appears to be more of the same. Infineon's wireless operations were only so-so despite gaining market share. Lastly, Qualcomm's headline numbers looked good but were driven by its royalty business, whereas its chip operations are seeing bloated inventories and weak margins.

Part of what has created these issues for the industry is no secret: Slowing demand in the U.S. and Europe has had a big impact at the wrong time. While neither market has many new subscribers, their respective installed bases generate solid growth from replacement units with reasonably high average selling prices (ASPs). There was no better example of the "gotta have the latest" syndrome than last year's introduction of the iPhone.

As I have noted on these pages in the past, the real growth of subscribers is taking place in emerging markets and our poster children for this are China and India. (See Top 10 Emerging Mobile Markets 2007,

Top Ten:

Emerging Markets Carriers, and A Guide to India's Telecom Operators.) Both countries are seeing penetration move out from the population centers into more rural areas as the technology and cost structure allows. And as the population becomes more prosperous, they move up the status ladder with replacement units that are as far from the entry-level models as you can imagine. Nokia believes that its replacement units in emerging markets represent about 60 percent of the units it sells in those markets and that's up from 50 percent last year. Obviously, this process is not limited to China and India, and the experience is being duplicated in Indonesia, Malaysia, Africa, and numerous other emerging regions. (See

Who Does What:

Middle East Carriers.)

While there has been a well documented slowdown in developed markets, there's been nothing of the case in emerging markets based upon the data available from India and China. Late last week the Telecom Regulatory Authority of India (TRAI) published its subscriber growth data for March. Adding that to the subscriber statistics from China Mobile and China Unicom creates a fairly accurate picture of what's transpiring in these markets.

As you can see in the graphs below, demand isn't stagnating but accelerating. The two countries combined for 19.6 million new subscribers in the month of March. India added a record 10.2 million and China added 9.4 million, just below its recent record 9.5 million in February. What may be more important to the industry is the fact that the combined new subscriber growth rate remains at a very strong level. That actually requires some explaining because the second graph below is somewhat misleading. On a straight year-over-year basis, India's new subscribers increased 188 percent. However, in March of last year, TRAI instituted a crackdown on its carriers and required all to confirm the status of all previously reported subscribers. The effort redirected time and resources from new subscriber activities and drove the numbers down precipitously in March and to a lesser degree in April. If I normalized for that period, India's new subscriber growth would still be up 79 percent year-over-year and the combined entities would have increased 57 percent in March. That translates into new subscriber growth of 44 percent for the first quarter of 2008 for the two countries.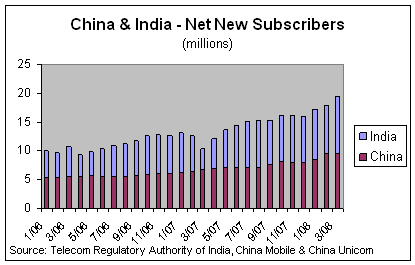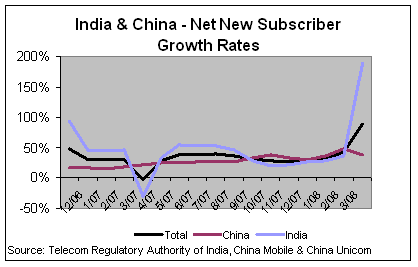 So what's not to like? If you use Nokia's estimate as a benchmark that 60 percent of unit sales in emerging markets are replacements in 2008, it suggests maybe as much as 45 percent of worldwide handsets are being sold into emerging markets. Obviously it would be great if the U.S. and Europe were humming along as well, but they're not.

As with all things electronic, prices decline and demand goes up. In a perfect world, the reduced price is offset with reduced costs and much higher volumes. As the industry leader and largest player in emerging markets, Nokia has seen its ASP decline fairly dramatically over the last several years as evidenced by the graph below. Throughout most of this period it has also done a very good job at maintaining overall handset margins. (Note: I would love to show you the appropriate graph on Nokia's margins, but like many companies it changed its reporting segment classifications, thereby precluding such over this time period.)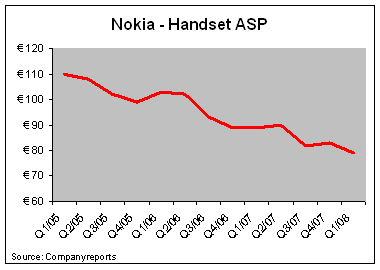 The hurdle is going to come for LG, Sony-Ericsson, and to a lesser degree Samsung, which have not been major entry-level players in emerging markets. Since they do not have the volumes that Nokia pushes through its channel, will they be able to maintain margins the way Nokia has?

As the largest of the three, Samsung has been no stranger to emerging markets, but has certainly stepped up its efforts recently by luring away two prominent Nokia distributors as well as a number of retailers. Those efforts will undoubtedly include expanded low-end offerings, which will accelerate its ASP erosion. Samsung may be the second-largest handset OEM, but it's still dwarfed by Nokia from a unit perspective. That certainly doesn't augur well for Samsung's handset margins.

Viewed from the perspective of LG and Sony-Ericsson, the prospects are worse given the fact that they do only about one fifth the unit volumes of their Finnish competitor.

Realistically, the path these companies (and Mr. Moto) are on is no different than that traveled by the personal computer industry over the last decade or so. Whether it's Compaq, Gateway, eMachines, IBM, or unnamed others, they all found it increasingly difficult to remain relevant, competitive, and profitable as the industry's pricing continued to decline and volumes continued to ramp. The only questions for the handset contingent is when, not if.

— Bob Faulkner, Special to Light Reading