Management, troubleshooting, and maintenance chores top the list of IT manager gripes when it comes to enterprise wireless LAN, according to a user roundtable in London today.

Most participants agreed, however, that wireless is now a business necessity, no longer falling into the "nice-to-have" category of networking features.

"Implementing wireless networks in a large enterprise is a nightmare," said Peter Smith, IT director at satellite communications provider Inmarsat Ltd. "To build it, you need specialist help, [and] it's harder to maintain than a wired LAN."

Like many IT professionals, Smith believes the best time to deploy wireless is when a company replaces its fleet of laptops. "Then you can standardize on NIC cards and drivers."

Standardizing on wireless NICs helps because it reduces the time needed to troubleshoot "mystery" dropped connections that can plague wireless end users and IT support desks. (See Roaming Hits Home for more detail on why your choice of wireless card matters).

Smith is currently rolling out a wireless system from Aruba Wireless Networks alongside (and eventually to replace) an older network based on Lucent Technologies Inc. (NYSE: LU) – now Proxim Corp. (Nasdaq: PROX) – access points, deployed back in 1999. "As an early adopter, we found there were no admin tools, [and when] we looked at upgrading the older kit, our ongoing options were quite closed."

After evaluating several other (unnamed) vendors, Inmarsat chose Aruba's wireless switch system to support its more than 250 wireless users because of its flexibility, security, and centralized management features. "We didn't rush to Aruba," said Smith. "The choice of kit is actually less important than the systems integrator – we used Airware."

Wireless Airware Ltd. is one of the biggest wireless LAN systems integrators in the U.K. and has deployed products from Cisco Systems Inc. (Nasdaq: CSCO), Bluesocket Inc., Proxim, and other vendors (see VARs Go Wild for WLAN).

Smith's experiences correspond closely with the findings of the March 2004 Unstrung Insider – Corporate Wireless LAN: The Users Speak – which pegged operational costs as the overriding concern of most network managers.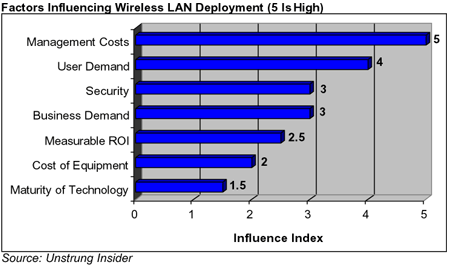 The report also found that buyers of wireless LAN equipment want the vendor, reseller, or system integrator to take care of the initial implementation and leave them with a working, hassle-free network. "IT departments want technology they can install and not think about for months at a time," states the report.

Despite the challenges, many IT directors get a kick out of wireless. "With any infrastructure investment, it's really hard to show return on investment, but with all the moves and changes we were doing out of hours, wireless pays for itself quite quickly," explained Smith. "Over four years, wireless has worked very well: Users don't tend to go back to wired connections."

— Gabriel Brown, Chief Analyst, Unstrung Insider