As the telecom industry continues to tumble through turmoil, there seems to be at least one bright spot on the horizon: Security. Carrier spending on products for managed VPN and security services will nearly triple by 2007, according to a report from Infonetics Research Inc. (see VPN/Security Market Grows Strong).

North American carrier spending on network-based products for managed VPN and security services will jump to $931 million from $345 million during that period, according to the report, titled "Service Providers: VPN and Security, North America and Europe 2003." European service providers will double their spending from $159 million to $382 million, the report adds.

"That's a good growth for service provider [spending] now," says the report's author, Infonetics analyst Jeff Wilson. "The markets have been down for so long [even a little growth] is super exciting."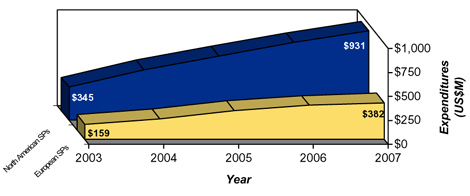 "VPN tops the list because connectivity is king, and any provider that isn't a security specialist has found it easier to develop and sell VPN services than other security services," says the report, which is based on interviews with respondents from 12 North American and five European carriers.

Of the carriers offering site-to-site VPNs, the report states that 94 percent are today using IPSec. That is, however, about to change. While IPSec is expected to experience an annual growth rate of 8 to 11 percent between 2003 and 2007, Multiprotocol Label Switching (MPLS) is expected to grow about 31 percent each year in the same period. Whether this is wishful thinking on the part of carriers remains to be seen (see Readers Take Shots at IP VPNs )./p> "There's definitely going to be a lot of interplay between IPSec and MPLS," Wilson says, insisting that carriers will need to offer a combination of the two to satisfy both security and performance requirements. "You'll probably see [a lot of] IPSec customer premises equipment running over MPLS for quality of service."

Intrusion detection systems (IDSs) also seem to be gaining more momentum in the security market. While these services only account for 8 percent of carrier security revenues today, 41 percent of the respondents in the Infonetics report say they expect a better than 20 percent increase in IDS revenues over the next year. "This is one of the major growth areas," Wilson says, pointing out that IDS is almost exclusively being rolled out as an integrated service with other security and VPN services.

Infonetics asked carriers to name the top security manufacturers. Check Point Software Technologies Ltd. (Nasdaq: CHKP) got cited by 88 percent, closely tailed by Cisco Systems Inc. (Nasdaq: CSCO) with 71 percent. Next came NetScreen Technologies Inc. (Nasdaq: NSCN) with 41 percent and Symantec Corp. (Nasdaq: SYMC) with 24 percent. Runners-up were Internet Security Systems Inc. (Nasdaq: ISSX), Nortel Networks Corp. (NYSE/Toronto: NT), and WatchGuard Technologies Inc. (Nasdaq: WGRD).

— Eugénie Larson, Reporter, Light Reading For further information on the latest developments in net security, see the new Light Reading report: Security Processors.