Lucent Technologies Inc. (NYSE: LU) today revealed its strategic product lineup, including new optical products officials say could produce as much as one quarter of the company's revenues for fiscal 2002.

In a session with Wall Street analysts lasting over two hours, execs were optimistic about the telecom market, despite recent setbacks.

"This is clearly a challenging environment, but it's a large market, and it will grow again in the long term," said Bill O'Shea, president of Bell Labs and executive VP of corporate strategy and business development.

He and other presenters said carriers will spend roughly $212 billion on their networks next year. To take advantage of the market, Lucent's reorganized around two key product groups, INS (integrated network solutions -- or wireline gear) and wireless equipment.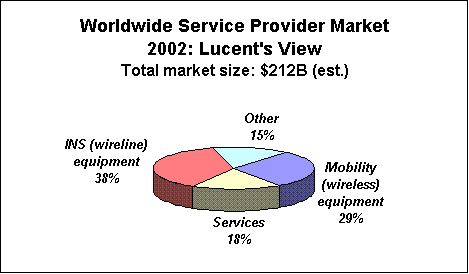 Janet Davidson, president of the INS division, further detailed several key areas within the overall market for wireline gear, which she says represents an $80 billion market opportunity in 2002. These areas include the core optical sector, itself expected to generate $16 billion next year.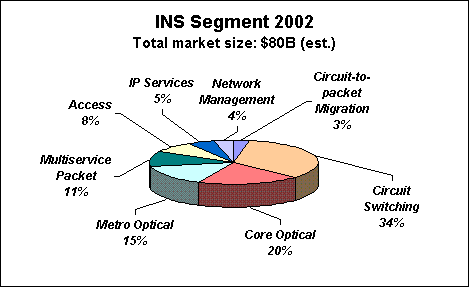 During the presentations, Lucent execs confirmed expectations that had been grinding in the rumor mill for several days (see Lucent Gears Up for Product Blitz ). These included the release of a series of new products for the optical core and edge, including the following:


LambdaXtreme: Lucent's first ultra-long-haul optical system supporting 128 10-Gbit/s channels for a total capacity of 1.28 Tbit/s, or sixty-four 40-Gbit/s channels for a capacity of 2.56 Tbit/s. This product is based on Raman amplification, and Lucent claims its first release, due out in March 2002, will support distances up to 4,000 kilometers without regeneration for 10-Gbit/s wavelengths, and 1,000 km without regeneration for 40-Gbit/s wavelengths. A later release, due out at an unspecified date, will support 3,000 km for 40-Gbit/s channels without regeneration, Lucent says.

The LambdaXtreme won't supersede Lucent's existing long-haul optical line, which includes the WaveStar series. But the distances it supports should enable Lucent to compete against products from Corvis Corp. (Nasdaq: CORV) and a host of vendors gearing up for ultra-long-haul networking.


LambdaUnite and LambdaManager: These combination crossconnect/ADM systems are designed to compete against the CoreDirector platform from Ciena Corp. (Nasdaq: CIEN). LambdaUnite is designed for small central offices and is slated to ship in January; LambdaManager is a redundant system geared to large facilities and is slated to ship in May.


TMX880 Multiservice Xchange Switch: Due in January, this product is Lucent's answer to products such as the 7670 Routing Switch Platform from Alcatel SA (NYSE: ALA; Paris: CGEP:PA) and the 3200 from Équipe Communications Corp., which support ATM and IP in a single platform with MPLS (see Alcatel ATM Switch Steps Up). The new platform also supersedes the older MSC 25000 core ATM switch, which Lucent has discontinued (see Lucent Bags High-End Switch). "Given the retraction in the core, we found that the sweet spot was a gigabit switch, not a terabit switch," Davidson said, noting that the new switch also came about because Lucent saw it was crucial to feature MPLS as early as possible.

Officials confirmed that the TMX880 hardware is based in part on technology from Nexabit, a startup Lucent acquired in 1999. The software is derived from the same programs Lucent uses in its multiservice ATM and frame relay switches.



Besides these announcements, Davidson reiterated announcement of the MetroDMX and MetroDMXpress platforms, which combine digital crossconnect and Sonet ADM functions in one box. Also shipping is the Metro EON DWDM platform, a metro box that Davidson says automatically fits ring configurations and integrates its amplifiers inside the box to avoid upgrade problems.

Davidson also said that Lucent is upgrading its GX 550 and CBX 500 Multiservice ATM/frame relay switches with software that increases reliability and density. One card, due out in December, will increase GX performance 400 percent, she said. The GX is also set to get gigabit Ethernet connectivity during the first half of 2002, and both GX and CBX will get packet-over-Sonet in the same timeframe.



Analysts on today's call expressed concerns that Lucent is simply recycling its older technologies into so-called new products. Officials countered with acknowledgements that indeed they were reusing gear, but they said there were enough features to call everything "new."

"We're not just rehashing old stuff," Davidson said. The LambdaXtreme, for instance, uses patented techniques that haven't been incorporated elsewhere.

Wall Streeters were also concerned that even though Lucent may have its optical lineup assembled, it's behind the curve set by competitors. The Navis network management platform, for instance, which has been revamped to manage all of Lucent's INS and wireless gear, is only just now entering the OSMINE process of certification at Telcordia Technologies Inc. That process, which is a prerequisite for selling to the RBOCs, is notorious for taking many months to complete. In contrast, Nortel Networks Corp. (NYSE/Toronto: NT) just announced that its Optera platform has been certified for OSMINE use (see Nortel's Optera Gets Osminated).

One analyst also questioned whether Lucent was ready to face an increased focus on routing devices at the edge of the network, which he said would be the inevitable outcome of revamped metro networks. Janet Davidson answered that Lucent was well prepared with a full line of products to cope with any changes to carrier networks.

— Mary Jander, Senior Editor, Light Reading
http://www.lightreading.com