Juniper Networks Inc. (NYSE: JNPR) will try to convince investors it's making progress with its QFabric and PTX product lines by making announcements on both fronts Tuesday.

Juniper is announcing a smaller version of the QFabric, targeting fabrics for something other than the hugest of data centers. And it's naming Verizon Communications Inc. (NYSE: VZ) as a customer for the PTX, its packet-optical transport system (P-OTS). (See Juniper Expands QFabric Line.)

Both announcements are being made at Juniper's analyst day, which starts Tuesday morning in Sunnyvale, Calif.

Both are part of a quartet of new products that's been less than overwhelming so far. The other two are the T4000 core router and the MobileNext evolved packet core. Analysts will be looking for a status update for the T4000 on Tuesday. MobileNext has shown no signs of life lately.

Gone to P-OTS
Light Reading didn't have all the details on the Verizon deployment at press time, but it's probably a good thing for Juniper, since one could argue that Verizon is the network operator for which the PTX was made.

The PTX is a label-switched router (LSR) -- a really big MPLS box designed to sit at the core of the IP/MPLS network. For a lot of traffic, an LSR can be a cheaper alternative to core-router ports, as Verizon has argued for the past couple of years.

It's also a win for ADVA Optical Networking , which provides the optical transport that goes with the PTX. (See

OFC/NFOEC 2011:

Juniper OEMs an ADVA Box.)

Incredible Shrinking Fabric
The new QFabric is called the QFX 3000-M, distinguished from the original QFabric, which has a part number QFX 3000-G. Each number refers to the whole QFabric platform: the QFabric Node (top-of-rack switch, essentially), the QFabric Interconnect that links the nodes, and the QFabric Director that manages all the traffic.

(Raise your hand if you didn't realize QFabric even had a product number.)

QFabric-M, as we'll call it, is meant to support 768 10Gbit/s ports, whereas the original QFabric-G can fit 6,144 10Gbit/s ports. Both use the same QFabric Director box, but the QFabric-M uses a smaller Interconnect, the QFX 3600-I, also being announced on Tuesday.

The 3600-I can also be used as the QFabric Node -- that is, the top-of-rack 10Gbit/s switch that feeds into QFabric. But the Node and Interconnect aspects use different software, so it can't do both at once.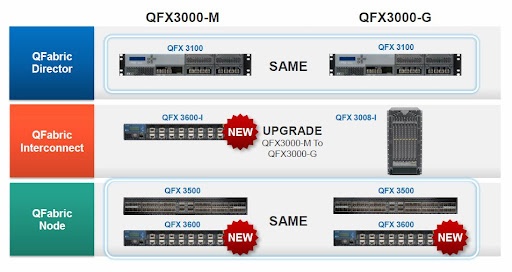 The 3600-I can run 16 40Gbit/s ports of server traffic if necessary, whereas its predecessors in the QFX 3500 family only accepted 10Gbit/s server connections and used 40Gbit/s ports only for uplinks.

The company insists things are going well for QFabric, but its announced customers haven't blown anybody away yet. The first target customers were the very largest data centers, which by definition aren't plentiful; QFabric-M increases Juniper's potential market.

Juniper did say at the QFabric launch that it would create smaller versions.

Most QFabric customers appear to be using just the QFabric Node -- which is the designation for Juniper's top-of-rack switches, the QFX 3500 and QFX 3600. Those are fast Ethernet switches, ordinary boxes compared with the whole QFabric.

QFabric is based on Broadcom Corp. (Nasdaq: BRCM) chips, rather than on Juniper-developed ASICs. The launch in 2011 had implied that Juniper-developed chips were at the heart of QFabric, as officials say $100 million in R&D went into systems, software and silicon.

Officials won't comment on when, or whether, an ASIC-based QFabric is coming out.

"That is not what customers tell us, and it is not a point that prospective customers bring up," says Denise Shiffman, a Juniper vice president of product marketing.

All the new pieces of the QFabric QFX 3000-M will start shipping at the end of June.

For more

— Craig Matsumoto, Managing Editor, Light Reading