Cisco Muddles on IMS
Network infrastructure giant
Cisco Systems Inc.
(Nasdaq: CSCO) is taking a surprisingly evasive approach to the emerging IP Multimedia Subsystem (IMS) technology market, according to the latest
Heavy Reading
report.
Despite Cisco's status as a leading provider of global IP infrastructure, the report -- "
IMS and the Future of Network Convergence
" -- finds that the company is yet to fully commit to a technology designed to deliver IP applications over different types of wired and wireless access networks (see
IMS Guide
).
"The company's attitude to IMS appears equivocal," writes report author Graham Finnie. "In a briefing with
Heavy Reading
in late 2004, the company was highly skeptical about IMS; the recent momentum behind it has led Cisco to fall more into line with the IMS approach."
However, Finnie adds that recent media articles written by Cisco employees have been largely hostile to IMS, criticizing the technology as too complex, too costly, and with little benefit for end users.
Indeed, unlike rivals such as
Ericsson AB
(Nasdaq: ERICY) and
Siemens AG
(NYSE: SI; Frankfurt: SIE), which have taken a lead in the market by virtue of their early commitment to specific IMS products, Cisco has a range of pre-existing products that are being reworked for IMS.
"This product and others... are not strictly IMS products," comments Finnie.
Finnie notes that Cisco describes its kit as "a family of SIP Proxies (including the CSCP) that are aligned architecturally with the IMS Core Session Control Functions (CSCF) and support specific CSCF interfaces and protocols." Cisco claims that this family already supports most important IMS interfaces and that it will add additional IMS interfaces to these platforms over time, dependent upon customer demand.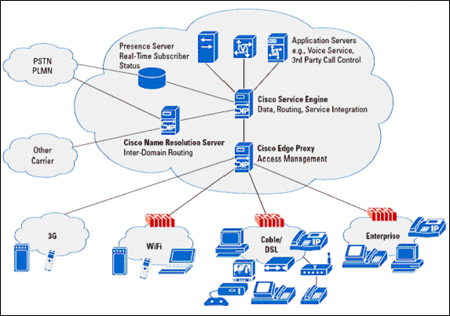 Nonetheless, Finnie maintains that Cisco remains the lone incumbent yet to truly reveal its hand in the IMS space. "All are now strongly committed to IMS -- with the notable exception of Cisco."
Opinions differ on the value of IMS and its likely impact on telecom. Have your say in the current
Light Reading
poll:
IMS
.
— Justin Springham, Senior Editor, Europe,
Unstrung
EDUCATIONAL RESOURCES


PARTNER PERSPECTIVES
- content from our sponsors