Apstra, which provides network automation for modern applications, is now extending its tools to let enterprises automate their legacy apps as well.
Apstra launched last year with Apstra Operating System (AOS), which is network operating system software that automates hardware configuration for networks built with equipment from leading vendors including Cisco Systems Inc. (Nasdaq: CSCO), Arista Networks Inc. and Juniper Networks Inc. (NYSE: JNPR), as well as whitebox providers. (See Arista Co-Founder Backs Network Automation Startup.)
But until now AOS operated L3 networks, limiting it to modern applications, built in the last five years or so, typically used by web-scale companies, Mansour Karam, Apstra CEO and founder, tells Enterprise Cloud News.
With AOS 2.0, announced Tuesday for availability this month, AOS extends to L2 networks, permitting network operators at insurance companies, retail companies and other old-line businesses to automate network provisioning for legacy applications,
"It's going to enable large enterprises to essentially move applications to a modern infrastructure that meets requirements in terms of agility and cost of operations," Karam says.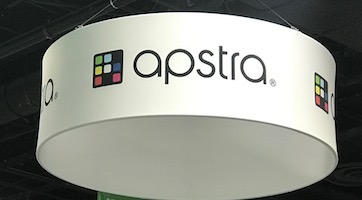 That transition is key to moving to private cloud. "If you're an enterprise and you'd like to deploy a cloud-like infrastructure and you don't want to rewrite your apps, now you have the ability to migrate," Karam says. (See Intent-Based Networking: What Does It Mean for Your Cloud?.)
AOS runs as on overlay on top of other vendors' networking hardware. That makes it similar to VMware NSX, which does the same. But NSX is mostly focused on microsegmentation, which is a specific security use for hypervisors. And it's decoupled from hardware, running on the entire networking infrastructure in aggregate. AOS, by comparison, manages the device hardware, and is complementary to NSX as well as VMware Inc. (NYSE: VMW) vRealize Cloud Management, Karam says.
Apstra's strategy is centered on intent-based networking. That means getting network operators away from manual tools such as command-line interfaces to instead express to the network the outcome that the network operator wants to see. The network then automatically configures itself to produce that outcome.
Cisco announced its focus on intent-based networking in July. (See Cisco's 'Network Intuitive': A Risky Transition.)
Juniper also supports that networking approach. (See Juniper's AppFormix Aims to Automate via Intent-Based Networking and Intent-Based Networking: Marketing Hype or a Magic Bullet for Automation?)
However, those larger vendors are linked to their own hardware, while Apstra works with the larger vendors' devices and others too. "Most customers out there want a choice of hardware. They want to dual-source their hardware from different vendors," Karam says.
— Mitch Wagner




Editor, Enterprise Cloud News