NEW YORK CITY -- While not even a year into the acquisition that brought it under the Cisco umbrella, AppDynamics is looking to play a bigger role in helping its parent company achieve its vision of intent-based networking.
At its AppD Summit here, AppDynamics CEO David Wadhwani detailed a company-wide plan that went beyond measuring and monitoring application performance to one that includes a highly secure network that closely monitors app and workload performance across a complex, multi-cloud environment.
It also includes tying application performance into business results and showing how one can affect the other, whether in the short term or long run. Ultimately, all this helps the network become more automated over time.
"If you think about AppDynamics, we run very deep in the application, as well as very broad across the infrastructure, whether it's in a private data center or in the public cloud," Wadhwani said during the October 19 keynote. "And when you have that intuitive network from Cisco... that's the foundation where we make everything even smarter."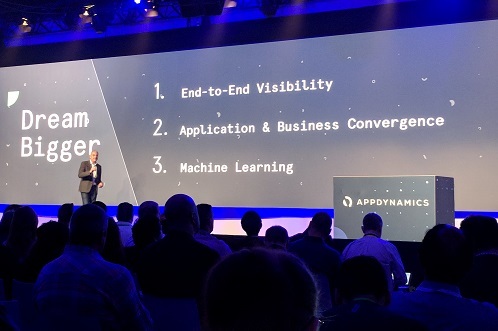 Rowan Trollope, senior vice president and general manager of Cisco's Internet of Things (IoT) and Applications division, who was also instrumental in the AppDynamics deal, noted on stage that the company see the network has becoming "more intelligent, more automated and more secure."
In January, Cisco lavished $3.7 billion on AppDynamics and bought the company right as it was about to announce its initial public offering. (See Cisco's Chuck Robbins Talks AppDynamics, Jasper at MWC.)
Since that time, Cisco has started to talk-up its intent-based or intuitive network that makes the network more automate and responsive and relies less on traditional hardware -- a business the company is looking to move away from -- and more on software and machine learning, as well as the abilities a company such as AppDynamics brings to it. (See Cisco Declares a New Era of Intent-Based Networking.)
As part of this plan, AppDynamics plans to focus on three specific areas over the course of the next several months: End-to-end visibility of the network, application and business convergence and machine learning.
At the same time, AppDynamics plans to keep agnostic when it comes to the cloud, and work with applications wherever that might be, whether its traditional on-premises data centers, private clouds or public ones.
---
Keep up with the latest enterprise cloud news and insights. Sign up for the weekly Enterprise Cloud News newsletter.
---
At the show, AppDynamics shared an idea of where this would take the company:
In terms of end-to-end visibility, the company is adding two features to its App iQ platform. The first is called IoT Visibility, a light-weight IoT agent that works Java and C environments. The second is called Network Visibility, which can measure latency, throughput and TCP, in terms of the business performance of the application. This also helps the company offer one place to measure business and application performance. Both features will be released next month.
The second is an update to the company's Business iQ technology to include new capabilities under the name Business Journey. This tracks customer interactions related to applications running on the network. (See Cisco's AppDynamics Looks to Drive Business Value.)
The final part is more focus and investment in machine learning in order to automate more processes within the network, whether its measuring app performance, security or self-healing when there's a problem.
As part of its machine learning initiative, AppDynamics and Cisco announced the acquisition of San Jose-based Perspica, which adds a layer of machine learning into the analytics operations process.
While Wadhwani made the announcement on stage Thursday morning, he didn't discuss many of the details or explain how Perspica would fit into the larger plans. However, he noted that the company will fold in under AppDynamics as opposed to Cisco.
Perspica had about $8.5 million in funding before this week's acquisition, according to CrunchBase.
Related posts:
— Scott Ferguson, Editor, Enterprise Cloud News. Follow him on Twitter @sferguson_LR.