Juniper Networks is likely to face more cloud problems in the months ahead as several large customers change their buying habits. These changes were reflected in the company's third quarter results released Tuesday.
For its third financial quarter, which ended September 30, Juniper posted net revenues of $1.25 billion, a 2% year-over-year decline and a 4% sequential decline. Non-GAAP income totaled $211 million, a 5% year-over-year decrease, and earnings per share that amounted to $0.55.
Wall Street analysts were looking for earnings per share of $0.55 for the quarter with revenue of $1.26 billion, which were all in-line with the results.
Last week, the company released a preliminary report that noted its cloud business had hit a significant snag and that would have a significant effect on its quarterly numbers. (See Juniper Hits a Cloud Snag in Q3.)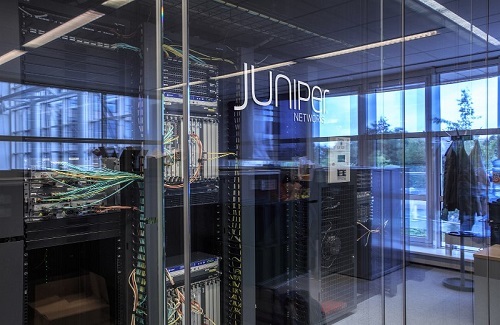 In a call with analysts on October 24, CEO Rami Rahim said the company had encountered "lumpiness" in the third quarter and he expects that to continue into the fourth quarter. Specifically, hyper-scale cloud customers are changing the way their architect their data centers and infrastructures and that has caused delays in ordering the company's products, especially switches.
"There are spending delays as customers prepare to go through this architectural shift," Rahim said.
Specifically, it seems that several hyper-scale cloud providers are upgrading to 100G switches from 40G switches, but the full transition has not happened yet, which is hitting Juniper's bottom line. Rahim expects that this delay will continue although he's convinced that the transition will start sometime in the first quarter of 2018.
While Juniper did not mention customer names, hyper-scale cloud providers include Amazon Web Service and Microsoft.
In a statement, Juniper also noted that the company has "initiated a realignment of its workforce in Q4, as it continues to prioritize its investments in the most critical areas of its business." Rahim and CFO Ken Miller did not elaborate if that meant layoffs.
---
Keep up with the latest enterprise cloud news and insights. Sign up for the weekly Enterprise Cloud News newsletter.
---
In terms of product revenue, Juniper's routing segment totaled $585.8 million, a 5.5% year-over-year decline; switching, totaled $212.6 million, a 4.5% decline; and security totaled $71.3 million, a decrease of 16.6%.
Juniper's cloud vertical declined 4% year-over-year and totaled $344.9 million, while telecom and cable fell 3.8% for a total of $576.9 million. The one upside was strategic enterprise, which increased about 3% to $336 million.
With issues related to switching deployments expected to continue, Juniper announced that its fourth quarter revenue will total about $1.23 billion, give or take about $30 million. In addition, the company is looking for non-GAAP earnings per share of about $0.52, plus or minus $0.03.
Related posts:
— Scott Ferguson, Editor, Enterprise Cloud News. Follow him on Twitter @sferguson_LR.