Google & Microsoft Tout Multi-Cloud, but Where's Amazon?

Comment (4)
SANTA CLARA, Calif. -- Cloud Foundry Summit -- There was a metaphorical empty chair at a panel about multi-cloud portability that featured Microsoft and Google pretty much agreeing on everything.
"Seems like somebody's missing," quipped moderator Frederic Lardinois, news editor for TechCrunch, on Wednesday as he surveyed panelists from Microsoft, Google and the Cloud Foundry Foundation.
"I'm saving them a seat," Chip Childers, chief technical officer of the Cloud Foundry Foundation, remarked in response.
The company not represented on that panel was Amazon Web Services, which has more than half of market share in public cloud, with Microsoft Corp. (Nasdaq: MSFT) and Google (Nasdaq: GOOG) in second and third place, respectively. (See Cloud Growth Spawns Worries, Mary Meeker Reports.)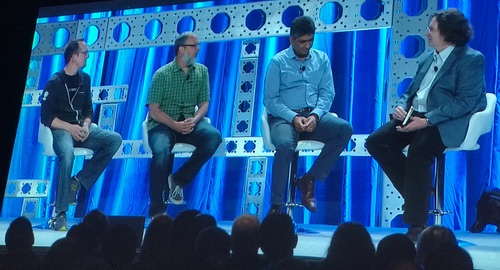 But the subject matter of that panel was making applications portable to run on multiple clouds -- a strategy that hurts Amazon as the incumbent, and helps challengers including Microsoft and Google. With most public cloud workloads running on Amazon today, which means that if cloud workloads get mobile, they'll mostly be leaving Amazon.
Cloud Foundry is about "customer choice," said Eric Johnson, Google technical lead/manager. "Cloud Foundry is a great way to abstract a lot of the difference between cloud providers," he said. "You're abstracting the complexities you don't care about."
Cloud Foundry provides a layer that standardizes capabilities that are similar across multiple cloud providers, while allowing enterprises to take advantage of capabilities that are unique to each cloud provider, Johnson said. For example, every cloud provider uses virtual machines, but deploys them differently. Bosh, a component of Cloud Foundry, handles managing virtual machines, and developers don't have to worry about that. "Just focus on developing your applications," he said.
Microsoft supports Cloud Foundry by running it on both Azure and on Azure Stack, its platform for running Azure workloads on enterprise premises, due to ship later this year. (See Microsoft Wants Azure to Blur the Enterprise Edge.)
Supporting customer choice is a big change for Microsoft, which has historically pursued a strategy of lock-in.
The reason for the change: Customers demand it, KY Srinivasan, Microsoft partner architect, said. "Microsoft is all about choice these days," he said.
Another big change for Microsoft: adopting open source. Again, that's customer-driven, Srinivasan said. "If customers are running the open source stack, we want to make sure our platform supports it as well as we can," he said. Microsoft also sees value in the open source business model.
As part of that transition to open source, Microsoft this week announced it's joining the Cloud Foundry Foundation as a gold member. (See Microsoft Goes for Cloud Foundry Gold.)
While embracing choice and open source is relatively new for Microsoft, historically Microsoft has always been about making the complex simple, Srinivasan said. "My grandmother can read email because of Microsoft offerings." And that's Microsoft's approach to cloud as well.
Related posts:
— Mitch Wagner
Editor, Enterprise Cloud News
---
CALLING ALL CLOUD, NFV AND SDN COMPANIES: Make sure your company and services are listed free of charge at Virtuapedia, the comprehensive set of searchable databases covering the companies, products, industry organizations and people that are directly involved in defining and shaping the virtualization industry.
---
---
Keep up with the latest enterprise cloud news and insights. Sign up for the weekly Enterprise Cloud News newsletter.
---