In just a few months, Bikash Koley has set some big wheels in motion at Juniper.
He joined as CTO in August, arriving from a high-profile job as Google's head of network architecture. He helped define some of the principles we now bundle into the word "hyperscale." Often, an executive isn't made available to the press so quickly after arriving, because they don't have that much to say yet. Koley has a lot to say.
Yes, he's bringing some Google mentality into Juniper, but his ideas are much more specific than that. Having worked on the vendor side before -- and understanding that his Google experience doesn't match that of the typcial customer -- Koley took the Juniper job with a sharpened vision, ready to fill the gaps between today's networks and the multicloud future that enterprises want.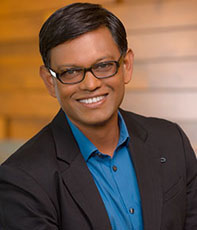 Here's what we covered:
Page 2: What's Missing in Automation
Page 3: Contrail-as-Platform
Page 4: Disaggregating Juniper: P4 and SDn
---
CM: When you left Google, was there a reverse culture shock? Did you have to re-adjust to the real world?
Koley: The good news for me is that I did work in the "real world" for a long time before I joined Google. I was at Ciena for four-plus years, and then I did a startup for four-plus years.
But there are things that are different. One way of looking at my job at Google -- I was there ten years, and I joined right when YouTube was getting absorbed into Google infrastructure. Pre-YouTube and post-YouTube are very different networks in scale and capacity. It was a huge amount of work. The whole CDN infrastructure that we had to build and the whole edge that we had to build, to a very large extent, was driven by Google. Of course, every single application used it.
But the way I always viewed my life at Google is: We had to invent a bunch of things because they did not exist. There was no scale-out architecture in data center; everybody was doing the standard two-tier design. There was no lean core. The whole idea of SDN was not called "SDN" when we started doing it.
In most cases, there wasn't an option to buy, so we built it.
CM: I think a lot of people mistook that for "Google wants to do this for fun."
Koley: Absolutely. If I had to do it again, there are many things I built that I would not build. I'll give you an example. The last SDN project that we worked on was Espresso. Espresso did not try to build the hardware in-house at all. It was standard hardware with some APIs and programmability.
Over 10 years, the industry changed to a point where you can expect programmability on the hardware. Look at the Facebook Open/R announcement, where Open/R runs natively on Junos. They didn't need to go build the hardware. So, it was almost never by choice. It was by necessity.