 Qwilt is really looking to change the game with its new Open Edge CDN. Working with some of the biggest names in video delivery, the company has developed a system that not only enables software-driven and transparent caching at the network edge for individual service providers, but is also tied to a cloud-based architecture that can link together multiple content and delivery ecosystems via APIs based on specifications approved by the Streaming Video Alliance. Members of the Alliance include Amazon, CenturyLink, Charter, Comcast, Liberty Global, Limelight Networks, Sky and Verizon, among others.
Figure 1: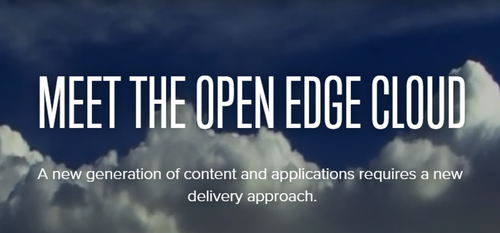 The Open Edge CDN, which makes its debut commercially today, does three things. First, it allows service providers to deploy software nodes on commodity hardware in their own last-mile networks. The control plane for these caching nodes exists in the cloud, which means operators can remotely manage traffic control of their own content, and also that the system scales because it's not relying on discretely owned infrastructure capacity.
Second, the service lets operators use transparent caching to automatically store the most popular content at the network edge. This includes both operators' own content and content from third parties.
And finally, the Open Edge CDN delivers a new kind of open caching capability, whereby APIs are used to connect a service provider's edge network with other commercial and private CDNs. That function allows new partners to take advantage of a service provider's last-mile network -- per whatever business arrangement is negotiated -- for higher-performing and more efficient content delivery services. [Editor's note: This strikes me as incredibly useful, but also as a potential future regulatory flashpoint.]
Qwilt Inc. 's claims around the Open Edge CDN would be hard to credit if it weren't for the fact that the company has been working toward this launch for a long time, and that it has the backing of some very important industry players. Aside from its work within the Streaming Video Alliance , Qwilt has directly integrated with CDN company Limelight Networks Inc. (Nasdaq: LLNW) and counts Verizon Communications Inc. (NYSE: VZ) as a transparent caching customer. Verizon Director of Network Infrastructure Planning Mike Altland also said point blank last fall that while his company is using Qwilt for transparent caching today, it has the broader open caching capabilities on its roadmap for the future. (See Qwilt Takes Limelight to the Edge and Qwilt Starts Caching on Verizon Edge.)
Further, Qwilt's Open Edge CDN is built on traffic control work initially done by Comcast Corp. (Nasdaq: CMCSA, CMCSK) and contributed to the open source community. Comcast hasn't said outright that it's a Qwilt customer, but Jan van Doorn, a Comcast Fellow, gives as close to an endorsement of the Open Edge CDN service in Qwilt's press release as the cable company is ever likely to provide.
"Qwilt's innovative work on the Open Edge CDN is exactly the sort of thing we were hoping to see when we open-sourced Traffic Control," says van Doorn. "We applaud Qwilt's ongoing contributions to the open-source community and their engagement with the growing movement of Apache Traffic Control users."
You're invited to attend Light Reading's Big Communications Event -- the ONE event that delivers fresh perspective on the rapid transformation of the telecom industry and the road ahead. We'll see you May 14-16 in Austin -- communications service providers get in free! The Open Edge CDN concept is revolutionary on its own, but Qwilt has further designs on the system architecture that look even more ambitious. CEO Alon Maor envisions using the Open Edge CDN as the beginnings of an edge computing network. According to Maor, the goal of improving content caching gives operators a financial incentive to put more nodes at the network edge. Those nodes can also contain processing power, and with a cloud-based software management system, they can be used for distributed computing in addition to distributed content storage. (See Qwilt Marries Caching, Computing at the Edge.) One other note: the Open Edge CDN is not just designed for traditional fixed-line service providers. It can also be used in mobile networks. That opens up (pun intended) a lot of potential for mobile application delivery. — Mari Silbey, Senior Editor, Light Reading
Subscribe and receive the latest news from the industry.
Join 62,000+ members. Yes it's completely free.
You May Also Like
---