LOS ANGELES -- MEF18 -- The time has come for SDN to bring an end to the "tyranny of the boxes," said Comcast's Kevin O'Toole in his keynote at MEF18 this week.
The network has long been constrained by proprietary hardware, plagued by a "million cables hanging out" and hardware that depreciates in value, said O'Toole, senior VP of product management for Comcast Business .
Delivering software-defined networking and gigabit broadband to the last mile, and not just to large enterprises but also SMBs, is "a fundamental moment in our industry," he said.
"If you look at gigabit broadband out there for about $500 a month now -- you're going from 1MB for $400 to 1GB for $500 over the course of 12 years or so. That's Moore's Law-class price compression on those capabilities."
O'Toole noted that Comcast is now offering gigabit speeds to 98%* of its cable footprint, including up to 4 million businesses.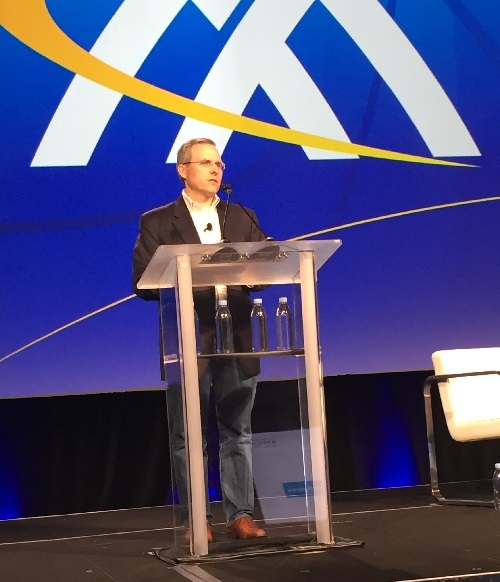 Being "Gigabit ready" is one of the four pillars that O'Toole described as foundational to Comcast's ActiveCore SDN platform. In addition, the platform needed to be fully hosted, be virtualized, and simplify the digital experience to enable customers to focus on "higher-value business problems and make their networks easier to run." (See Comcast Business Positions Itself 'Beyond Fast' amd Comcast Packs More Powerful SD-WAN Punch.)
"It had to be multi-VNF from the ground up; we didn't want a one-trick pony that does 'this thing' very well in software but not much else because the world is changing so fast," said O'Toole, speaking about Comcast's ActiveCore platform.
O'Toole said Comcast also wanted to provide simplified policy management in its SD-WAN service, which is part of the ActiveCore platform. "For us, keep it simple manifested in making sure the router and firewall were included and it was simple for the customer to engage with and purchase.
"Finding the balance between keeping it simple versus having the full functionality needed will be the tension in the system for many, many years, but done properly, software-defined networking is a way to bring simplicity to the problem," he added.
Yet moving from legacy technologies like MPLS won't happen overnight, and operators need to find a way for legacy and new technologies to coexist in a hybrid WAN environment, explained O'Toole.
"This is a very young set of technologies. Anyone who thinks they have a hammer lock on how this is all going to work, how customers are going to use it, and how fast it's going to deploy and evolve is probably kidding themselves."
---
How will service providers enable automated and efficient network operations to support NFV & SDN? Find the answers at Light Reading's Software-Defined Operations & the Autonomous Network event in London, November 7-8. Take advantage of this opportunity to learn from and network with industry experts – communications service providers get in free!
---
One of the biggest challenges the telecom industry will have to solve is how to address "digital desert sites," he said. While customers are intrigued by new technologies like SD-WAN, they also want guidance on how to utilize these services where network density is scarce. The solution may lie in transport technology, or application architectures that allow "applications to move gracefully in a bandwidth-constrained world." But this is a problem the telecom industry will need to solve in the near future.
On this SDN journey, standards like MEF 3.0 will be important for operators in addressing the challenge of vendor lock-in and the tyranny of the boxes, said O'Toole. In addition to interoperability, standards address challenges around quality and scale.
"The role of standards is so unappreciated or underappreciated sometimes in our world. Standards are what allow us to scale these businesses effectively," said O'Toole. "Scale is everyone's best friend because it takes so much cost out of the business."
— Kelsey Kusterer Ziser, Conference Producer & Contributing Writer, Light Reading
(Editor's note: An earlier version of this article incorrectly stated that Comcast Business is offering Gigabit speeds in nearly 96% of its cable footprint.)