Cyan Inc. is introducing a software-defined networking (SDN) platform Monday, claiming it can apply the software to networks running a variety of other vendors' gear.

Blue Planet, as the platform is called, is an SDN orchestration platform -- software, sitting on a server, that lets applications issue commands to network elements such as Ethernet switches.

To get that done, Blue Planet needs some ancillary pieces. First, the apps themselves, which have been developed by Cyan, its customers and some outside developers. On the other side are what Cyan calls element adapters -- the software that lets Cyan issue commands to specific vendors' hardware.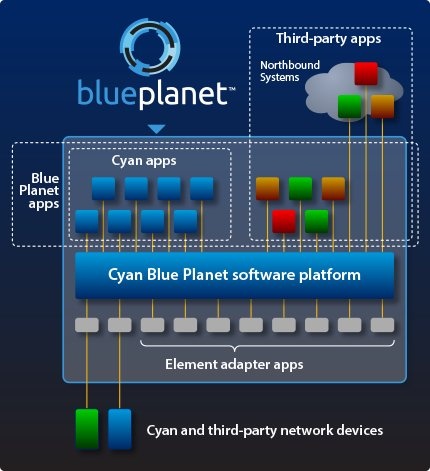 That list of vendors has grown to about 50, including some platforms from bigger vendors such as Alcatel-Lucent (NYSE: ALU), Ciena Corp. (NYSE: CIEN), Cisco Systems Inc. (Nasdaq: CSCO) and Juniper Networks Inc. (NYSE: JNPR). It's a long way from a year ago, when Cyan extended its software to talk to gear from just three companies. (See Cyan Widens Its Ethernet View .)

"Early deployments have been in locations that don't even have Cyan hardware," says Michael Hatfield, Cyan's president.

Uses for Blue Planet could include the monitoring of service-level agreements or the controlling of bandwidth allocated to Ethernet services, Hatfield says.

Cyan, a Leading Lights finalist in the Company of the Year category, will be showing Blue Planet in a private suite at Ethernet Expo in New York this week.

Why this matters
The ideas around SDN are moving more quickly than the products are. A platform such as Blue Planet could help carriers start working with SDN without having to wait for OpenFlow-enabled hardware, Hatfield says.

There's also the fact that carriers aren't expected to replace much equipment for SDN's sake, at least at first. Cyan's approach fits that sentiment. "It reaches back into the existing infrastructure and provides an SDN structure on those elements as well," Hatfield says.

As for Cyan itself, it's been working from a model that looks at the packet and optical layers simultaneously. This methodology extends into Blue Planet, so that applications "don't have to worry about the individual layers of the network," Hatfield says. As optical transport becomes more of a factor in SDN discussions, it will be interesting to see what impact Cyan's approach has.

For more

— Craig Matsumoto, Managing Editor, Light Reading