Nuage's Khandekar on the Future State of SD-WAN

Comment (1)
DALLAS -- SD-WAN Strategies for Success -- In order to meet enterprise customer needs for SD-WAN, operators not only need the right technical solution, but must also identify the right business cases, operational tools and partnerships for SD-WAN services, said Sunil Khandekar, founder and CEO of Nuage Networks , the Nokia Networks SDN unit, yesterday.
Before examining goals for the future state of SD-WAN, Khandekar explained that SDN is one of the foundational technologies that can help enterprises meet their goal of leveraging IT for a competitive advantage, reducing operational costs and creating new revenue streams. Two predominant use cases for SDN are for transforming the data center and transforming the wide area network, said Khandekar.
"Cloud happened and the need for speed created an opportunity, which is where we came in, we saw the opportunity … to automate not just the data center or not just the WAN because ultimately we believe the meta problem to solve is to connect users everywhere to applications anywhere -- whether it's in private or public cloud -- and for that you need to automate the entire value chain," he said. "You can't just focus on the wide area or you can't just focus on the data center."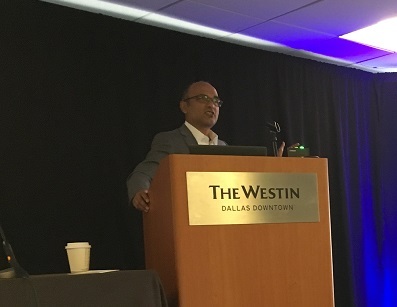 Moving forward, enterprises need an SD-WAN platform that accounts for new, future use cases; is fully automated and simple -- but not simplistic; and that works in multiple geographies and in both the private and public data center. The right SD-WAN platform also features VNF support; built-in security services and micro-segmentation; achieves multi-tenancy; is scalable and resilient; and provides flexible service chaining -- whether that's in the branch or the data center, he said.
The right technical solution isn't enough -- Khandekar emphasized the need for operational tools that provide service assurance, fault monitoring and reporting in an SD-WAN platform.
"When the ops teams get their hands on this shiny new thing, their first question is 'How do I manage, operate and deploy and understand when there's a fault? How do I zoom in on the fault?'," said Khandekar. "Right from day one, we have focused on not only building the new technology, but offering the service assurance and troubleshooting tools, and offering the service topology -- not just the physical topology -- but abstracted service topology, for each service, to be able to fault correlate if there's a break in the underlay."
Khandekar also echoed a common theme throughout the event that SD-WAN isn't replacing MPLS. He referenced a recent survey of 350 IT professionals conducted by Cato Networks which revealed that 62% of those implementing SD-WANs report MPLS investment will increase or remain unchanged. The industry's focus should be on melding MPLS and SD-WAN together seamlessly -- connecting the old and the new for business continuity. (See Survey Says: SD-WAN No Panacea.)
"Having an SD-WAN solution that does both -- that has thought through how to support the brownfield and has thought through the business continuity, not only for the service providers but most importantly for their customers the enterprises, is critically important," he said.
— Kelsey Kusterer Ziser, Editor, Upskill U
PARTNER PERSPECTIVES
- content from our sponsors
GUEST PERSPECTIVES
- curated contributions