Telcos Beware: New Comcast WiFi Product Close to Launch

Comment (12)
Amid clear signs that the cable industry is ramping up its wireless activity, new information has emerged showing that Comcast is preparing a business WiFi product with features to challenge existing telco commercial strategies.
Light Reading has learned that Comcast Corp. (Nasdaq: CMCSA, CMCSK) will soon launch a new WiFi Pro offering that will give businesses the ability to design, deploy and manage WiFi services all from a web-based app. This includes not only setting up both private and guest WiFi networks, but also controlling bandwidth allocations, setting content filters, and defining the rules of guest access with options like time limits and blackout windows. A splash page design feature for WiFi Pro also lets businesses determine what customers first see when they connect to a managed network, including promotional information that can be updated and swapped out at will.
Details on the WiFi Pro service are publicly available in two YouTube videos; one offering an overview of the product, and the other reviewing the splash page design feature. In addition to discovering the videos, Light Reading has confirmed with a Comcast source that the cable company will be launching the service soon, and that it intends to be flexible in working with multiple WiFi equipment vendors per its customers' needs.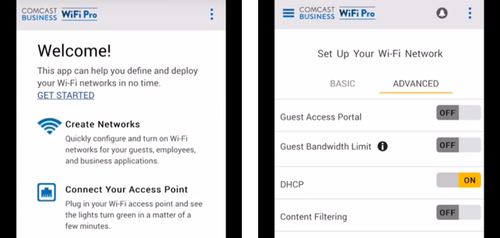 Managed WiFi services represent a major opportunity for cable operators. On the business front, managed WiFi nicely complements Ethernet and other fixed-line data services; two areas in which cable companies have made significant strides in recent years. (See Comcast, Level 3 Flex Ethernet Muscles and Comcast Business Named Fastest Growing Ethernet Provider .)
There's also growing demand for managed WiFi services in particular, as evidenced by IDC's forecast in 2014 projecting that worldwide revenues for cloud-managed WiFi will jump from $653 million 2014 to $2.5 billion by 2018.
Comcast hasn't ignored the signs. With growth from business services hovering each quarter at around 20%, the company has been rapidly expanding its commercial services capabilities. Most significantly, Comcast announced in September that it's moving beyond the small to midsized business market to target the Fortune 1000 enterprise sector. As part of that move, Comcast acquired a company called Contingent Network Services specifically to support managed services in the areas of Ethernet, voice, router, security, business continuity and WiFi. (See Comcast Business Targets Fortune 1000.)
---
For more on wireless networking trends, visit the cable WiFi channel here at Light Reading.
---
On the WiFi technology front, Comcast has also been aggressive. In its last earnings call, the company announced it has deployed 11.7 million WiFi hotspots. The cable giant is also among many in the industry working hard to upgrade WiFi networks to carrier-grade status, improving both overall quality of service, and operator control over network utilization. (See Cable's Chance to Get Mobile Right and Comcast Confirms It Will Activate MVNO Deal.)
The WiFi battle extends not only across business locations, but also public gathering spaces and consumer homes. The evolving nature of the technology and insatiable demand for connectivity mean WiFi is an area that will continue to gain focus from Comcast, as well as from operators and vendors throughout the telecommunications sector. (See also Battle for the Home Network? It's On.)
— Mari Silbey, Senior Editor, Cable/Video, Light Reading
PARTNER PERSPECTIVES
- content from our sponsors
GUEST PERSPECTIVES
- curated contributions