NEW YORK -- The Future of Cable Business Services -- Perhaps the secret to becoming a more competitive cable company is to forget that you're a cable company.
The "Cable's Service Challenge: Going Beyond Gigabit Speeds" panel here on Thursday morning highlighted the need for cable companies to help educate the market on what capabilities their technology provides, leading to public-private partnerships and more discussions about the requirements of business applications. The conversation has shifted from selling network capabilities themselves based on download speeds, the kind of wire being used, and other network-centric metrics that most business users really don't care about if they have enough connectivity.
Sometimes the discussions of fiber vs. DOCSIS and the marketing of speeds and feeds is undermining the cable providers' ability to just sell services. "1 Gig is a lot of bandwidth and you don't need it to run a credit card machine," said Kristi Salmon, Senior Director of Marketing, Business Services at Mediacom Communications Corp.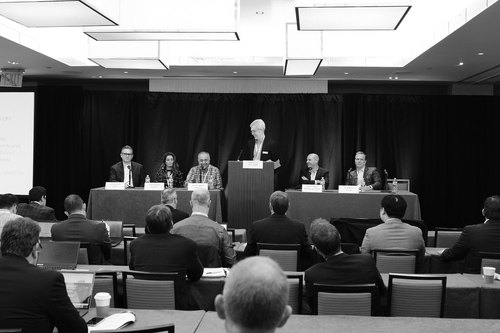 "We're going to the market and saying, 'This is what 1 Gig enables,' " Salmon said. "All of these new technologies are so bandwidth intensive" and business owners need to be guided to buy based on what applications they're most likely to use. The days of business customers picking, by rote, the fastest download speed provider in their market (which can often be a telco's fiber) are just about over.
As the panel went on, it's clear that cable companies are being more strategic in how they sell business services -- and that includes clearing up market confusion around what DOCSIS 3.1 can do and why it matters. And, from an infrastructure point of view, the cable companies and telcos aren't even as different as they used to be.
Nearly 87% of cable respondents in a recent Heavy Reading survey said their company has already started extending fiber deeper into the access network or plans to start doing so by the end of this year, Light Reading's Cable/Video Practice Leader Alan Breznick recently noted; he was the panel moderator. (See Why Cable Keeps Feasting on Fiber .)
Services fed by DOCSIS 3.1 can be a budget-friendly transition for smaller companies that can't afford fiber-based services, said Gerardo Garza, vice president of business sales at Atlantic Broadband . But the gap is closing between what DOCSIS 3.1 costs and what fiber costs, depending on the customer's needs, Garza said. "Now that gap is becoming really, really small," and sometimes adding new fiber to meet a customer's needs is a more economical solution, he said.
Mediacom's Salmon said the company is not selling service level agreements tied to its DOCSIS 3.1 business services and that the company is "working really hard" to keep from cannibalizing its existing fiber business. Falling prices for connectivity services across the board has made that a challenge. "What we'd be able to sell 100-Meg for is not even half the price" that it was just a short time ago, Salmon said.
What Mediacom is working harder to do, she said, is retain its fiber-fed customers by using customer experience as the thing that distinguishes its service. The company is walking a "fine line on how we present both" DOCSIS and fiber services "so that each side is successful," Salmon said. Part of its strategy to deal with that market reality is Mediacom's decision that it "won't be the low-cost leader versus the LECs anymore."
What should cable companies continue to do to win business customers over, even as they become more able go gig-for-gig with the fiber-based services of telcos and other commercial market rivals? This panel, though not said explicitly, seemed to favor the idea that they should look and sound less like cable companies.
Selling services based on price is "going to be a race to the bottom," said Vikram Saksena, chief solutions architect at NetScout Systems Inc. (Nasdaq: NTCT). "I think at the end of the day, whoever delivers the best experience at the most competitive price point is going to win."
"As [network] operators we always think at the network level and we think in terms of connectivity -- and we need to start elevating our thinking," said Saksena. "We need to start thinking about applications… and how do we elevate the experience to delight your customers so much that they switch from the incumbents and stay with you?"
— Phil Harvey, US News Editor, Light Reading