Comcast Corp. (Nasdaq: CMCSA, CMCSK) is preparing to expand access to its Fancast Xfinity TV online video service to video customers who get high-speed Internet access from Verizon Communications Inc. (NYSE: VZ), AT&T Inc. (NYSE: T), and other outside broadband service providers.

"We're targeting the end of the second quarter to the third quarter -- within six to eight months," Comcast senior vice president of new media Matt Strauss told Cable Digital News regarding plans to offer Xfinity to the company's entire base of 24 million video customers.

Expanding access to customers who subscribe to high-speed Internet services from rival providers would allow Comcast to hit the accelerator on a marketing campaign for Xfinity, which gives cable TV subs broadband access to a larger library of original series and movies on their PCs -- including titles from premium networks like HBO Starz and expanded basic channels such as TBS and AMC.

Xfinity is currently available to about 14 million Comcast customers who subscribe to both digital cable and the MSO's cable modem service. Comcast launched a trial for the online video product in August, and went national with it on Dec. 15, 2009. But Strauss says Comcast still views it as a beta offering. (See Comcast's 'Xfinity' Goes Live .)

Many cable networks, including Discovery Communications Inc. (Nasdaq: DISCA, DISCB, DISCK), and premium programmers like Xfinity suppliers HBO and Cinemax have largely resisted offering full-length episodes online out of concern that they could erode the value for their core business of collecting monthly subscription fees for their content. But Xfinity and a similar "TV Everywhere" service being tested by Time Warner Cable Inc. (NYSE: TWC) will expand broadband access to some of HBO's newer originals.

Strauss says the most popular programming on Xfinity has come from premium networks, pointing to the novelty of being able to stream programming from HBO or Starz to a computer. The premium content is only available to Comcast high-speed customers who also subscribe to those networks through digital cable. Comcast built an authentication system for Xfinity that determines the content each subscriber has access to online.

While it's the premium content on Xfinity that sets it apart from Hulu LLC and broadcast network Websites that provide ad-supported programming, Comcast positions the broadcast and basic cable online content as prominently as premium content on the Xfinity home page.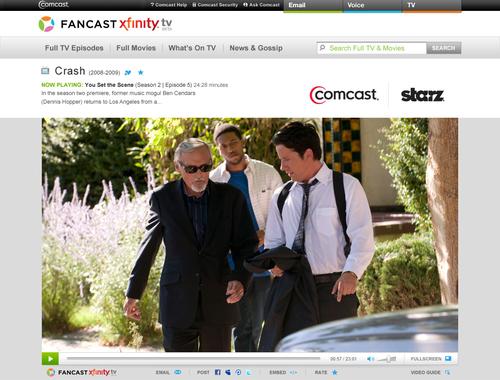 "We want it to be seamless. We want to highlight all of the great programming available. That would include HBO and authenticated content, and it would include content that you could be getting through Hulu or CBS," says Strauss.

Comcast allows its video subscribers access to Xfinity on up to three PCs and plans to enable access on mobile devices later this year. (See Comcast's 'Xfinity' to Go Mobile in 2010 .)

Subscribers with children away at college could allow the students to access Xfinity in a dorm room, as long as the subscriber doesn't exceed the limit of three connected devices. Asked if Comcast is concerned that Xfinity security breaches could occur if a college student were to share his password with friends, Strauss noted that Comcast is "looking at any usage patterns that the product has been used inappropriately." So far, he adds, the MSO hasn't encountered any.

Launching Xfinity also poses new customer services challenges for Comcast. Strauss says some of the technical support calls Comcast has received involve difficulties installing the Xfinity client software that subscribers must employ for online access to shows and movies from their cable subscriptions. In addition to downloading the Adobe Systems Inc. (Nasdaq: ADBE) Air application, subscribers must install "Comcast Access," the company's authentication platform, which is a 17.5-megabyte file. (See Comcast's 'Xfinity' Goes Live .)

"Whenever you have a client, you may have some people that have technical issues regarding the installation of the client. I don't think any of them were out of the ordinary," says Strauss. "Going forward, we don't anticipate any technical issues, and we feel that we've been able to rectify all of the technical questions and issues that have come up."

Comcast officials wouldn't reveal how many of the 14 million digital video and high-speed Internet subscribers who are eligible to register for Xfinity have signed up for the service so far. They also wouldn't discuss metrics involving how long each user spends on the site each day or each week.

In October, Comcast said that subscribers in its online video trial -- then called "On Demand Online" -- were spending an average of 21 minutes watching video in each session. It hasn't released any usage data since then. (See Comcast Web TV Trial: 10,000 Being Served .)

— Steve Donohue, Special to Cable Digital News