NEW YORK -- The prosecution bore down on ex-WorldCom CEO Bernie Ebbers in his fraud trial today, trying to depict him as a desperate man who was crushed by personal debts (see Ebbers: Of Motels & Men).

In a cross-examination of Ebbers, who took the witness stand on Monday, Chief Prosecutor David Anders focused on Ebbers's hundreds of millions of dollars in loans as a potential motive in the company's $11 billion fraud, as banks forced Ebbers to hand over nearly all his WorldCom stock in 2000. (WorldCom eventually filed for bankruptcy and has since emerged as MCI Inc. -- see Is Capellas Right for WorldCom?, MCI Starts a New Chapter, and MCI to Ebbers: Timberrr!.)

Ebbers's testimony also featured the usual run of WorldCom nuggets -- including sightings of former Smith Barney analyst Jack Grubman, more news from Bernie's yacht, and the resurgence of the ever popular coffee clash.

Poring over a series of financial documents, Anders asked Ebbers many questions about WorldCom's financial situation. Ebbers suffered repeated memory lapse across many scenarios, answering "I do not recall," to several questions about finances. But he did say he saw many regular WorldCom financial reports, including monthly reports regarding revenue and growth rates, and was in communication with the company's Investor Relations department about company guidance.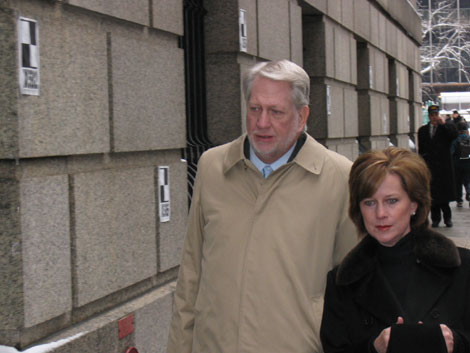 At one point, Anders appeared to score some points as Ebbers said he had added to WorldCom's public growth-rate forecasts while speaking at a financial conference, although Ebbers brushed off the incident as insignificant.

"You added a half percent," said Anders, referring to Ebbers's statement that he had tacked on to the company's growth numbers.

"Yes," replied Ebbers. "...it doesn't matter... what's important is the range. " "So there was no motive to add a half percent?" asked Anders. "No," said Ebbers.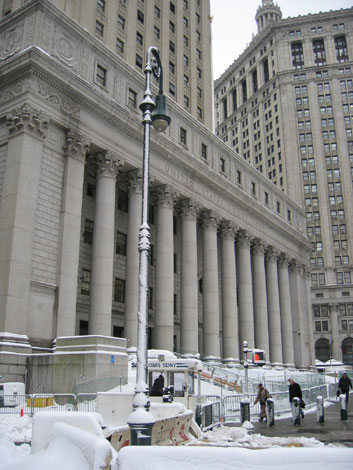 In exchanges such as these, Anders showed that Ebbers had quite a sophisticated knowledge of financial goals and Wall Street's close monitoring of WorldCom's forecasts.

Using corporate memos as evidence, Anders also showed that Ebbers had seen and was familiar with preliminary growth rates with respect to analysts' estimates, monthly revenue and growth figures, and reports on expenses, including line costs. (Line costs were a pivotal item in the $11 billion fraud at the company, as ex-WorldCom CFO Scott Sullivan has testified.)

Ebbers often replied that he "did not recall" many of the details on financial reporting, though he did say he was aware of the company's growth and profit rates. At one point, Anders asked him if he thought it was important to understand WorldCom's costs, to which Ebbers replied, "It's important to make a profit." Ebbers also said that he "looked at the line costs."

The cross-examination delved into the deep details of Ebbers's massive personal debt, which later weighed on his and the company's finances. The prosecution tried to show that Ebbers had been pressured to maintain WorldCom's stock price in the face of mounting margin calls from banks looking to collect on his debt, which was collateralized by his WorldCom stock.

Here are some of the details:


Ebbers had taken out hundreds of millions of dollars in loans from banks, using his stock as collateral. In Monday's testimony, Ebbers testified that he used such loans to buy timber properties, a yacht company, and a cattle ranch.
In 2000, as WorldCom's stock price dropped, Ebbers got his first margin call from a bank demanding more collateral for the loan, and he was forced to pledge more stock as collateral, Ebbers testified Tuesday.
More margin calls followed in August and September. As the margin calls progressed, Ebbers testified, "I don't believe I was under pressure at the time, I had enough stock to meet the margin calls... Margin calls don't ever feel very good," he replied when Anders asked him how he felt at the time. "It's not a good thing."
In August of 2000, after another margin call from a bank, Ebbers was required to provide the remainder of his WorldCom stock as collateral.
In October, 2000, Ebbers received another margin call as WorldCom's stock fell further. At that point, he said, WorldCom's board instructed him not to sell stock and agreed to extend a loan to him, initially $50 million, to cover the margin calls and some of his outstanding debt.
After more margin calls in October and November, the WorldCom board upped the loan amounts to Ebbers to $100 million. These loans eventually totaled hundreds of millions of dollars.


As many of these details were discussed, Anders asked Ebbers how he felt along the way.

"Did you feel any pressure?" asked Anders.

"A little bit," said Ebbers. Beyond the intense grilling on Ebbers's personal debt, the cross-examination visited some other well-worn themes of WorldCom history, including:


Jack Grubman Ebbers testified that Grubman had visited him on his yacht at the 1999 Super Bowl and he had played pool with him, but that they weren't close personal friends, and when he visited the yacht he "didn't stay the whole weekend." [Ed. note: whew!] "We had a professional relationship."


Grubman II Ebbers testified that he never took advice from Jack Grubman. This directly contradicts Grubman's own congressional testimony given in 2002 describing himself as Ebbers's advisor who actually attended WorldCom board meetings (see WorldCom's Grubby Secrets).
The coffee -- again In what has become a running joke among courtroom observers, the prosecution once again brought up Ebbers's involvement in managing coffee expenses at WorldCom. "I approved replacing the free coffee with a dispenser," said Ebbers. "It was a good idea."
The water Okay, "Coffeegate" may now be settled. But what about the water? Anders asked Ebbers whether he was involved in managing the expenses for water. "It's important," said Ebbers. "Look after pennies, the dimes will take care of themselves."
Who was Scott Sullivan? Ebbers testified that he didn't have much day-to-day contact with ex-WorldCom CFO Scott Sullivan, who has pleaded guilty to fraud and who testified against Ebbers earlier in the trial. Ebbers left the impression that he thought of Sullivan as a mere peripheral acquaintance, whose presence he often even forgot. He rarely met with Sullivan alone, said Ebbers, as he was almost always in meetings "with others" when he saw him -- even when he traveled with him.
They didn't get married. When asked if Scott Sullivan was invited to Ebbers's wedding, Ebbers replied, "Yes, him and many others." To which Anders replied, "I imagined it would be more than you and Scott Sullivan," provoking the biggest courtroom laugh of the day.
Ebbers's testimony continued this afternoon, and the trial is expected to wrap up this week. Ebbers, if convicted, faces a potential sentence of 85 years on nine counts of fraud.

For more coverage of WorldCom/MCI, see: WorldCom Directors Settle, Sullivan to Testify Against Ebbers, Ebbers Gets Brief Reprieve, and WorldCom's Ebbers Stands Firm.

— R. Scott Raynovich, US Editor, Light Reading