Comcast's Technicolor Dream Gateway

Comment (3)
6:00 PM --
Comcast Corp.
(Nasdaq: CMCSA, CMCSK) has unleashed a new
Docsis 3.0
tier that maxes out at 305 Mbit/s downstream and 65 Mbit/s upstream in most of its northeastern systems, ensuring that the operator is keeping pace with
Verizon Communications Inc.
(NYSE: VZ)'s new 300-Meg Quantum FiOS tier. (See
Comcast Revs Up Pricey 305-Meg Tier
and
FiOS Speeds & Prices Take a Quantum Leap
.)
But there's a new twist to the Comcast tier, now called Extreme 305 (the MSO labeled it as Xfinity Platinum when it talked it up in July) -- it's being supported by a new voice/data gateway made by
Technicolor
(Euronext Paris: TCH; NYSE: TCH) that will help match up the wireline speeds entering the home with the throughputs supported by the in-home wireless network.
To take advantage of these new wireline speeds and to prevent an in-home Wi-Fi bottleneck from forming, the new device uses 3x3 802.11n. The Technicolor gateway was shown to provide about 155Mbit/s of wireless throughput, according to a
study (PDF)
from
Allion Labs Inc.
indicating that it outperformed the standard wireless gateways provided by Verizon (two
Actiontec Electronics Inc.
2x2 802.11n models that achieved throughputs of about 84Mbit/s) and an
AT&T Inc.
(NYSE: T) 1x1 80211bg device from 2Wire (now part of
Pace plc
) that hit only about 22Mbit/s.
Considering the tech and antenna advantage, it would've been bigger news if the Technicolor device got stomped on range and speed. But the underlying point is that consumers are starting to require more wireline speed to get over-the-top video into the house, but they also need a solid Wi-Fi home network so they can relay that video to PCs, tablets, TVs and other devices that use or rely solely on a wireless connection.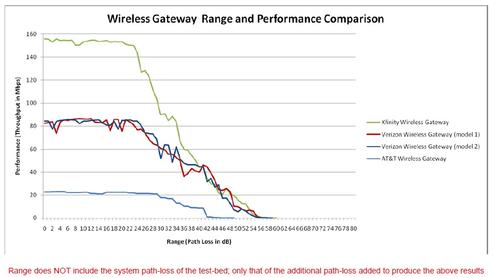 Of course, Comcast had some timely, competitive incentives to have Allion conduct this particular study. Among the markets where Comcast currently offers the $300 per-month 305Mbit/s tier and the new gateway, the MSO competes with AT&T in Hartford, Conn., and with Verizon FiOS in the others: Boston; Philadelphia, Pittsburgh and Harrisburg, Pa.; Wilmington, Del.; Baltimore; Richmond, Va.; Washington; and New Jersey. Comcast isn't saying when and where it will launch the 305Mbit/s tier next, but it's already got it deployed to about one-third of its footprint.
And, this is really just a glimpse of what's next. The latest Docsis 3.0 cable modem chip from
Intel Corp.
(Nasdaq: INTC), the Puma 6, is capable of bonding 24 channels, enough to get U.S. cable operators close to a 1Gbit/s downstream. At that point, the gateways will need more than 802.11n to avoid a wireless bottleneck. Expect D3 wireless gateways in the not-so-distant future to make the shift to 802.11ac, a Wi-Fi standard that's gunning for 1-Gig speeds. (See
Broadcom Brings 802.11ac to Docsis 3.0
and
Intel's New Docsis 3.0 Chip Guns for 1-Gig
.)
— Jeff Baumgartner, Site Editor,
Light Reading Cable