Timing is everything.

Just as cable operators prepare to test and launch Internet services with speedier downstream capabilities, the top three providers of cable modem termination system (CMTS) gear -- Cisco Systems Inc. (Nasdaq: CSCO), Arris Group Inc. (Nasdaq: ARRS), and Motorola Inc. (NYSE: MOT) -- have developed, or are in the process of developing, new downstream-heavy modules that snap into their widely deployed CMTS chassis. Along with denser downstream footprints, these new cards are also having a profound effect on CMTS pricing.

CMTS downstream port prices are "dropping like a rock," says Patti Reali, an analyst with Gartner Inc. In the early going, much of that trend, she notes, is being driven by Cisco and its development of a special module/linecard. That card, dubbed the Shared Port Adapter (SPA), fits into Cisco's flagship CMTS, the uBR10012.

But the story doesn't start and end with Cisco. Although the CMTS market leader can already point to trials and deployments for its downstream-heavy module, Motorola is gathering steam with its entry, the TX32. Meanwhile, Arris, which is making a run at increased CMTS market share, tells Cable Digital News that it has a new, specialized CMTS card in the making.

While the minimum configuration for Docsis 3.0 calls for the bonding of at least four upstream and four downstream channels, most operators are expected to begin their migration to 3.0-based services by bonding downstream channels. That has as much less to do with competitive pressures than it does with the present state of Docsis 3.0 CMTS technology.

Earlier this month, CMTSs from Arris and Cisco came away with "Bronze" qualification following the first-ever Docsis 3.0 Certification Wave at CableLabs . Casa Systems Inc. , a startup based in Andover, Mass., was the first vendor (and only, so far) to obtain the "Silver" stamp. (See Cisco, Arris & Casa Make the CableLabs Grade.)

Under a tiered CMTS plan introduced in April, the key features of Bronze include downstream channel bonding and IPv6 support. Silver adds in upstream channel bonding and the Advanced Encryption System. To date, no CMTS maker has obtained "Full" Docsis 3.0 qualification. (See CableLabs Accelerates Docsis 3.0 Testing .)

Operators likely will tap into that additional (and cheaper) downstream pool in different ways. Some, particularly those in Asia and Europe, will use it for channel bonding to produce services that ratchet up downstream speeds in the range of 30 Mbit/s to 100 Mbit/s. Others could use it to push the envelope with Docsis 2.0, and offer higher-level base tiers in the neighborhood of 10 Mbit/s to 15 Mbit/s.

Cisco goes to the SPA
Although Cisco has different types of SPA products based on a common footprint, the one that matters in the case of denser downstream capabilities and channel bonding is its Wideband SPA.

One Wideband SPA can support 24 downstreams. That compares to five downstreams (and 20 upstreams) in a traditional Cisco CMTS linecard.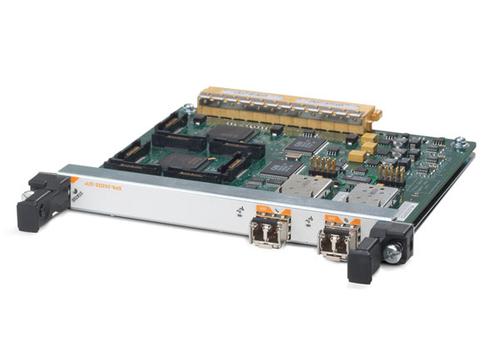 Cards with denser downstreams are causing downstream port prices to drop significantly.

While $10,000 per downstream has been "a fairly competitive number for the past few years," the new architecture will cut that down to about $5,000, estimates John Mattson, Cisco's senior director of CMTS products.

"But that's just the first step," he adds.

Port costs will be further reduced when one uBR10012 hooks in two Wideband SPAs, enough for 48 downstreams. Later next year, one uBR10012 chassis will be able to accommodate as many as six Wideband SPAs, Mattson says.

For now, most of the Cisco SPA action is occurring outside the U.S., with operators such as Numericable-SFR of France and Hanaro Telecom Inc. of Korea. Vidéotron Telecom Ltd. of Canada, meanwhile, is using Cisco's SPA tech for a 100-Mbit/s market trial. (See Numericable Upgrades, Hanaro Picks Cisco, and Videotron Plans 100-Mbit/s Service.)

"In Europe and Asia, these things are selling like hotcakes, because this is where the competitive dynamic is over-the-top," Mattson says. "In the U.S., there's a lot of activity in planning and trials, but 2008 is viewed by us… as a big year for deployment of this stuff."

Predictably, U.S. markets being penetrated by the Verizon Communications Inc. (NYSE: VZ) FiOS platform "are at the forefront of that [activity]," Mattson notes. "But the U.S. guys like it [the SPA approach] because it's been proven. It's not like it's a science experiment that they have to tolerate."

To Page 2