Comcast drove 48% of Harmonic's revenue in Q4
When looking at the revenue picture at Harmonic in the fourth quarter of 2022, much of it is coming up Comcast.
As Harmonic's only 10%-or-greater revenue customer in the period, Comcast contributed a whopping 48% of Harmonic's total Q4 revenues of $163.3 million, equal to about $78.38 million. That's well above a 35% run-rate from Q1 2022 to Q3 2022, according to Raymond James analyst Simon Leopold.
That ramp-up is a clear indicator that Comcast is accelerating its deployment of a virtual cable modem termination system (vCMTS) that utilizes Harmonic's CableOS software platform along with a shift to a distributed access architecture (DAA) powered by a new class of fiber nodes from suppliers that include Harmonic.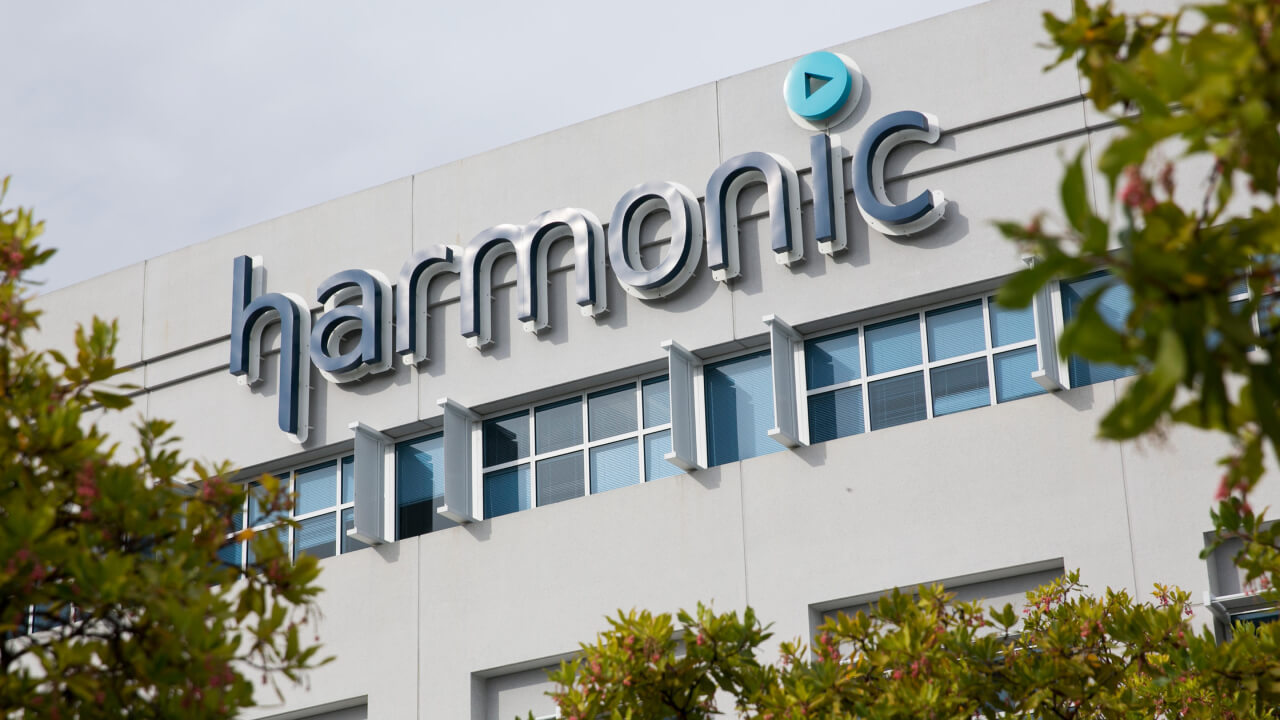 That's taking shape as Comcast moves ahead with a DOCSIS 4.0 upgrade that will set the table for symmetrical multi-gigabit speeds in select markets in the second half of 2023, and extend that capability to more than 50 million homes and businesses before the end of 2025.
At a recent tour of Comcast's headend in the Denver area, where the operator recently launched 2-Gig downstream speeds and faster upstream speeds, Harmonic gear was well represented. Its software was running on a wide array of off-the-shelf servers with Harmonic DAA nodes equipped with a remote PHY device (RPD) on display.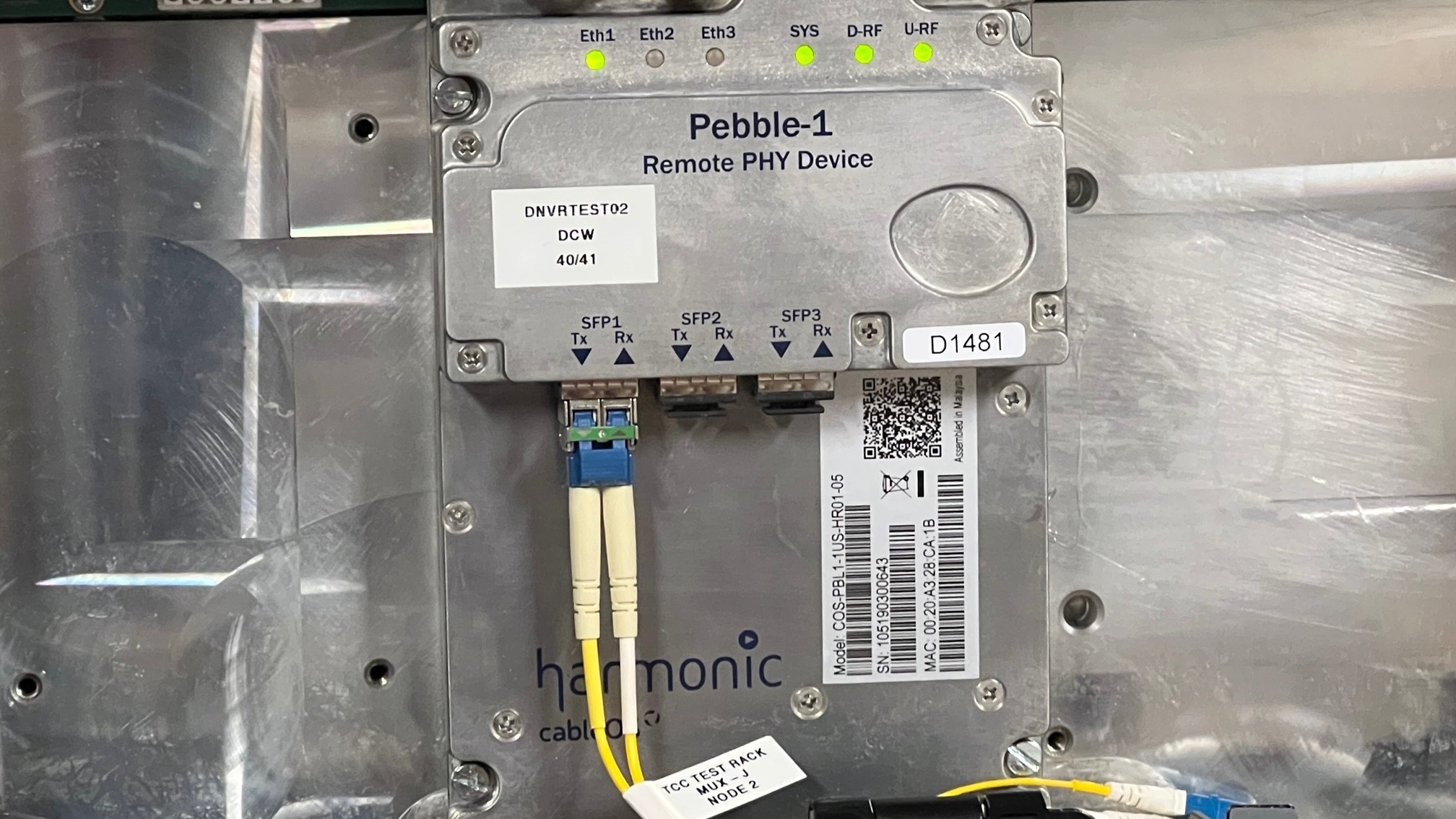 As for Harmonic's overall CableOS activity, which is dominated by Comcast's rollout, the company said its deployments of the platform have scaled to 15.2 million cable modems served, up 218% on a year-over-year basis. Harmonic ended the quarter with 91 CableOS customers, up 24.7% YoY. Speaking on yesterday's earnings call, Harmonic CEO Patrick Harshman noted that a tier-1 in the Asia-Pacific region is among the new CableOS wins, with expectations that rollouts there will scale in 2023.
The Charter opportunity beckons
As deployments with Comcast push ahead, eyes are now turning to the situation at Charter Communications. Though Charter's going with a different flavor of DOCSIS 4.0 than Comcast is, Charter's next-gen hybrid fiber/coax (HFC) network plan will utilize an architecture that pairs a vCMTS and remote PHY in 85% of its footprint. That vCMTS/remote PHY pairing lines up well with Comcast's approach.
Charter is viewed as "the real prize that Harmonic has yet to secure, however, in our view, they remain the clear front-runner," Leopold speculated in a research note.
Harmonic's not tipping its hand. "I can't allude to expectations about any other specific customer," Harshman said when asked about another similar tier-1 operator that was an obvious reference to Charter.
Harshman noted that Harmonic has landed 11 tier-1s to date for CableOS, with Comcast being the furthest along.
Financial snapshot
Harmonic posted Q4 revenues of $164.3 million, beating the $159.2 million expected by analysts and guidance in the range of $151 million to $165 million.
Thanks in part to Comcast's contribution, Harmonic's broadband revenues notched $96 million, up 37.7% year-over-year. Harmonic is sticking with its 2025 target for $825 million in broadband segment sales, a forecast that "leaves a lot of dry powder for upward revisions" because the outlook doesn't assume any incremental contributions from other tier-1 cable ops, Leopold explained.
Harmonic's video segment came in light with revenues of $68.3 million, down 20.7%. That result drove Harmonic shares down 7.25% in mid-day trading Tuesday. However, Harmonic maintained its 2025 video segment target for $290 million, Leopold noted.
Related posts:

— Jeff Baumgartner, Senior Editor, Light Reading
Like what we have to say? Click here to sign up to our daily newsletter
Cable Next-Gen Technologies & Strategies – Making cable faster, broader, deeper, better
If you want to know where the cable tech space is heading, we've got you covered. Join the biggest names in the industry in Denver, CO on March 14 & 15 for the latest edition of Light Reading's Cable Next-Gen Technologies & Strategies conference.
Back for a record 16th consecutive year, Cable Next-Gen is the premier independent conference covering the broadband technology market. This year's edition will tackle all the top tech topics, including 10G, DOCSIS 4.0, Distributed Access Architecture, next-gen PON, fixed wireless access, network virtualization, the Digital Divide and more
Get your free operator pass here.
PARTNER PERSPECTIVES
- content from our sponsors