Troubled Cisco has reorganized its 25,000-person engineering team in two tidy groups, hardware and software, in an attempt to "bust the silos" in the company, says a top engineering executive.
The goals for Cisco are threefold. First, "to build the products that customers want us to build," says Pankaj Patel, Cisco EVP and chief development officer. Second, "to bust the silos." Cisco had too many business units in engineering, and is looking to streamline development. The third goal is to be able to re-use technology across the company to solve a range of problems.
The changes come as the engineering behemoth stagnates. Cisco reported a year-on-year revenue decline in its latest earnings in August, and announced 6,000 layoffs, downsizing for a fourth consecutive year. Moreover, the industry shift to virtualization and commodity hardware threatens Cisco's core business selling expensive, proprietary equipment -- though Cisco sees the shift as an opportunity. (See Cisco to Ax Up to 6,000 Jobs, But It's Excited About SDN)
But Patel remains upbeat, saying the organizational change will invigorate Cisco. "A change like this happens once in a generation -- every 10 or 15 years. I am more excited today than I ever have been," he says. "Our customers are demanding that we change and they are working with us. They want us to succeed."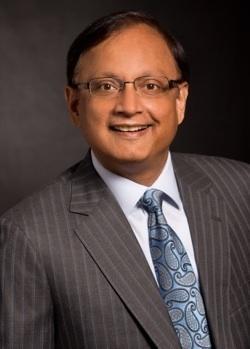 Cisco has put all its hardware development, including ASICs, switching, wireless, routing and optical, under Ravi Cherukuri; core networking software is under Ravi Chandrasekaran. The latter Ravi's domain includes platform-dependent core networking, switching, wireless and routing.
Between the hardware and software groups, Cisco is consolidating its central cloud orchestration, virtualization, and software-defined networking (SDN) groups -- formerly eight separate operations -- under a single leader, Gee Rittenhouse. This new group provides a consistent set of application programming interfaces (APIs) which Cisco can use in all its products, Patel says.
Other groups include collaboration, headed by Rowan Trollope; service provider video, software, and services, headed by Yvette Kanouff, formerly of Cablevision Systems Corp. (NYSE: CVC); security, headed by David Goeckeler; and service provider video infrastructure, headed by Joe Cozzolino, formerly of Google (Nasdaq: GOOG) and Motorola Inc. (NYSE: MOT)
Service provider mobility is headed up by Cozzolino, and the Unified Computing System (UCS) server development is headed up by Paul Perez and Eugenia Corrales. (See Cisco Goes Hyper With New UCS Servers )
On the top of the pyramid are service provider segment lead Kelly Ahuja and enterprise lead Rob Soderberry. "They can take what they want from the portfolios and decide what to sell to customers," Patel says. The segment leader is in the best position to put together solutions "because of the type of position he has, both northbound with the customer and southbound with the product management team in the engineering group."
Ahuja and Soderberry will set priorities for development which the engineering team executes, ensuring that priorities are set by customer needs, Patel says.
---
Find out more about business transformation on Light Reading's business transformation channel.
---
Rounding out the new organization, Cisco's Insieme SDN group will remain separate, to allow it to continue to deliver its products unchecked. (See Cisco's ACI Gets Physical With SDN.)
The reorganization has been in progress for more than 15 months. "These changes are now being mirrored in the field across sales and service," Patel says.
The changes are part of "Escape Velocity," a larger cultural shift in Cisco engineering to encourage innovation, agility, customer responsiveness, and manage Cisco's technology portfolio effectively.
"I want [engineering] to take a lot of risks. I want them to fail often but fail fast," Patel says. "The main piece of Escape Velocity is about building the products and technologies our customers want, bust the silos we had, and create the development environment and technology for the future."
Next Page: Senior VPs Exit Cisco