IBM Planning to Reassign 30,000 Technology Services Jobs – Report
IBM Planning to Reassign 30,000 Technology Services Jobs – Report
About a third of staff would be 'productively redeployed,' with about 10,000 of these IBM positions marked for attrition, according to a report on The Register. IBM has retained Bain & Company to help plan a reorganization of its Global Technology Services business, with about a third of the staff, or 30,900 employees "productively redeployed," according to a report on The Register.
IBM Corp. (NYSE: IBM), which has seen 22 consecutive quarters of revenue decline, is circulating an internal document among senior executives planning the reorganization, which includes a slide showing redeployment of 10,900 people from the domestic market and 20,000 worldwide, according to the Register article published Thursday.
Of the reorganized staff, 9,300 will be redeployed within IBM, and 10,100 are to be classified as "Attrition w/o backfill" -- in other words, staff that will not be replaced as they leave or as their contracts end, The Register says. No word on what will happen to the remaining "redeployed" staff.
"[T]he relentless grind of repeated redundancy programmes across GTS has seen morale on the shop floor deteriorate," The Register says. "Perhaps this will contribute to the numbers of heads that simply decide they've had enough and walk on."
Figure 1: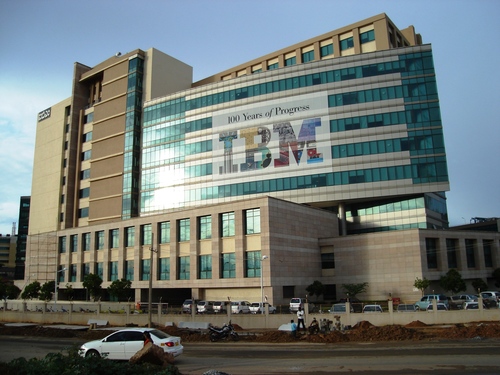 IBM India building in Bangalore.
Keep up with the latest enterprise cloud news and insights. Sign up for the weekly Enterprise Cloud News newsletter. Is the Register report true? IBM responded: ""We do not comment on speculation. Many consultants recommend things to IBM, many of which remain merely recommendations." IBM has seen nearly two years of consecutive quarterly revenue decline, as growth in emerging technologies, including cloud, fail to offset declines in other business. In its latest earnings reported in October, IBM posted non-GAAP revenue of $19.2 billion, down about 1% year-over-year, though it beat analyst expectation. (See IBM's Long Decline Continues, Despite Cloud Growth.) The company's self-described "strategic imperatives," including analytics, cloud, mobile and security, totaled $34.9 billion for the trailing 12 months, up 10%, accounting for 45% of all IBM revenue. Cloud revenue grew 25% year-over-year to $15.8 billion. Reorganization would be nothing new for IBM. Employees have joked for decades that the initials stand for "I've Been Moved," notes Daniel Conde, analyst with the Enterprise Strategy Group. IBM may be planning a bigger reorganization than usual, and calling in Bain to help, Conde says. IBM could simply be moving people from slower-growing or declining areas, to future growth areas, such as cloud and Watson, or existing, healthy businesses, such as storage. Conde says, "So from a financial perspective, they are basically balancing their portfolio, much in the same way you may rebalance a 401(k)." IBM has historically tried to move people from one specialization to another, which "has always been a problem for the company, as they don't do education and training very well at all," said a former IBMer, requesting anonymity. "This does make IBMers very resilient and worth an awful lot more outside the company than inside." This week, VMware confirmed a "small reduction in force" -- in other words, layoffs -- but did not provide specific numbers. (See VMware Confirms 'Small' Number of Layoffs.) Related posts: IBM Q Network Opens Up Quantum Computing to Researchers, Businesses IBM's Watson Data Platform Focuses on AI IBM, US Army Ink $135M Cloud Deal — Mitch Wagner




Editor, Enterprise Cloud News
Subscribe and receive the latest news from the industry.
Join 62,000+ members. Yes it's completely free.
You May Also Like
---