Solus: Another Coretek?
Solus: Another Coretek?
It's hoping to show that its tunable filters are better than those from Coretek, the startup acquired by Nortel Solus Micro Technologies Inc. is hoping to turn the heat up under Nortel Networks Corp. (NYSE/Toronto: NT) in a couple of weeks' time, when it briefs analysts in a hotel suite near the NFOEC show in Baltimore.

The startup plans to pitch itself as a future competitor of Coretek, the startup acquired by Nortel last year (see Nortel Gambles $1.43 Billion On Tunable Lasers). It's confident its tunable filters will be just as good as, if not better than, Coretek's – and cost 30 to 40 percent less. So says Ben Jamison, VP of marketing and sales.

Note the future tense there. Solus expects to have samples of its filters in July and ship commercial products in the first or second quarter of next year. In contrast, Nortel has already shipped Coretek tunable filters to about 100 customers, according to Tom Dudley, previously Coretek's head of marketing and business development, now with Nortel. Dudley says he doesn't know enough about Solus to comment on its plans.

So, what makes Solus so sure that it can give Coretek a run for its money?

One of the reasons appears to be miniature trampolines (seems obvious, now that we mention it, no?). Coretek and Solus use MEMS (micro-electro-mechanical system) technology to make their tunable filters, but Solus incorporates a special elastic polymer membrane in its device to create something akin to a miniature trampoline.

Jamison says the trampolines are easier to manufacture than Coretek's MEMS-based filters, which are etched out of solid silicon. That translates into "higher yields and significantly lower costs," he says.

Polymer is also less likely to be damaged from constant flexing, he adds: "With silicon, you have to push the material properties to the limit."

The miniature trampolines also deflect farther when pulled by electrostatic forces, and that translates into exceptionally wide tuning ranges, according to Jamison. He claims Solus has made devices with 100-nanometer tuning ranges, more than double Coretek's 40nm range.

Solus and Coretek's products are Fabry-Perot filters, comprising two mirrors face to face. Light enters through one of the mirrors and bounces to and fro in the cavity between them in a way that results in a single wavelength of light eventually passing on its way though the mirror on the other side. The wavelength of the light coming out can be changed by altering the distance between the mirrors by minute amounts.

Solus makes these tiny adjustments in distance by mounting one of the mirrors on one of its tiny trampolines, shown in the middle wafer in the following diagram of its tunable filter.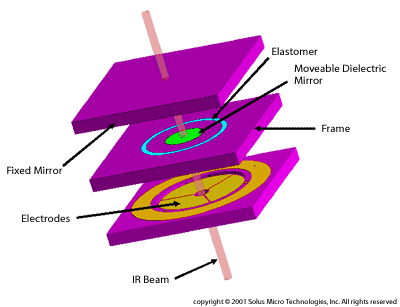 When a voltage is applied to the electrodes in the lower wafer, electrostatic forces pull the trampoline downwards. Solus says this can be controlled very precisely, which equates to being able to filter very closely spaced wavelengths.

This is reflected in the filter contrast figure of 40 decibels cited by Solus. The startup also says insertion losses are low – less than 2.5dB.

Solus expects to use its tunable filters in subsystems that scan DWDM (dense wavelength-division multiplexing) systems monitoring the quality of the signal on each wavelength.

Jamison says the same basic concept could be used to make a wide range of other components, including gain flattening filters, tunable lasers, and tunable multiplexers.

Solus is another startup that began developing MEMS-based display technology and then discovered telecom applications, in much the same way as Silicon Light Machines (see Cypress Flexes MEMS Muscles).

Like Silicon Light Machines. Solus has friends in high places. One of its investors is JDS Uniphase Inc. (Nasdaq: JDSU; Toronto: JDU).

So far, Solus has raised a total of $26 million. VCs backing the startup include Enterprise Partners, Sierra Ventures, East River Ventures LP, Citigroup, and Essex Investment Management Co. LLC.

— Peter Heywood, Founding Editor, Light Reading
http://www.lightreading.comFor more information on NFOEC, please visit the Light Reading NFOEC Site.


Subscribe and receive the latest news from the industry.
Join 62,000+ members. Yes it's completely free.
You May Also Like
---