Mentor Monday: Ericsson's Elaine Weidman

Comment (3)
Ericsson is best known as an equipment vendor for the world's telecom service providers, but it's providing its technology for something else too: good.
Through the Swedish company's Technology for Good program, Ericsson AB (Nasdaq: ERIC) uses its resources and the skills of its staff to tackle social, economic or humanitarian issues in developing markets across the globe. It's not philanthropy so much as it is using mobile broadband to achieve a specific outcome, according to the woman in charge. (See Ericsson Lauds ICT's Potential.)
Elaine Weidman-Grunewald, Ericsson's vice president of sustainability and corporate responsibility, is charged with finding ways that Information and Communication Technology (ICT) can be used to address global challenges like poverty, development, climate change and human rights all across the globe. (See Ericsson Delivers Cloud to African Villages and Myanmar: The Next Big Deal?)
She's also leading the charge on Connect to Learn, Ericsson's program focused specifically on encouraging secondary education and technology usage amongst young girls, who often tend to drop out after elementary school in many emerging markets. She has helped grow the program from where it started in rural Africa to 22 additional countries. The latest programs, countrywide deployments in Tanzania and Myanmar, will graduate 12,000 girls in the next two years.
Weidman-Grunewald caught up with Light Reading to share more on the work Ericsson is doing to promote education and technology usage amongst young women, who she says could be future potential employees for Ericsson. In the short Q&A that follows, she also shares her point of view as a female leader in the comms industry with 14 years of experience at Ericsson and a job that reports directly to CEO Hans Vestberg.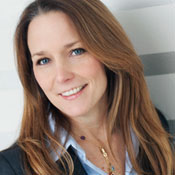 ---
Mentor Mondays will be a regular feature on the Women in Comms site here on Light Reading. If you are a female leader in the comms industry who would like to share your perspective, please get in touch!
---
Light Reading: What is the number one challenge for women in comms that is different from the challenges faced by men? What was your biggest hurdle?
Elaine Weidman-Grunewald: I think the one number one challenge in the ICT sector is that it's male-dominated. It is roughly 80/20 across the board, but some companies are better than others. That's a challenge in and of itself. On the one hand, it's the male-to-female ratio from an employee point of view, but then also if you look at board and executive positions, it's more challenging.
For a lot of women, it's very challenging to have a career and family and sometimes they say "forget it." Companies need to do much more to retain women and make it easier to have a family and take care of them. Sweden is unique with generous parental benefits, however, it is really important how the company works with mothers returning from leave and understanding the long-term benefits of supporting work-life balance. I had a year-and-a-half off with each of my children and was able to re-enter and continue my career path after the maternity break.
The challenge of course is that women who have been off are competing with men who have continued their careers without a break. It's also a personal responsibility for women taking a break in their careers to keep up with what is happening at work and in the industry to make the transition back to the workforce as quickly as possible.
LR: What is the biggest advantage to being a woman in the comms industry?
EWG:The industry is very technically focused and that meant that historically there was a larger male talent pool, and therefore a gender imbalance in the workforce. However, now we are beginning to see gender balance at the university level, so now the challenge is to reflect this in the industry recruitment and talent development.
Ericsson is a very special company. Our current CEO has done amazing things to promote diversity and women in leadership. I feel privileged to be one of Ericsson's global leaders and to help drive this change.
LR: How can we, as an industry, encourage more young girls to enter -- and stay in -- the comms or STEM space?
EWG: You have to start all the way back at the education level to get more girls in engineering and technology. We have to start much earlier and break any stereotypes that still exist. Even at a young age, it's important for girls to have role models they can identify with and aspire to be.
LR: Are there any programs you or your organization is involved with that you'd like to highlight?
EWG: [In addition to Technology for Good], we focus on secondary education because when the Millennium Development Goals were first set, there was a global focus on primary education but no one was looking at secondary and how to retain and keep girls in school. That's the age when students start to more actively use technology. We don't exclude boys, but the focus was on young women and girls of high school age. The real goal was to see how we could use mobile broadband, simplified cloud solutions to improve access to Internet in schools, but also to improve the quality of education. Today we have it in 22 countries, starting in Africa, and now in Chile, Brazil, Mexico, India, Myanmar and starting to look at the US, but we haven't publicly announced anything there.
We see broad interest in the program and we typically partner with the mobile operators in order to get a good data package for the schools, sometimes free or discounted. We're trying to open up access bandwidth and focusing on how to provide a solution that's really maintenance-free, easy to use and so on.
LR: As a leader, what is the number one piece of personal advice you would give to help women achieve their goals in a male-dominated field?
EWG: Just go for it and don't be intimidated by competition. Find an area that you are passionate about and go for it. Don't drop out.
I think another good piece of concrete advice is to find a good female mentor. I think in a male-dominated industry, it's really good to have a female mentor who can help advise and coach you based on her experiences in tackling career and work-life balance issues.
— Sarah Thomas,

, Editorial Operations Director, Light Reading