FCC extends deadline for further comments on broadband labels
Broadband nutrition labels are coming soon ... but not without another round of comments from industry stakeholders.
After adopting rules for broadband labels late last year, the FCC is now extending the comment window on its further notice of proposed rulemaking for the labels until March 16, 2023.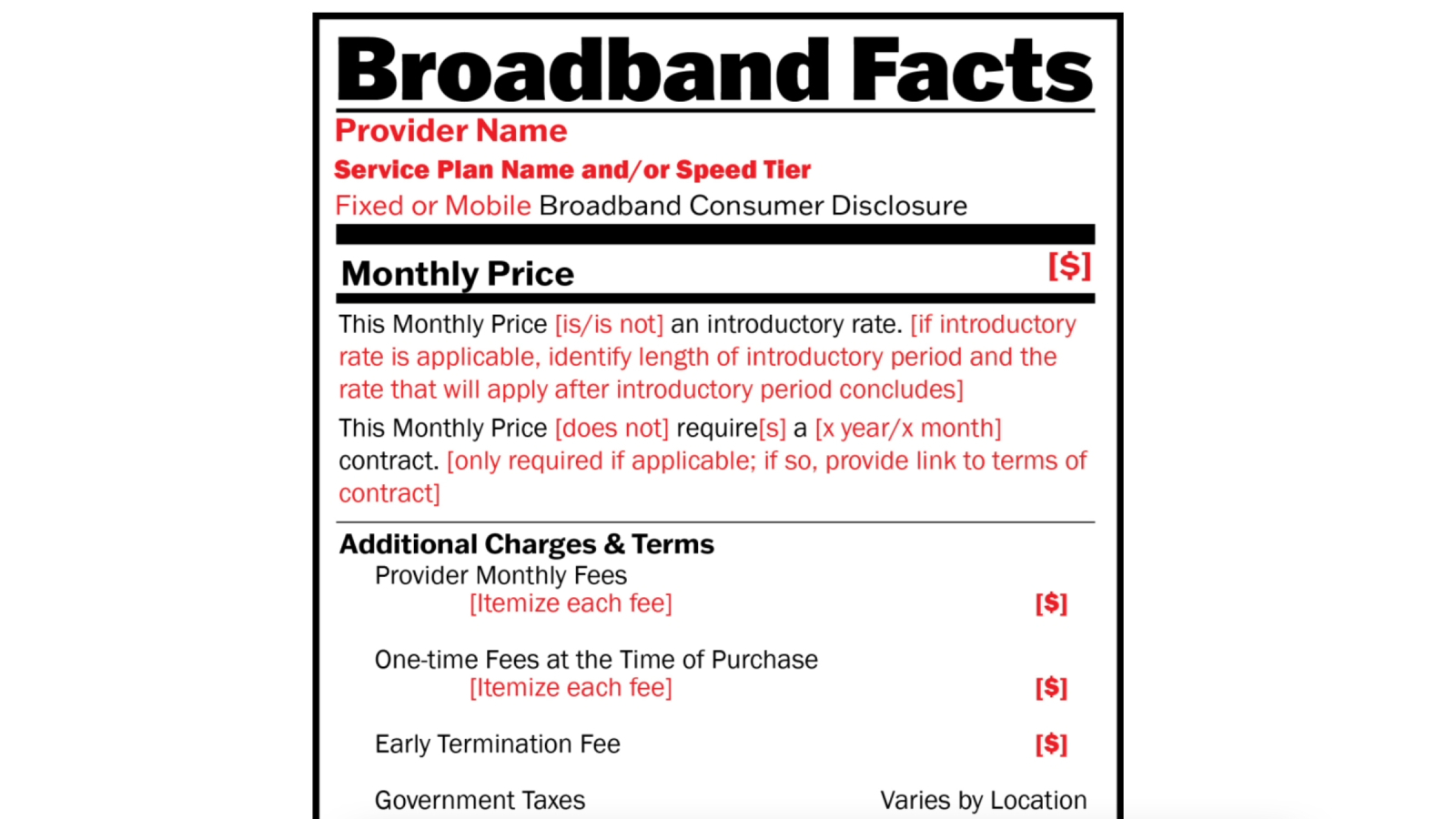 The FCC was required by the Infrastructure Investment and Jobs Act (IIJA) to set final rules for broadband labels within a year of that law's passing. It did so in November, adopting rules requiring ISPs to display broadband labels at the point of sale and in full on their websites, with information on prices (including bundled services, introductory rates and fees), performance (typical speed and latency), data allowances and more, along with other requirements.
But the Commission also published a further notice of proposed rulemaking seeking comment on a number of issues that came up during last year's comment period but remain unresolved.
Those include "issues related to more comprehensive pricing information, bundled plans, label accessibility, performance characteristics, service reliability, cybersecurity, network management and privacy issues, the availability of labels in multiple languages, and whether the labels should be interactive or otherwise formatted differently so the information contained in them is clearer and conveyed more effectively," said the FCC in its further notice of proposed rulemaking.
The FCC initially set a comment deadline for January 17, 2023, with reply comments due by February 14, 2023. But 17 consumer advocacy groups including Benton Institute for Broadband & Society, Consumer Reports, Free Press and Next Century Cities requested an extension in light of the holiday season and the fact that the FCC set myriad other January deadlines.
"The Commission has already set a Jan. 13 deadline for challenges to the broadband availability maps, and the Federal Trade Commission has a Jan. 9 deadline for comments on its 'junk fees' proceeding, which includes questions that implicate the broadband consumer label," wrote the groups in a letter. "Some commenters may choose to forgo mapping challenges or FTC comments in order to prioritize label comments, but the Commission does not need to force such tradeoffs."
It seems the Commission agrees. In a public notice, the FCC said: "We agree with Free Press and the others that an extension will more fully develop the record in this proceeding while affording commenters more ability to participate in other important, consumer-oriented proceedings."
The parties requested a 60-day extension, but the FCC granted 30 days with initial replies due February 16, and reply comments due March 16.
More extensions coming?
While that extension is welcome news for those groups, the bigger deadline looming over the industry is January 13, when challenges are due for the FCC's broadband map.
While challenges will continue to be accepted after that date, FCC Chairwoman Jessica Rosenworcel has identified January 13 as "the best opportunity for your availability challenge to be resolved ahead of NTIA's planned funding time frame." The NTIA previously set June 30, 2023, as its planned date to make funding allocations through the $42.5 billion Broadband, Equity, Access and Deployment (BEAD) program.
The deadline has been a source of anxiety, with myriad stakeholders calling out inaccuracies with the map and urging the FCC to extend the challenge window.
In late December, the Senate Commerce Committee sent Chairwoman Rosenworcel a letter pointing to "significant flaws in the draft maps" and requesting to extend the deadline to submit location and availability challenges "by at least 60 days, or until March 14, 2023." No such extension has yet been granted.
Related posts:
— Nicole Ferraro, editor, Light Reading, and host of "​​The Divide" podcast.
EDUCATIONAL RESOURCES

PARTNER PERSPECTIVES
- content from our sponsors