DALLAS -- Automation Everywhere -- The journey to "an automated world" looks vastly different than telcos' historical operations, but that roadmap is inspired by the cloud, shaped by drastic changes to corporate culture, and has an end goal of guiding the customers' digital transformation, said Telstra's Jim Fagan.
In a keynote address, Jim Fagan, director of Global Platforms for Telstra, explained how Telstra Corp. Ltd. (ASX: TLS; NZK: TLS)'s path to automation is being shaped by its cloud strategy and the development of its Programmable Network.
"We have a fully automated, homegrown, and globally available software-defined network that we call the Telstra Programmable Network," said Fagan. "It's been around for about four to five years, but the last two years is when we really started to advance it and bring it to market. Currently, that really is our first step to automating the network for Telstra."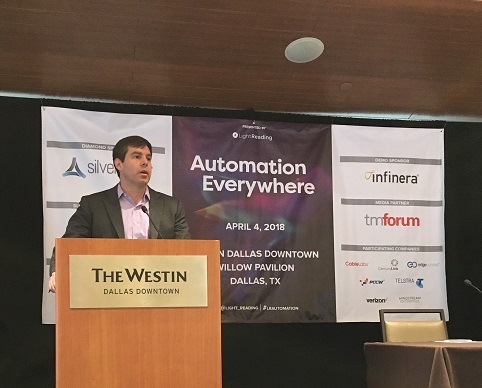 Fagan explained that customers using Telstra's Programmable Network can choose their bandwidth, anywhere from 1MB to 10G, with the option for 100G coming available within the next three months. Customers "pay for use down to the hour," said Fagan. The Programmable Network was developed in a greenfield environment which is somewhat separate from but still connected back to Telstra's core network, to access its capacity, telemetry, etc. Network automation should start in those greenfield environments, and then operators can address automation in their legacy infrastructure in stages, he said.
Telstra has also applied lessons learned from the cloud in shaping the telcos' strategy for network automation. While the focus on cloud a decade ago was driven by the industry's desire for inexpensive compute capabilities and storage, what's interesting now, said Fagan, are the technologies and processes the cloud has enabled -- the ability to spin up servers, manage storage and the DevOps product development model that emerged. Telstra's Programmable Network is run on a fully DevOps model, added Fagan.
So where do service providers start in developing a strategy for their automation journey? Fagan explained it starts with the customer -- identifying their priorities for their digital transformation -- and balancing the best cost structure with the desired outcome for the customer.
One of the customer-facing goals in Telstra's digitization and automation program -- a three-year, $1 billion investment focused on reducing manual processes -- is to improve customer service response time in part by utilizing bots in call centers, explained Fagan. At the TM Forum Live event last year, Telstra presented an estimation that "30% of inbound calls to a contact center could be resolved by artificial intelligence chat bots." (See Automatic for the Operations People.)
Building autonomous networks also requires telcos to make internal changes to company culture and support a shift in employees' skillsets. Fagan leads a software development team of over 100 people, and said while he needs both IT and network engineer experts, it's important to have teams with skillsets in both areas. Fagan said Telstra has made significant changes to its corporate governance and culture over the past few years because "as a carrier, we came to the realization that we had two choices -- we could be disrupted and fight for survival, or we could initiate the disruption ourselves. We made a strategic goal that we would control our own disruption."
---
To compete with the OTT players, telcos need to be nimbler by accelerating network automation. Join us in Austin, Texas from May 14-16 for our fifth annual Big Communications Event as we tackle challenges like automation. The event is free for communications service providers -- secure your seat today!
---
Automation will be critical to supporting trends like 5G, and to prepare for emerging tech such as autonomous cars. The network must be able to respond intelligently and process data in the "right area," whether that's at a cell tower, at the edge or in the cloud, said Fagan.
"Without a fully automated network, you won't realize the potential of digital transformation because everything is about interconnection. If you think of any of the new trends, whether it's cloud at the edge, IoT, blockchain, mesh, 5G -- all that requires network. Without the network fundamentally changing and automating, we're going to miss out on those future advances."
Related posts:
— Kelsey Kusterer Ziser, Senior Editor, Light Reading