There's a 'lack of urgency' around AT&T's 5G build – analyst
There's a 'lack of urgency' around AT&T's 5G build – analyst
'We believe there is a lack of urgency regarding deployment of midband spectrum,' the financial analysts at Raymond James said about AT&T. The operator covers fewer customers with the technology than its rivals.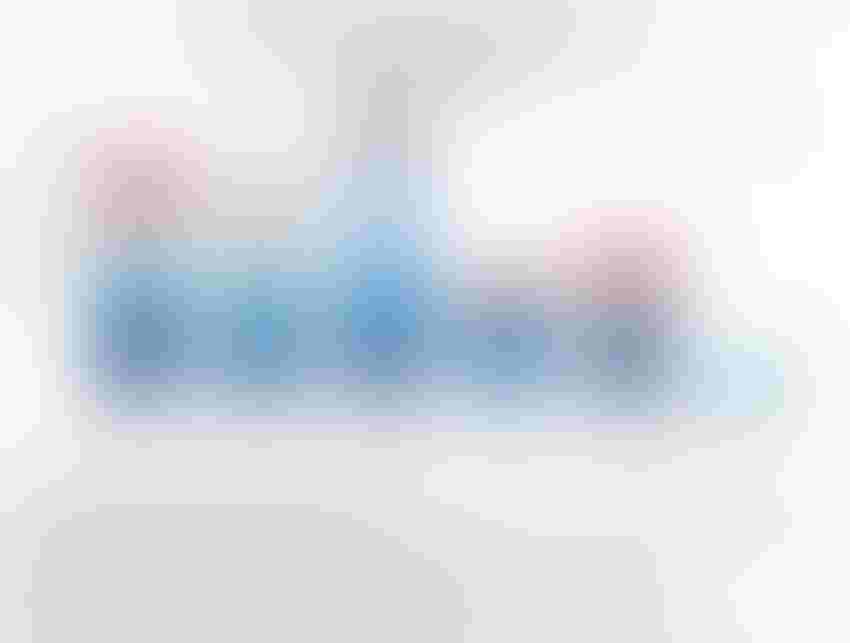 AT&T holds a substantial amount of midband spectrum. Click here for a larger version of this image.
(Source: Raymond James)
According to one financial analyst firm, AT&T is dragging its feet when it comes to the midband flavor of 5G.
"We believe there is a lack of urgency regarding deployment of midband spectrum, and the company remains content for now staying behind T-Mobile and Verizon on midband buildout until it sees more material 5G revenue opportunities or user experience differentiation," wrote the financial analysts with Raymond James in a note to investors this week.
The analysts argued that as a result, AT&T will move slowly into the market for fixed wireless access (FWA) and will continue to put most of its financial emphasis on its fiber network. They added that AT&T's slow progress on 5G could affect the nation's cell tower companies.
"We think ... the eventual ramp in AT&T tower spending will be later than we and others have expected," the analysts warned.
However, AT&T ultimately "will have no choice" but to put money into its midband 5G network, the Raymond James analysts predicted. The operator spent roughly $37 billion on midband spectrum licenses between the FCC's C-band and 3.45GHz auctions and "cannot earn a return on that spending until it deploys the spectrum," they said.
For its part, AT&T argued that it now covers 175 million people with its midband 5G network. And the company said it expects to soon begin expanding that network thanks to efforts by satellite companies SES and Intelsat to release more C-band spectrum for 5G.
"Since 2022, AT&T has been hard at work deploying available midband spectrum in locations across the country," the operator wrote in response to questions from Light Reading.
A midband race
AT&T trails its rivals in deploying midband spectrum. Verizon counts about 222 million people covered with its midband C-band network, a figure the company hopes to increase to 250 million by the end of next year. T-Mobile said it covers around 285 million people with its midband 2.5GHz 5G network and hopes to reach about 300 million by the end of this year. None of the operators have provided coverage targets beyond this year.
"We're really satisfied that we've got the right kind of machine to build the way we want to build and the network is performing in a great way," AT&T CEO John Stankey said recently in response to a question about AT&T's midband expansion plans, according to Seeking Alpha. "So everything, I think, feels pretty good about that right now."
One issue facing AT&T and T-Mobile is the question of dual-mode radios. T-Mobile officials have suggested the operator will wait to deploy its C-band and 3.45GHz holdings until vendors like Ericsson can make dual-band radios that support both bands in one gadget. AT&T officials, on the other hand, have suggested the operator might move forward with separate radios.
However, if AT&T is indeed stalling on its midband 5G deployment, as the analysts at Raymond James suggested, it's possible the company may move forward with dual-band radios when they become available.
The capex slowdown
The warnings from Raymond James come amid a general slowdown in spending on 5G equipment and the towers to support it.
"The recent pullback was more abrupt than our initial expectations," said Rod Smith, CFO of cell tower giant American Tower, during his company's quarterly conference call last week, according to Seeking Alpha.
Other companies ranging from Ericsson to Crown Castle have reported on a similar situation in the US market. However, it's unclear how many operators are cutting their spending, and by how much.
AT&T said its capital expenses (capex) would be $1 billion lower in the second half of 2023 compared to the first half of this year. Further, AT&T officials have suggested the operator will reduce its capex next year.
"We don't expect to be at the levels of capital you've seen us invest in 2022 and 2023," AT&T CFO Pascal Desroches said.
The spending on midband 5G is important because the spectrum covers wide geographic areas and offers speedy connections. That contrasts with lowband spectrum, which covers wide geographic areas but with slower speeds, and highband, millimeter wave spectrum, which covers small geographic areas with faster speeds.
Midband spectrum is critical to high-capacity services like fixed wireless. Indeed, both T-Mobile and Verizon are using their midband holdings to offer FWA services to millions of new customers. According to Leichtman Research Group, the operators' FWA services collectively added almost 900,000 new customers during the second quarter, far more than the 10,000 added by US cable providers.
AT&T, meanwhile, just expanded its new FWA service to more markets.
Related posts:

— Mike Dano, Editorial Director, 5G & Mobile Strategies, Light Reading | @mikeddano
Subscribe and receive the latest news from the industry.
Join 62,000+ members. Yes it's completely free.
You May Also Like
---