 MWC22 – Sunsetting and retiring are the words operators commonly use when they talk about switching off old technologies. What Orange has in mind for its 2G and 3G networks looks more like telecom euthanasia. By 2030, the French incumbent aims to have painlessly killed off those platforms across the whole of Europe, leaving barely a trace of them behind.
The bold move, announced mid-afternoon on the first day of Mobile World Congress, is all about simplification and freeing up spectrum for newer and more efficient mobile technologies. Finishing off 2G and 3G would allow Orange to reduce energy usage and costs. It should also remove a barrier to the rollout of open RAN, a technology not designed to support the older standards. Starting in 2025, Orange has said its ambition is to only buy network products that come with open RAN interfaces.
"For us it is time to stop stacking technologies and to start to decommission legacy technologies," said Michael Trabbia, Orange's chief technology officer. "The objective is to have the best connectivity for customers to benefit from data connectivity and from the safest and most secure technologies. It is also about how to simplify network management and make it more resilient and have less old equipment that might eventually be out of support."
Figure 1: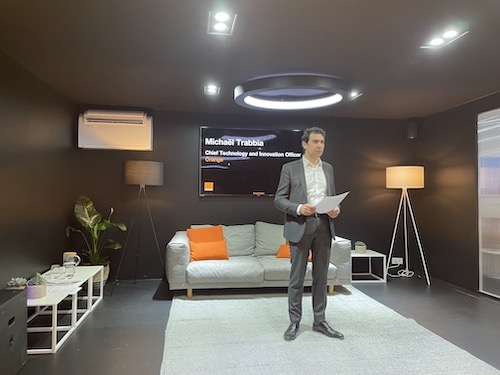 Orange CTO Michael Trabbia is killing off 2G and 3G.
(Photo by Iain Morris)
The details of the plan involve phasing out 3G across nearly the entire European footprint outside France by 2025, with 2G to follow by 2030. In France, that process will be almost reversed, with life support ending for 2G by 2025 before Orange terminates 3G by the end of 2028.
Trabbia explained why Orange is prioritizing the 2G switch-off in France. "In most countries, coverage is better with the first technology," he said. "In France … we have been pushed to roll out 3G and 4G much faster and we ended up with better coverage in France with 3G."
Ending life support

The challenge will be to avoid disruptions for customers as the older platforms are decommissioned. Switching off 2G will likely be especially difficult – the standard is still used for global roaming and to support machine-to-machine (M2M) connections that have not been moved to newer technologies such as NB-IoT and Cat-M.
But Trabbia insisted that there would be little impact on most French customers or international visitors to France when 2G disappears. Most people already have devices that are compatible with 4G or 5G, and hardly any phones today support only 2G, he explained. "What will be more challenging is to enable the 4G and 5G roaming agreements before the second step in 2028," he said. That process will entail shifting voice services off 2G and 3G and onto 4G and 5G networks.
The 2G service could survive a bit longer in M2M, though, with Orange allowing business customers a few more years to make the necessary transition. "It is a bit more challenging for B2B and IoT (the Internet of Things) because here we are talking about devices that can be embedded in meters," he said. "That is why we give six to eight years for the IoT business to migrate, and we have started discussions with our main customers there to make sure that we can support the migration."
Want to know more about 5G? Check out our dedicated 5G content channel here on Light Reading. Orange expects to realize benefits partly because 4G and 5G are more energy-efficient technologies. It can also re-farm its 900MHz spectrum – currently assigned to 2G and 3G – and be under less pressure to acquire additional airwaves. This, as well as the decommissioning of equipment, should result in cost savings, according to Trabbia. "At some point you need to renew equipment and by planning this in France for 2028 we will avoid having to spend extra capex to renew the 2G and 3G stack that would at that time be at the end of support," he said. By then, Orange hopes to be making widespread use of open RAN, a set of interfaces that promise more software-based and interoperable networks. Because those interfaces do not adequately cater to the 2G and 3G standards, operators who still use them and deploy open RAN risk having to maintain parallel networks, driving up their costs. The update came as Orange also announced deals to build a new standalone 5G core. "We have selected partners, mainly Nokia and Ericsson," said Trabbia. "We are preparing an evolution to standalone that will bring lower latency and the capability to have on-demand connectivity and network slicing and mission-critical elements." Update: Orange subsequently contacted Light Reading to say the M2M timeline is the same as it is for other customers and 2030 is the firm overall target. Related posts: Open RAN doubts persist as Orange unveils new Paris lab The Big Tech elephant is squashing telecom Orange Europe boss: We'll stick with Huawei unless it is banned Orange is building a network that will run itself It's time for telecom to worry about the public cloud — Iain Morris, International Editor, Light Reading
Subscribe and receive the latest news from the industry.
Join 62,000+ members. Yes it's completely free.
You May Also Like
---