Roman ruins and rodents at HPE's Ryder Cup
Roman ruins and rodents at HPE's Ryder Cup
Providing communications infrastructure for one of the world's biggest sporting events posed some unusual challenges for the IT company.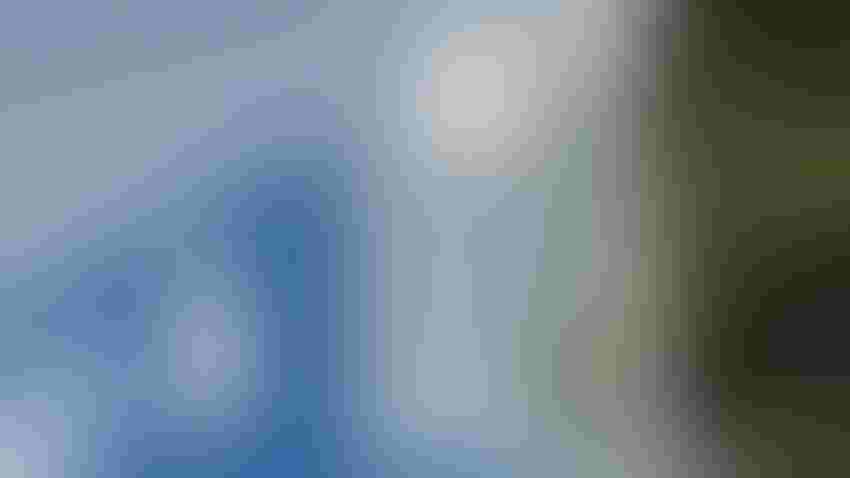 One of 800 Aruba Wi-Fi access points used at this year's Ryder Cup
(Source: HPE)
American golfer Phil Mickelson takes his ungainly, left-handed swing at the tee in the critical, dying moments of the 2018 Ryder Cup and the screen cuts from his hopeful, weather-beaten face to the rectangle of colored ribbons that heralds a technical fault. It's a purely fictional scenario that would have spelt total disaster for one of golf's biggest events, along with the 167 countries and 600 million households that receive content.
Hence Michael Cole's determination to have "five-nines infrastructure" at the event, a decimal-points reference to the reliability of any service. As the Ryder Cup's chief technology officer, Cole is likely to find himself strapped to a flagpole at the end of an in-use fairway if anything goes wrong. And there is plenty of scope for problems.
For a start, unlike most other major sports events, the Ryder Cup moves around, meaning Cole can't rely on infrastructure installed for the previous edition. Last time, in 2021, the contest between the golfing elites of Europe and the US took place in Wisconsin. Before that it was in France. This year, the drives and putts shift to the outskirts of Rome, famous – among other things – for its archaeological ruins.
That posed another problem for organizers: How to build out a fiber network for backhaul communications without accidentally running into an immovable historic object. "You can't put a spade in the ground," said Simon Wilson, the UK chief technology officer for HPE's Aruba Networking unit, a key supplier to the event. Despite that, around 30 kilometers of fiber were eventually laid, according to Max Walker, HPE's chief technologist. Then came the rats, a disruptive Roman variety that chewed through fiber lines with the enthusiasm of an Italian pasta lover munching spaghetti.
No sleepless nights
A fix in some areas where fiber proved undeployable was 5G. Thanks to a temporary 20MHz award of 3.8GHz spectrum, courtesy of the Italian government, HPE was able to stump up a private 5G network. The "core," the brains of the 5G operation, comes from Athonet, an Italian company that HPE acquired for an undisclosed fee in June.
Even so, HPE's main connectivity access option for visitors, players and events staff is Wi-Fi 6E, the latest version of the ubiquitous tech. Its Aruba division has installed about 800 access points around the course, underpinned by 200 switches where fiber terminates and other electrical gubbins such as Internet of Things sensors are also located. The cabinets that contain them look like giant versions of those green houses in the Monopoly board game. Two 10-gigabit lines connect all this to the Internet. "If we lose one, we have the other," said Cole, insisting he never has sleepless nights.
Those Wi-Fi access points must potentially cope with up to 50,000 daily spectators and 250,000 devices. Attendees not subject to roaming fees could always turn off the Wi-Fi and make do with the cellular connectivity provided by the likes of Telecom Italia and Vodafone, both of which have installed temporary masts to support the event. But Cole estimates that 60% to 70% of people will make use of the Wi-Fi. For international visitors, in particular, that avoids the hassle and payment anxiety of roaming.
This year, heavy reliance on Wi-Fi leaves the Athonet service as little more than a proof of concept from a 5G access perspective, HPE executives admit. Only a few handsets operated by Ryder Cup staff are using it as a private 5G service, partly because the 20MHz concession was deemed insufficient to handle a much bigger number of devices.
But Athonet is likely to figure more prominently in the future, whether at the Ryder Cup or similar events. HPE does not hesitate to champion its private 5G core technology over network slicing, a private carveout on a telco's public network. That marks it apart from the more equivocal Ericsson and Nokia. Both the Nordic vendors still insist they prefer to work through the telcos that happen to be their largest customers.
"It was good risk management," said Matt Valentine, the UK and Ireland country manager for HPE Aruba networking, of the decision to install an Athonet 5G core on site at the Ryder Cup this year. "We couldn't take a chance on the variables of using local network providers."
But why would event customers prefer Athonet as a private 5G core, rather than an Ericsson or Nokia? The essential message from Massimiliano Gianesin, the new ventures manager of Athonet, is that taking core technology built primarily for the macro network and repurposing it to fit an event or other venue would be like cramming the Ryder Cup into the mini course at your local park. "They are not so skilled to scale down," he said.
Analytics everywhere
Aside from Athonet, the big difference for HPE between this year's Ryder Cup and its predecessor seems to be the sheer quantity of data, data processing and analytics supported by the company's tech. Heavier reliance on the cloud has brought a corresponding reduction in IT resources and staff on site. Wilson reports a three-fold increase in Internet traffic since Paris in 2018. Data on everything from a golf player's swing to footfall to local weather conditions are uploaded into Greenlake, HPE's cloud platform, for analysis and insight.
Dashboards and smartphone apps demonstrated by Cole highlight emerging problem areas for event organizers. Thousands of data points on player performance can be collected and fed back to coaching staff. Through a portal cordoned off for players like a dressing room, Rory McIlroy and his team can register with the event, obtain visas and manage schedules. It's undeniably a slick operation.
What does the golf future hold in store? Gianesin is optimistic that more European spectrum will have been released for consumption outside the telco sector. Wilson thinks immersive technologies will have been more widely adopted by the time the event moves to Ireland in 2027. What demand that will place on HPE is hard to say, but at least Cole may have fewer crumbling relics and nibbling rodents to worry about.
Disclaimer: The Light Reading trip to this year's Ryder Cup was funded by HPE.
Subscribe and receive the latest news from the industry.
Join 62,000+ members. Yes it's completely free.
You May Also Like
---