Cisco Bows to Carrier Demand for Software Outside the Box
Ever since it was founded in 1984, Cisco has thrived by selling Internet switches and routers that inseparably combine its hardware and software expertise. It has persisted with this lucrative arrangement despite mounting industry pressure for software that can run on generic boxes from other companies. When service providers moan about "equipment lock-in," Cisco's name is often on their lips.
But Cisco Systems Inc. (Nasdaq: CSCO) will hope the grumbling subsides after it this week appeared to overhaul its entire approach. Bowing to customer pressure, the company has promised to sell some operating systems unattached to Cisco hardware and allow customers to use that software on a variety of third-party devices.
By giving customers a hardware alternative, this "disaggregation" could have a nasty impact on Cisco's earnings. But continued resistance would probably be even more damaging. In recent years, Cisco has faced a growing challenge from rivals like Arista that already provide software without hardware. As those companies have won business with data center providers, Cisco's switching market share has declined from around 70% in 2010 to the "mid-50s" last year, according to James Crawshaw, a senior analyst with Heavy Reading. (See Cisco Takes Bold Software Step to Counter White Box Threat – Report.)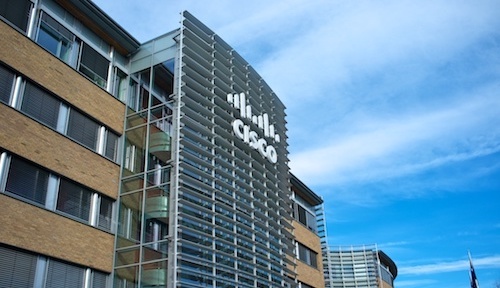 Challenges have more recently arisen in the telco world. AT&T Inc. (NYSE: T) has been developing its own "white boxes" -- the generic gear that comes without software -- as an alternative to the proprietary equipment it buys from Cisco and others. Only this week, AT&T said it would deploy 60,000 white box routers in its mobile network over the next few years. Powering those routers will be an open source operating system called DANOS, developed by AT&T but now overseen by the Linux Foundation, an open source group whose influence is growing by the day. (See DANOS Fuels AT&T's White Box Binge and AT&T Preps White Box Routers for 5G.)
"We don't see it as a threat and we have a strong track record of contributing to open source," says Sumeet Arora, the senior vice president of engineering for Cisco's service provider business, in downplaying the ramifications of the AT&T announcement. Yet Cisco's move is clearly aimed at satisfying the demands of service provider customers for more open networks. IOS XR, the Cisco operating system that telcos use, will now be able to run on white boxes as well as Cisco's own hardware, merchant silicon and x86 servers, says Arora.
Should all of its customers decide to run IOS XR on white boxes, Cisco could be in trouble. Although profit margins are higher in software than hardware (due to silicon development costs), any collapse in hardware sales would hit the bottom line. "The absolute amount of profit on the pure software solution will be lower than the current model of hardware plus software," Heavy Reading's Crawshaw told Light Reading last year.
Next page: No reason to panic
UPCOMING LIVE EVENTS
June 6-8, 2023, Digital Symposium
June 21, 2023, Digital Symposium
December 6-7, 2023, New York City
All Upcoming Live Events
PARTNER PERSPECTIVES
- content from our sponsors