Major commercial rollouts of wideband-CDMA (W-CDMA) networks are expected to ramp up from 2005 as carrier deployment of the technology becomes inevitable, according to the latest Unstrung Insider report -- W-CDMA: Disrupting the Technology Chain.

The next-generation technology of choice for the majority of existing GSM carriers, W-CDMA is the air interface specified by the Universal Mobile Telecommunications Service (UMTS) 3G standard. While today's GSM networks can only support data transfer speeds of up to 9.6 kbit/s, W-CDMA can theoretically crank this up to a more impressive 2 Mbit/s.

Despite a lackluster response to early deployments (see J-Phone's Limited Appeal, Japan's 3G Needs a Kick Start and 3G UK Cries for Help), the report's author Gabriel Brown believes that the steady migration of GSM carriers in Western Europe and other developed markets to W-CDMA is simply unavoidable.

However, Brown doesn't expect fancy multimedia and data services to be the main drivers behind a W-CDMA takeover. Instead Brown cites the cheaper voice services and greater call volumes that W-CDMA makes possible by virtue of its greater spectrum capacity as the key catalysts for network build-out. Typically, this can result in around 20 to 30 percent lower capital expenditure for carriers.

"W-CDMA is relevant because it is much more efficient in terms of the delivery cost per kilobit than existing, standardized cellular technologies," he writes. "There's no serious doubt that W-CDMA radio networks will be the next generation of wide area wireless technology. The real question for the W-CDMA equipment sector is when, not if, demand takes off."

As a result, Brown expects the market to grow by an average of 121 percent year-on-year, with the bulk of the growth expected between 2005 and 2007: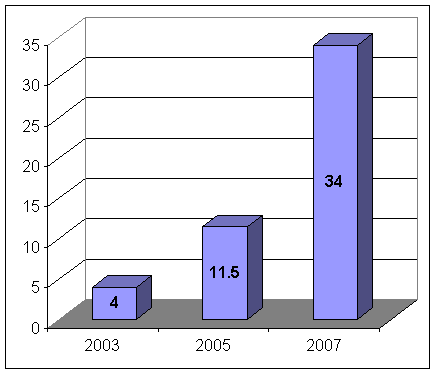 The report also highlights the critical backstage work taking place to ensure that W-CDMA networks are fully interoperable with one another.

In contrast to the GSM world, where a carrier has traditionally used a sole equipment supplier for its network, the majority of W-CDMA networks currently in operation are using equipment from two or more vendors. There is therefore a critical need to carry out interoperability testing to ensure full integration and compatibility between rival equipment.

"The huge, industry-wide interoperability and network optimization efforts currently underway behind the scenes are vitally important," adds Brown. "Despite being a burden on vendor's resources these tests are essential to demonstrate that W-CDMA is a superior technology that will enable operators to cost-effectively deliver new services and to demonstrate that multi-vendors networks do work."

— Justin Springham, Senior Editor, Europe, Unstrung

The full report -- W-CDMA: Disrupting the Technology Chain -- costs $400. An annual subscription to the Insider is ordinarily $1,250, but is currently available at the special introductory price of $899. For more information, including subscription information and research examples, go to: Unstrung Insider.