WWDC: 5 Top Updates for Apple's tvOS
Apple has been sloooow out of the gate when it comes to disrupting the television industry, but it made some important strides today at the company's WWDC 2016 developer conference with updates to its tvOS platform.
1. Single Sign-On
Authentication has long been the curse of so-called TV Everywhere, with log-in screens creating a barrier to adoption for online TV apps. (See GoT Fans Curse HBO (Not Right) Now.)
Now Apple Inc. (Nasdaq: AAPL) hopes to knock down that barrier. The company introduced a "single sign-on" feature today that allows users to sign in with a service provider once and get instant access to all of the relevant network apps available on Apple TV. WWDC presenter Eddy Cue showed how it might work through an integration with Dish Network LLC (Nasdaq: DISH). After filling in one Dish log-in screen, a subscriber would be able to access all paid-for content from networks like ABC, ESPN and Showtime.
It's unclear so far how service providers will be integrated into Apple's merry little band of authentication partners. Importantly, however, Comcast Corp. (Nasdaq: CMCSA, CMCSK), the Cable & Telecommunications Association for Marketing (CTAM) and Adobe Systems Inc. (Nasdaq: ADBE) just announced their own standardized, non-proprietary solution for single sign-on authentication late last week. A source close to one of those companies has confirmed to Light Reading that the cable solution could also work with tvOS.
And Adobe has now said separately that it's working specifically to incorporate Apple's new APIs into its Primetime authentication SDKs for programmers.
2. A Few Good Apps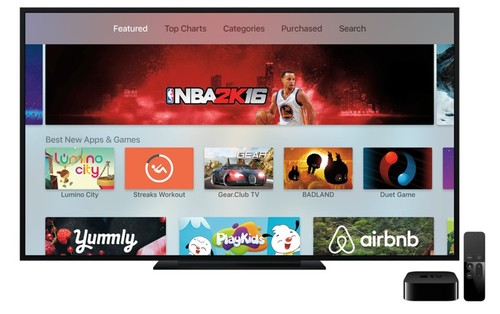 No good operating system update comes without new apps. After the excitement of multi-player Crossy Road with the debut of tvOS last year, Apple added some more video-specific apps this year including Sling TV and Fox Sports Go, which will be available this summer. (See also Apple Brings tvOS to Apple TV.)
Also new to the osTV app party are Minecraft Story Mode, NBA 2K and a group drawing app called Sketch Party.
3. Souped-Up Siri
Apple is improving its Siri natural language interface across all operating systems, and for tvOS, new enhancements include the ability to search for content by topic and the ability to search for videos within YouTube.
Example? "Search YouTube for Steph Curry's three-pointers" brings up a series of YouTube clips showing Curry's shooting prowess.
---
Want to know more about video trends? Check out our dedicated video services content channel here on Light Reading.
---
4. Homekit!
The announcement that Apple's Homekit IoT software will now be incorporated into the Apple TV came as a complement to the launch of a new app called Home and support for new home control features in both iOS and watchOS. More on this one in the future, but the importance of the Apple TV component is that the home hub can now act as a security anchor point for home monitoring and control. It appears the Apple TV will be able to recognize an authorized user on the home network and enable functionality accordingly.
5. Automatic Downloads
It's a small feature, but a convenient one. Apple has announced automatic downloads on the Apple TV, so if users download an app on any Apple device, it will show up on the Apple TV too.
— Mari Silbey, Senior Editor, Cable/Video, Light Reading
UPCOMING LIVE EVENTS
June 6-8, 2023, Digital Symposium
June 21, 2023, Digital Symposium
December 6-7, 2023, New York City
All Upcoming Live Events
PARTNER PERSPECTIVES
- content from our sponsors