Make way for more OTT-TV.
Vidgo, an OTT video startup, has reached the soft-launch/beta phase as it makes plans to launch its service nationally sometime in the fourth quarter of 2018, according to CEO Shane Cannon.
Vidgo is poised to enter what has quickly become a crowded market of virtual MVPDs that includes Sling TV , PlayStation Vue, Hulu, Philo, DirecTV Now, fuboTV and YouTube TV, with a national OTT video service from T-Mobile US Inc. 's (via its acquisition of Layer3 TV) on deck. (See As Hulu Live Tops 1M Subs, Who Leads the OTT-TV Race? and T-Mobile to Play the Customer Care Card With Layer3 TV .)
So, how does Vidgo intend to stand apart?
Cannon isn't sharing all the pricing and packaging details ahead of Vidgo's commercial launch, but he claims that Vidgo will have a "unique distribution strategy that targets the underserved ... We'll play in a different sandbox."
Vidgo will emphasize the US Latino market and bilingual homes, but won't be limited to that. As for its business model, Vidgo is already billing itself as a prepaid OTT-TV service that won't require credit checks or contracts and will feature a programming slate focused on four genres: live sports, entertainment, family and Latino programming.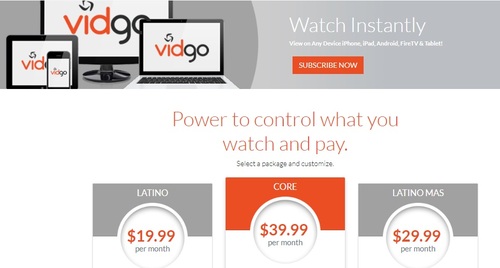 Vidgo won't have sole ownership of the prepaid model for TV, as Comcast Corp. (Nasdaq: CMCSA, CMCSK) also has some prepaid TV offerings that include options that use a traditional set-top box and a newer version that uses its streaming app and works on Roku players, web browsers, and iOS and Android mobile devices. A key difference is that Comcast's prepaid TV offerings are limited to the MSO's footprint, while Vidgo's will have a national reach. (See Comcast & Prepaid TV – There's an App for That.)
Heading toward the launch, Vidgo's website is currently mentioning three packages: "Latino" ($19.99 per month, with about 20 channels), "Latino Mas" ($29.99 per month, with references to "the best of" Univision; Fox Deportes; TV Azteca; WAPA-TV; and 30 other channels from the US, Spain and Central and South America) and "Core," a bigger package that will fetch $39.99 per month.
Update: Though Vidgo is being specific about package pricing, it's being vague about the specific channels that will be part of those packages as the company inches toward a commercial launch. And it appears that those line-ups are still in flux, as Vidgo, as of October 4, has altered the site in a way that removes direct references to some of specific programmers mentioned above that were referenced on the site earlier this week. For example, Vidgo's site currently notes that $19.99 Latino package will "stream 30 of the best Spanish channels from the USA, Mexico, Central, South America and Spain," and 40 channels from those regions for its $29.99 per month Latino Max package. Vidgo still hasn't spelled out much about the Core package, other than its price.
Back in September, Vidgo tweeted that an its internal beta was underway along with a screenshot suggesting that the service will also feature digital-only channels such as Cheddar in its line-up.
Cannon noted that Vidgo will complement its live TV slate with a cloud DVR service and a VoD library. Vidgo also intends to provide a limited selection of local broadcast networks in some of the owned and operated markets.
Vidgo will also have more retail device options, as it will debut with support for Android, iOS, web browsers, Roku, Amazon Fire TV and Apple TV. It will allow subscribers to stream simultaneously on up to three devices.
Vidgo has been working on its platform and service strategy for the better part of three years. It came on the scene at CES in 2016, when it began to talk up its plans for a low-cost pay-TV service for cord-cutters that it was hoping to launch in several markets before the end of that year. At the time, the market was a lot less crowded, as Sling TV and PlayStation Vue were the primary OTT-TV service examples. Vidgo has been refining its strategy as more virtual MVPDs continued to enter the mix.
Vidgo will shed more light on its service later this year, but has already announced some of its key technology partners -- Harmonic Inc. (Nasdaq: HLIT) (infrastructure), Veygo (its primary user interface partner) and CenturyLink Inc. (NYSE: CTL) and Tulix Systems as content delivery network partners.
Vidgo has about 20 employees. It has raised seed capital (the amount hasn't been disclosed; CrunchBase has it at about $500,000), and is now looking to raise a formal Series A.
Dave Shull, CEO of The Weather Channel and a former Dish Network LLC (Nasdaq: DISH) exec, is now Vidgo's executive chairman and will run the startup's board. Shull has also taken an equity position in Vidgo, according to Cannon.
— Jeff Baumgartner, Senior Editor, Light Reading