AT&T Likens DoJ Suit to Shaved Persian Cat
Not one to mince words, AT&T has submitted a pre-trial brief laying out its arguments against the federal government in the lawsuit that has the Department of Justice seeking to block the telecom operator's proposed $85 billion acquisition of Time Warner. With court proceedings set to begin next Monday, AT&T makes the case that "there is no fact-based evidence" that a merger with Time Warner would harm competition in the video marketplace. The operator asserts that it has already disproven the notion that it could "credibly threaten to withhold" Time Warner's Turner programming from other distributors in the wake of an acquisition, and that what is left of the government's case is virtually immaterial.
Or, in the actual words of the AT&T pre-trial brief -- which borrows from a 1992 case centered on content distribution power -- the substance of the government's lawsuit, "like a Persian cat with its fur shaved, is alarmingly pale and thin."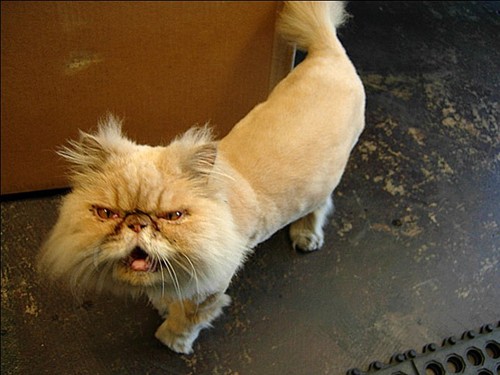 Colorful language aside, AT&T Inc. (NYSE: T) points out that it has already agreed to forego the use of content blackouts in licensing negotiations if it is allowed to acquire Time Warner Inc. (NYSE: TWX). Blackouts are the primary way that content providers exercise leverage in these negotiations when they attempt to raise fees for pay-TV providers. AT&T says that it could not afford to withhold programming from other distributors in any case because of the loss of licensing and advertising revenues, but that with its agreement to refrain from content blackouts, the argument by the Department of Justice is entirely moot.
Further, AT&T argues that its proposal to buy Time Warner is not about the opportunity to raise prices on programming. Instead, the company says the deal is about making both AT&T and Time Warner more competitive in a video industry that has radically shifted in the Internet era.
First, AT&T states that owning Time Warner would allow it to create new video products better aimed at mobile viewers. Without the deal, the telco says it has been too difficult to obtain distribution rights for programming that would allow it to "achieve its vision for the next wave of products and packages, including lower-cost, ad-supported services."
Second, AT&T notes that with Time Warner in house, it would also have the necessary scale to create a new targeted advertising platform. Such a platform would put pressure on existing ad giants, Facebook and Google (Nasdaq: GOOG), bringing more competition to the digital market.
---
Get your strategic roadmap to the technology trends and business cases shaping the cable industry! Join us for the Cable Next-Gen Technologies & Strategies event in Denver on March 20-22. Don't miss this exclusive opportunity to network with and learn from industry experts -- communications service providers get in free!
---
The argument against Facebook and Google is part of a larger point that AT&T tries to make about the power of Internet companies in the video industry today. AT&T says that "in just a few years' time, Netflix, Amazon, Google and others have harnessed the power of vertical integration to disrupt and displace content suppliers and distributors alike. These vertically integrated firms have succeeded by using their direct customer relationships to better provide customers the programming that most interests them."
While AT&T's argument is true, it doesn't entirely address issues with the level of vertical integration the company is pursuing in the Time Warner deal. Yes, companies like Netflix Inc. (Nasdaq: NFLX) and Amazon.com Inc. (Nasdaq: AMZN) have created new direct-to-consumer business channels, but they don't own the broadband connections that consumers use to access their content. A big reason that opponents are fighting the AT&T/Time Warner merger is because of AT&T's nationwide mobile distribution footprint. (See Does AT&T Deserve Time Warner?.)
The big challenge for the DoJ in blocking the AT&T deal, however, is that it already approved a similar transaction in Comcast Corp. (Nasdaq: CMCSA, CMCSK)'s buyout of NBCUniversal earlier this decade. That fact is likely to be a major point of contention as the AT&T court case begins next week, and it's a legal hurdle that the federal government may not be able to overcome.
— Mari Silbey, Senior Editor, Cable/Video, Light Reading
PARTNER PERSPECTIVES
- content from our sponsors