The tide of advertising impressions is starting to recede at Canoe, the VoD ad joint venture backed by Comcast, Charter and Cox Communications.
After several years of solid growth, Canoe's ad impression totals are beginning to flatten and dip slightly as finite inventory sells out and as the JV starts to feel the effects of relatively new OTT video options, including free, ad-supported services such as Xumo, The Roku Channel, and Pluto TV, as well as OTT-TV services such as Philo, YouTube TV and Hulu that use different systems to sell ad inventory.
Per Q2 totals released this week, Canoe said it delivered 6.7 billion ad impressions in the period, down from the 6.8 billion it pulled down in the year-ago quarter. Impressions year-to-date totaled 13.1 billion, putting it on pace to barely get by 2018's total of 26 million. But the small down trend in Q2 could mean that Canoe's 2019 totals won't surpass 2018's.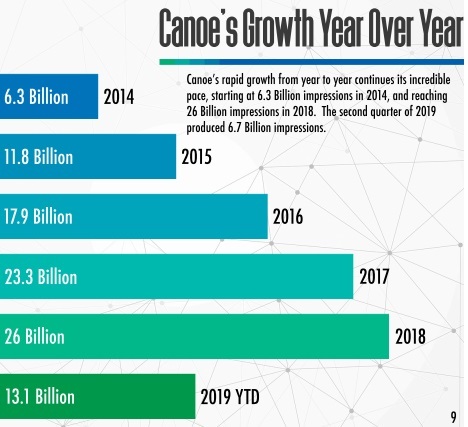 Chris Pizzuro, Canoe's VP of global sales, said the situation is not surprising, as the JV noticed that views and, therefore, ad impressions were starting to flatten out last year. He attributes that to a confluence of factors as Canoe has continued to focus on in-home VoD dynamic ad insertion on set-tops and other devices including tablets (Charter is a special case, as Canoe also does service assurance when its app is used outside the customer's home). In its Q2 report, Canoe said 82.5% of its ad impressions were on set-tops, with the rest on tablets, smartphones and other types of devices.
Most notably, networks and studios that use Canoe's platform (examples include A&E, AMC, CBS, The CW, Fox, Discovery, Viacom, Univision and NBCU) had begun to sell out their inventories, eliminating some of the earlier headroom for growth. But Pizzuro doesn't discount the effects on Canoe's business coming from surging consumer adoption of ad-supported VoD from OTT service providers.
"That's one factor that we're looking at," Pizzuro said. "People are downloading apps; people are out there sampling [OTT video services] right now."
Floating deals with more MVPDs
Whether this trend turns out to be merely a ripple or a roiling wave, Canoe isn't keeping its oars in the socket, but instead is taking them out to paddle toward growth opportunities with more MVPDs in the US and around the world.
Pizzuro says Canoe is in partnership mode, seeking deals outside its core of Comcast, Charter and Cox, including traditional pay-TV providers and the newer class of virtual MVPDs. He said Canoe is in testing with another yet-unnamed US MVPD that he expects to launch shortly.
Pizzuro said he'll be in Miami this week to talk to MVPDs in Latin America, and said he's been having active discussions with pay-TV providers in Canada and in Europe.
He's hopeful that getting deals done around the globe won't be technically onerous, given that Canoe has already been integrated with platforms and vendors that handle VoD dynamic ad insertion around the globe, such as Concurrent Computer Corp, Cadent, Google Ad Manager, and FreeWheel (acquired by Comcast in 2014).
"That's part of our pitch -- a lot of this heavy lifting already has been done," Pizzuro said.
Meanwhile, he said Canoe has hired new people to keep the current platform humming and up to date. "I do believe if we keep our product competitive we will keep at least flat and even grow," he said.
Related posts:

— Jeff Baumgartner, Senior Editor, Light Reading