Vanquished in Video, Verizon Admits OTT Defeat
Vanquished in Video, Verizon Admits OTT Defeat
After several years of failing to launch an IPTV service, Verizon now says it will partner with another OTT provider. In an astounding about-face, Verizon is abandoning plans to launch its own over-the-top live TV service, and instead says it will partner with an existing third-party OTT provider as it introduces 5G broadband in select markets later this year.
Speaking at multiple investor events over the last week, Verizon Communications Inc. (NYSE: VZ) executives unveiled their newest video strategy, which unravels much of what has come before. Over the years, Verizon has said it would introduce a mobile TV service, expand Fios TV as an online platform and even wholesale its IPTV portfolio to other providers aiming to launch their own consumer video applications. Now, instead of licensing out a linear video product, Verizon is cutting its losses and seeking a partner just to get on the map in the streaming TV market.
"Our view is we should partner with those that are in the linear game," said CEO Lowell McAdam ahead of an analyst meeting this week. "Let them be very good at what they do. We'll add digital content to that mix, and we'll position ourselves for where we become more of an over-the-top video culture versus the linear model that we have today."
"By the time we launch in fourth quarter... we will have a partner picked out," McAdam added, "and we'll integrate our Oath assets into the linear assets that they have and bring the full package to customers."
The irony of Verizon's strategy reversal is that the company has been remarkably successful at helping to deliver online video for others. After acquiring Uplynk and EdgeCast in 2013 (for adaptive streaming and content delivery network technology, respectively), Verizon started building up a very nice stable of customers for its digital media services business. Today some of the brands it cites as reference clients include CNN, Disney, HBO and Viacom, among many others. (See also Verizon Builds Toward OTT Launch .)
Yet somehow Verizon has never been able to combine that delivery expertise with the one high-profile consumer-facing video business it maintains: Verizon Fios.
Figure 1: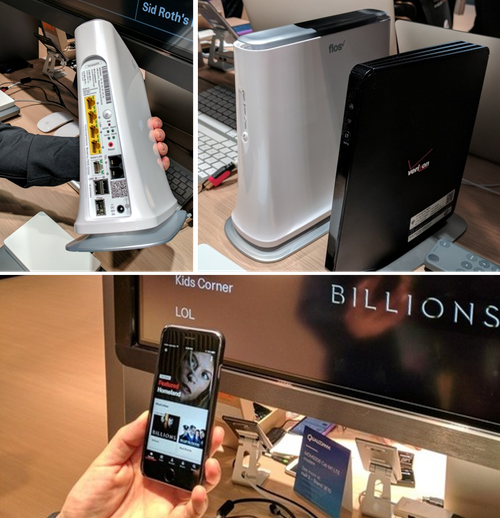 Verizon previewed a new IPTV service in early 2017, but never launched it.
It's not for lack of trying. In addition to Uplynk and Edgecast -- as well as AOL and Yahoo, which were bought primarily for online advertising purposes -- Verizon acquired Intel Corp. (Nasdaq: INTC)'s IPTV unit in 2014, and the technology beyond online TV service Vessel in 2016. While the company never disclosed how much it paid for the latter two, it has spent at least hundreds of millions, if not billions, of dollars trying to develop a popular IPTV product. (See Verizon Eyeing Video Startup Vessel – Report and Verizon Snatches Intel Media Assets.)
Verizon managed to launch Go90 with an odd mix of web-based shows and content extras in 2015, but that service never gained an audience. The company also demonstrated an IPTV service under a new wholesale business unit called Exponent in early 2017, but that effort was scrapped later in the year amid numerous signs of trouble. (See Verizon's Go90 Is Live – Will Anyone Watch?, What Happened to Verizon Exponent? and Verizon's New Fios TV Is No More.)
Along the way, Verizon has churned through media executives like they were going out of style. Erik Huggers from Intel and Richard Tom from Vessel were both out the door at Verizon after the ink was barely dry on those acquisitions. Guru Pai, who helmed product strategy ahead of the company's planned IPTV launch in 2017 has disappeared from view. And Martin Busse, who was an associate director within Exponent at Verizon and who demoed that failed IPTV service last year, has left the company and is now a senior director at TiVo Inc. (Nasdaq: TIVO), according to his LinkedIn profile.
Want to know more about video and TV market trends? Check out our dedicated video services content channel here on Light Reading. Unfortunately for Verizon, in the time it's arguably wasted trying to develop its own online video service, its competitors have made their territory grab and now present Verizon with a difficult choice on the partnering front. Should Verizon team up with Google (Nasdaq: GOOG) and YouTube TV? How about fellow operator Dish Network LLC (Nasdaq: DISH) with Sling TV? Or what about Hulu LLC , with owners that include rival Comcast Corp. (Nasdaq: CMCSA, CMCSK) as well as Time Warner Inc. (NYSE: TWX), which could soon be rolled up into AT&T Inc. (NYSE: T)? It beggars belief that Verizon would even consider reselling AT&T's DirecTV Now service. That leaves Sony Corp. (NYSE: SNE)'s PlayStation Vue, which could be a decent option, but is also the least well-known (and watched?) online linear video service on the market. Whichever partner Verizon chooses, it doesn't have long to finalize the decision. The company plans to drop 5G broadband bundled with OTT video in Sacramento and Los Angeles in the coming months, with two more cities to follow by the end of the year. — Mari Silbey, Senior Editor, Light Reading
Subscribe and receive the latest news from the industry.
Join 62,000+ members. Yes it's completely free.
You May Also Like
---