IPTV Scores at Cowboys Stadium
IPTV Scores at Cowboys Stadium
CommScope and others help outfit a massive venue with an impressive video infrastructure Probably no one's going to the 3 million square-foot Cowboys Stadium to watch TV, but the stadium's nearly 3,000 flat screens will make it hard to ignore the wonders of IPTV and IP-enabled video. Indeed, this may be one of the biggest single-building IPTV installations in the world.

The system uses TVs from Sony Corp. (NYSE: SNE); digital media players, middleware, and headends from Cisco Systems Inc. (Nasdaq: CSCO); and all manner of racks, enclosures, and more than 5 million feet of fiber and copper cabling from CommScope Inc. . Light Reading learned this while on a tour with CommScope execs that started at the vendor's Richardson offices, and ended up at the new stadium's data center. Click the picture below to start a slideshow in glorious 2D: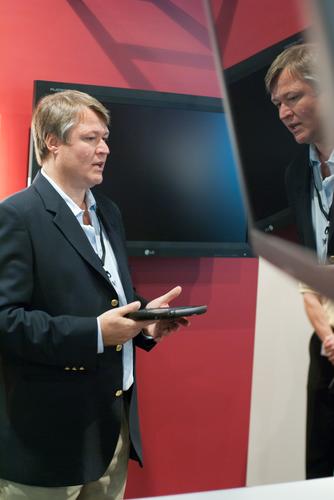 For the stadium's debut, the Dallas Cowboys are keeping the IPTV service simple: For the suites, bars, and concourse areas, the service will mostly consist of "typical cable fare" plus some custom programming, according to Dwin Towell, the Cowboys' director of broadcast engineering services. There will be 50 national channels available via the satellite feed from DirecTV, local channels fed via over-the-air HD antennas outside, and four of the Cowboys' own HD channels.

Some TVs are controlled by AMX touchpads, some by standard remote controls, and some by Cisco IP phones. As the Cowboys staff gets more comfortable with the system, more interactive applications will be switched on, execs say. Next season, Towell says, the Cowboys may integrate shopping and concession-ordering via the IP phones and screens in the stadium suites.

And what is the difference between a digital sign and an IPTV screen? Nothing much, as the Cowboys tech staff is eager to point out: "I can put anything on any screen that I want," said Pete Walsh, the Cowboys' head of technology, during the tour.

Every TV set can be a digital sign carrying a commercial message targeted right down to a specific floor, suite, or screen. The menu boards above the concession areas are on the same IP network, so changes in product availability and prices update automatically, throughout the stadium. And, of course, the IPTV network can be used to communicate evacuation instructions, in case of a fire or other emergency [ed. note: a mass attack of big hair, perhaps].

Cisco has been interconnecting stadiums for a while, as seen in this 2006 demonstration of some IP-enabled applications. The Cowboys plan to take things a step further, allowing a 200-person theater in the stadium's corridors to serve as a sort of telepresence center, where corporate executives can have annual meetings and address thousands of employees in the stands via the stadium's 600-ton, 180-foot wide scoreboard, and two end zone-facing scoreboards that measure 48 feet by 27 feet each. Or they could just watch this on a loop for motivation.

Publicity-shy Cisco never replied to requests for comment about its role in this deal. The Cowboys Stadium isn't listed among Cisco's many sports stadium case studies, but it's still early.

CommScope says its portion of the stadium deal was worth about $10 million. That involved making sure the IP network will have fiber capacity to spare and having its Andrew unit install some 244 antennas to keep cell signals from AT&T Inc. (NYSE: T), Verizon Wireless , MetroPCS Inc. (NYSE: PCS), Sprint Corp. (NYSE: S), and T-Mobile US Inc. from dropping during peak usage.

— Phil Harvey, Editor-in-Chief, Light Reading


Subscribe and receive the latest news from the industry.
Join 62,000+ members. Yes it's completely free.
You May Also Like
---