Dish Embraces Netflix, Adds Rovi Voice
Dish Embraces Netflix, Adds Rovi Voice
Dish is innovating rapidly with the addition of whole-home Netflix access, a new Vevo app, and voice-control features to its pay-TV service. Dish Network may be missing out on TV land's merger mania, but it's still capturing its share of the media spotlight.
In a pair of announcements this week, Dish Network LLC (Nasdaq: DISH) introduced whole-home access for Netflix on its set-tops, debuted music video app Vevo on its second-generation Hopper DVR and revealed that it will add Rovi Corp. 's natural-language voice control technology to the Dish service in 2015.
The Netflix announcement builds on Dish's move last December when it became the first major US operator to offer access to the online streaming service right alongside its own core TV product. At the time, Dish made Netflix available solely on newer Hopper DVRs. (See Dish Makes Room for Netflix.)
Now, the company says it will begin offering access on client set-top boxes including the Joey, Super Joey, and Wireless Joey. Whole-home networking features mean users will be able to start watching a Netflix video in one room, and then continue watching elsewhere in the home. Access will be available "within the coming weeks."
Figure 1: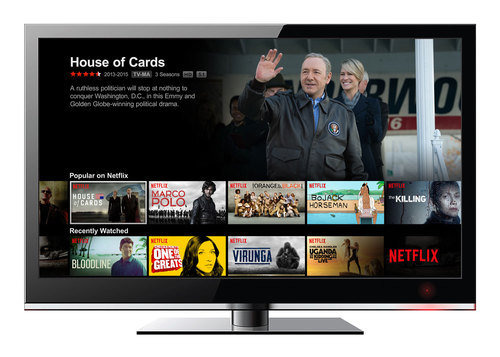 Whole-home access for Netflix will be introduced on Dish set-tops.
The rollout of Vevo is taking a similar path to the Netflix launch for Dish. The music video app is immediately available on second-generation Hopper DVRs, and will extend to first-generation Hoppers and all Joey client boxes later in the year. Vevo offers more than 140,000 music video titles.
Following the news about Netflix Inc. (Nasdaq: NFLX) and Vevo, Dish also announced this morning that it will add Rovi's Conversation Services' interface to the Dish Explorer second-screen iPad app, the Hopper Voice Remote and the Dish Anywhere app. The service provider first disclosed its voice-control plans with the introduction of the Hopper Voice Remote at CES in January. However, Dish has now detailed the technology behind the interface, as well as its intention to extend voice control to mobile apps.
Want to know more about OTT, multiscreen and other next-gen video technologies? They will be a few of the many topics covered at Light Reading's second Big Telecom Event on June 9-10 in Chicago, which will include a special Video Summit. Sign up today!
"Consumers seek a television experience that gets them to their shows with minimal hassle," said Dish SVP of Product Management Vivek Khemka. "Dish is committed to implementing the best technology for our customers, and we believe the introduction of voice recognition will provide them with a more intuitive search experience. We selected Rovi as our voice technology provider as they have demonstrated a deep understanding of semantics and natural-language capabilities."
In addition to giving Dish a competitive edge, the new interface deployment is a big win for Rovi. The pay-TV vendor paid $62 million in cash in 2014 to acquire semantic search specialist Veveo, whose platform is the underlying technology for Rovi's natural-language spoken-voice interface. (See Rovi Snaps Up Veveo.)
"As a leader in conversational interfaces for video and television services, Rovi is at the forefront of developing new semantic natural language technologies that enable consumers to talk to their TVs as if they were having a conversation with another person rather than a device," said Rovi VP Daren Gill. "Given the scale of Dish's subscriber base, we hope to significantly shift the public perception of how people can discover and navigate content with next-gen semantic technologies in ways that have not been possible before."
In the context of significant merger activity among pay-TV providers, Dish is sending a message that it plans to remain competitive by innovating quickly and taking risks. Nowhere is that strategy more apparent than in Dish's launch of the online Sling TV product.
However, with new apps and features debuting on its core pay-TV service, Dish is also showing that it's committed to creating a compelling experience on its traditional satellite TV platform. For all the excitement around over-the-top video, old-school pay-TV is still the revenue king.
— Mari Silbey, special to Light Reading
Subscribe and receive the latest news from the industry.
Join 62,000+ members. Yes it's completely free.
You May Also Like
---