BARCELONA -- MWC 2018 -- AT&T's Igal Elbaz spoke with Light Reading this week about the operator's plans to deploy standards-based mobile 5G to a dozen cities this year, and what 5G will mean for AT&T's new edge computing test zone.
AT&T announced plans last week to deliver commercial, mobile 5G to Atlanta, Dallas and Waco, Texas later this year as part of a rollout to 12 cities. Elbaz, senior vice president of Wireless Network Architecture and Design for AT&T Inc. (NYSE: T), calls that "a very challenging goal for this year, for those 12 cities to be standard-based and mobile, to build on that and be nationwide." (See AT&T Reveals Initial 5G Cities and AT&T Drives Path to Nationwide Mobile 5G with Multi-Gigabit Speeds .)
According to the release, "initial mobile 5G deployments this year will be based on 3GPP standards and operate over mmWave spectrum."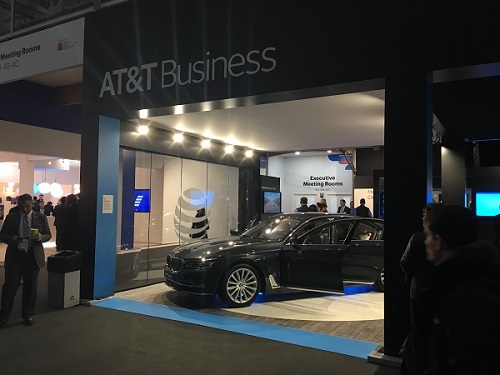 Last week AT&T also announced the launch of its first test zone for edge applications at its AT&T Foundry in Palo Alto, Calif., which will provide third-party developers with the capability to test their applications on AT&T's edge computing platform. AT&T's first collaboration at the test zone is with GridRaster and will focus on developing an AR/VR software platform.
The test zone will initially use 4G and upgrade to 5G as early as late 2018. Elbaz says one of the key outcomes of 3GPP's Release 15 standards is the non-standalone architecture, allowing 5G to build on top of LTE. (See AT&T Sharpens Edge With New Open Source Effort, Test Lab Launch and AT&T to Tap External Developers for Edge Computing Test Zone.)
Elbaz explains the intent behind the test zone is to "create an environment where we can collaborate and work with many developers in various use cases and verticals or industries … Edge is a big part of our strategy, how we think about 5G and our future network. You take SDN, the characteristic of network, you introduce edge, which is the convergence of networking and computation and all of a sudden you unleash new use cases and business models."
There are any number of use cases for offloading applications to the edge, says Elbaz, including offloading a live map for an autonomous vehicle to the edge or improving AR experiences that require more rendering -- all while maintaining the same user experience.
Instead of making assumptions about which applications to offload to the edge and what the latency requirements might be, Elbaz says the test zone provides AT&T with the ability to build on established relationships with developers, startups and other companies already working with AT&T Foundry and collaboratively identify the right architecture and applications for edge computing use cases.
"How do you construct that experience that is rendered partially in the edge and partially on the device? These are the kind of things we want to enable, we want people to think about and create the right way."
— Kelsey Kusterer Ziser, Senior Editor, Light Reading