After months of blustering about launching a disruptive, national OTT-delivered pay-TV service this year, T-Mobile has reportedly delayed the debut to sometime in 2019.
T-Mobile US Inc. , which got into the pay-TV game in January via its $325 million acquisition of Denver-based Layer3 TV, is pushing off the launch because "the project proved more complex than expected," Bloomberg reported Thursday, citing people familiar with the situation. (See T-Mobile buys Layer3 TV, plans OTT launch.)
T-Mobile didn't immediately respond to a request for comment, but company execs have most recently talked up plans to launch a national in-home version of the service this year, with a "second phase" focused on mobility to arrive sometime in 2019.
Now, it appears that all aspects of a new, national OTT-TV service are being pushed out. Prior to being acquired by T-Mobile, Layer3 TV was focused on a big bundle TV service in a handful of markets, including Los Angeles; Chicago; Dallas/Fort Worth; Longmont, Colo.; and Washington, D.C. Layer3 TV had about 5,000 customers when T-Mobile acquired it.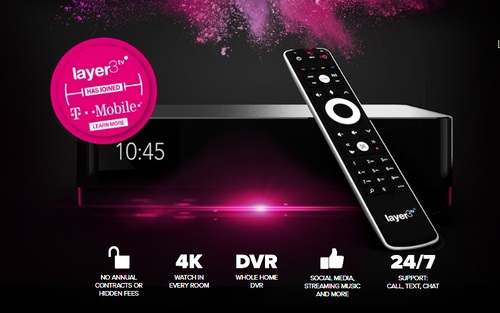 Update: Don't expect a lengthy delay for the initial launch of the national version of T-Mobile's pay-TV offering. According to people familiar with the situation, the debut is more likely to come around the start of the New Year -- the Chinese New Year, which happens to be Tuesday, Feb. 5, 2019.
Update II: On Thursday, a T-Mobile official told Light Reading that the "team is hard at work" on the new pay-TV product, but didn't elaborate with respect to questions about the updated timing on the launch window.
The reported delay on the national TV launch enters the frame as T-Mobile and Sprint Corp. (NYSE: S) try to get their proposed merger approved. The focus and work involved on that process are also believed to have played a big part in the decision to delay the launch until 2019.
T-Mobile, which plans to use its coming 5G network to distribute the new TV service, has been telling regulators that the merger with Sprint would be key in creating the scale required to develop and launch a competitive and disruptive national pay TV service. In June, T-Mobile whined in its public interest statement that Layer3 TV's content acquisition costs are as much as 30% higher than larger MVPDs for the same programming and that Layer3 TV's small customer base precluded it from getting volume discounts on content. (See T-Mobile Promises 'A Lot of Firsts' for New OTT TV Service and T-Mobile Forming 'Wireless First' TV Strategy.)
T-Mobile has been boldly claiming that its disruptive OTT-TV service would have "a lot of firsts," but has also been extremely vague about what those firsts would be, other than to mention that it would try to extend the smartphone experience to the TV. (See T-Mobile Promises 'A Lot of Firsts' for New OTT TV Service.)
Consumers are "sick and tired of these outdated systems that the legacy cable companies have been bringing them, with their outdated program guides and the technology island that your TV represents, as opposed to your highly connected social media-fueled life that you live in your mobile phones," Mike Sievert, T-Mobile's president and COO, said in August. (See T-Mobile to Play the Customer Care Card With Layer3 TV .)
Easier said than done. Bloomberg reports today that T-Mobile was faced with having to launch a me-too, "garden-variety streaming platform," or waiting until it was in position to develop and launch a "groundbreaking product."
It appears to have taken the latter path, though people familiar with the situation tell Light Reading that the product is pretty much ready to go and the delay into 2019 has nothing to do with getting programming rights for the national offering. Still, when T-Mobile launches the new product, it will be facing off with competition that includes cable operators and other traditional MVPDs, as well as a crowded field of virtual MVPD services that include Sling TV, DirecTV Now, Hulu, PlayStation Vue, YouTube TV, fuboTV, Philo and a just-launched offering from Vidgo. (See Vidgo Soft-Launches National OTT-TV Service .)
Though the pay-TV market probably doesn't need yet another OTT-TV entrant just this instant, a delay in T-Mobile's national service launch will certainly be viewed by some as a setback and perhaps a bit of an embarrassment, given that the company has been making audacious claims about the coming service for months on end. (See OTT-TV Gains Slow to a Crawl in Q3, but Cord-Cutting Does Not – Analyst.)
— Jeff Baumgartner, Senior Editor, Light Reading