Eighteen months ago, Las Vegas had little to cheer as an aspiring smart city. But in the last year and a half, the desert destination has implemented a smart streetlight platform, connected a dozen intersections with cameras and sensors, begun working on connected and autonomous vehicle initiatives and much, much more.
Director of Technology and Innovation Michael Sherwood credits a partnership with Cisco Systems Inc. (Nasdaq: CSCO) for much of the city's progress. But Las Vegas also brings its own set of assets to the table, including the infrastructure to support these smart city pilots, which are designed to act as a template for future wide-scale deployments.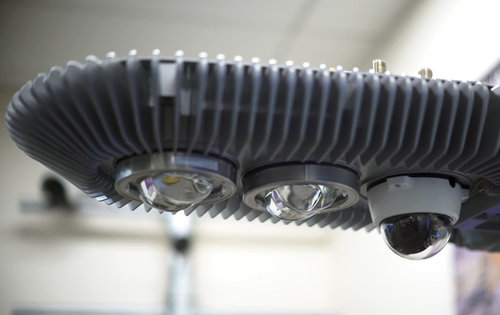 To start, Las Vegas owns the majority of its own streetlights, and the city is now upgrading those fixtures to create an intelligent platform for not only lighting, but also security and communications network connectivity. Each upgraded streetlight includes multi-colored LED lights, a speaker system for public address, a module for a security camera and options for fiber, WiFi and cellular connectivity. When multiple streetlights are connected together, they can also form a mesh network, enabling automated actions like light-driven alerts that are managed locally rather than requiring a connection back to the cloud. More on that in a bit.
To date, Las Vegas has fully deployed the new streetlights in two parks, and there's a plan to start expanding to street corridors in the near future. Within the next year, Sherwood envisions a much wider footprint than exists today.
Beyond streetlights, Las Vegas has also invested in its own fiber. That fiber is being used to connect new smart traffic intersections and enable trials with Dedicated Short Range Communications (DSRC) radios to test connected car applications. (Note: Las Vegas is partnering with Cisco to collect vehicle data to analyze issues like congestion and places where accidents are likely to occur.)
The way these intersections work, Las Vegas is setting up modular telecom boxes outfitted with a variety of sensors and other communications equipment. The modular cabinets even offer free WiFi, which Sherwood says is sustainable because of the data the city can collect in return. With more data (aggregated and anonymous, of course), Sherwood believes the city will be able to make better decisions about operations, including when and where to invest capital.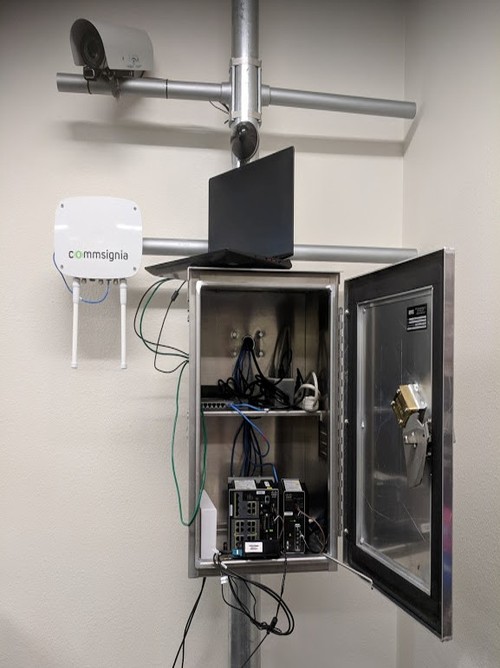 While Las Vegas is taking advantage of its own fiber assets today, Sherwood also points out that the city has the option to partner with commercial service providers in the future.
"As we expand out, not all of it will be fiber. We'll have the same green boxes, but they'll be either 4G/5G-type connectivity. It could be cloud-based so we bring in a third-party provider like a Cox Communications or CenturyLink, bring a connection in, plug that into a cloud and then send it back to us."
Today, there are a dozen intersections newly connected for smart city purposes in downtown Las Vegas. How many might be connected in three years?
"I'm going to probably say about 60 to 70 intersections, if not more," Sherwood projects.
---
Learn more about the role of communications networks in smart cities at Light Reading's new breakfast event -- Smart Cities, Dumb Pipes. Featuring an all-star line-up of experts, the event will be hosted at Smart Cities Connect 2018 in Kansas City on March 28. Admission is free for all conference attendees!
---
Along with the immediate benefits from Las Vegas's increasingly connected infrastructure, Sherwood is also passionate about future applications powered by automation capabilities at the network edge. For example, he predicts that Las Vegas traffic lights will eventually be able to make real-time, localized decisions on when to turn a light green based on the number of pedestrians standing at a corner, or maybe the number of cars idling at the intersection and contributing to poor air quality.
In areas where streetlights form a mesh network, Sherwood paints a picture where the fixtures could automatically spotlight a certain zone when a disturbance is detected, or even create a path of light to lead emergency personnel to a region of concern.
"Most of the things are going to be automated at the edge," he says.
Automated functionality is farther out on the Las Vegas roadmap, but the applications that Sherwood describes could easily be turned up once the right platforms are in place and connectivity is ubiquitous.
In the near term, Las Vegas has a smart city mobile app for citizens coming soon, and the city is planning to continue looking for ways to combine its own resources with those of the private sector. If the last 18 months have been busy, the next year and a half for Las Vegas' smart city initiatives promises to be just as jam-packed.
For more on the smart city work Las Vegas is doing, check out this video interview with Michael Sherwood at CES: Sin City Aims to Be the Next Tech Hub.
— Mari Silbey, Senior Editor, Cable/Video, Light Reading